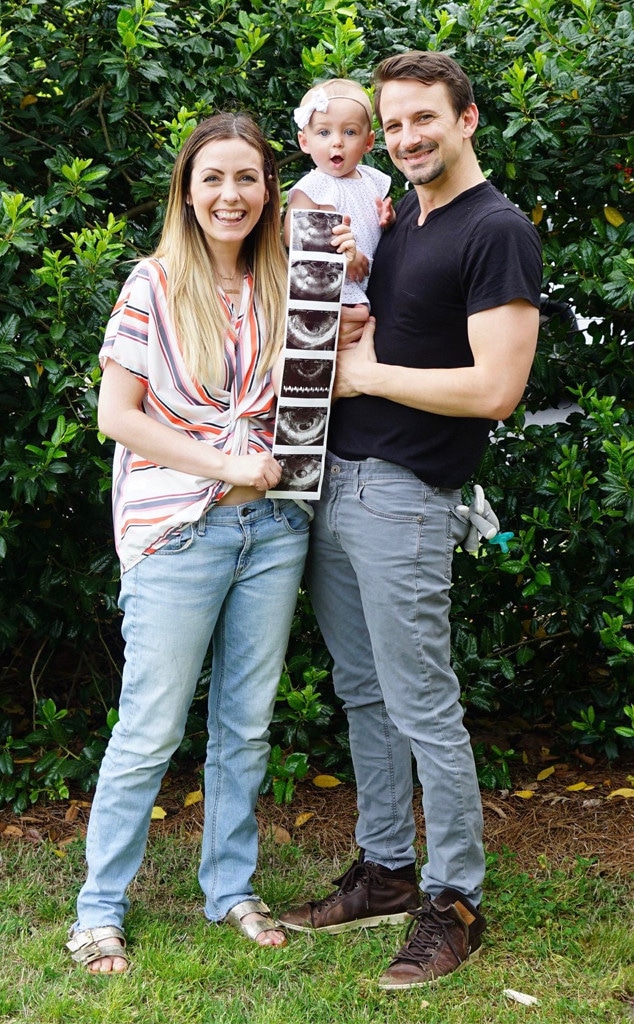 It won't be long before Carly Waddell and Evan Bass welcome a baby boy. However, the Bachelor in Paradise couple doesn't know what to call their little one.
The proud mama admitted they've been having a hard time choosing the perfect moniker during Wednesday's episode of Bachelor Happy Hour.
"We don't know yet because we're struggling," Carly said when asked if they've settled on one.
Still, the season three stars don't seem too worried. 
"Last time, we named [our daughter] Bella before she came out, and I think this time we're just going to wait," she said. "Evan just doesn't—he's not, like, feeling a name, and I'm not feeling a name…..I don't know if it's bad or good." 
One thing is for sure: Bella is ready to have a little brother. 
"Bella loves to boss people around. So, she's definitely ready for somebody to boss around," Carly said. 
In addition, she said taking care of her baby dolls is Bella's "favorite thing" to do and that she's already shown compassion towards her little cousins.
Carly and Evan shared the pregnancy news in May and announced they're expecting a boy in September. The couple welcomed their first child together in 2018. Evan also has three kids—Ensley, Liam and Nathan—from a previous relationship.
 However, the public scrutiny Carly and other Bachelor Nation moms have faced hasn't been easy. In fact, fellow guest and Bachelor in Paradise co-star Jade Roper Tolbert suggested the mommy shaming can be brutal.
"It's really just judging a parent's choices and making them feel guilty for it," Jade, who is the mother of Emerson and Brooks, said. "And we already as moms already have enough guilt. Like we're already trying to be a perfect parent for our kids. So it's just the judgement of other people. Because people parent differently all over the world. You know, culturally, people parent differently. Even my neighbor next door parents differently than I do. It's just what's best for our family. But people like to bring that in and try to put it on top of you. And so that's kind of when people get shamed. I guess that's what you would consider mommy shaming is those comments that people are saying."
In fact, both ladies agreed they get criticized for "everything."
"I mean it's really anything….The most intense things are like, 'Do you vaccinate your kids or do you not vaccinate your kids?' which we don't even usually talk about," Jade, who is married to Tanner Tolbert, said. "But there's things like sleep training like, 'Do you let your kid cry it out? Do you not let your kid cry it out?' 'How long do you breast feed?' 'Oh my gosh, it's a little chilly outside, why doesn't your kid have a coat on?' 'Why did you do that?' 'Why does your kid not have shoes on? It's outside, they could step on something.' Like it just goes from so drastic. The big stuff to the small stuff. It doesn't end." 
Although, Carly said Jade knows how to "shut those people down in the nicest, kindest way" when she needs to.