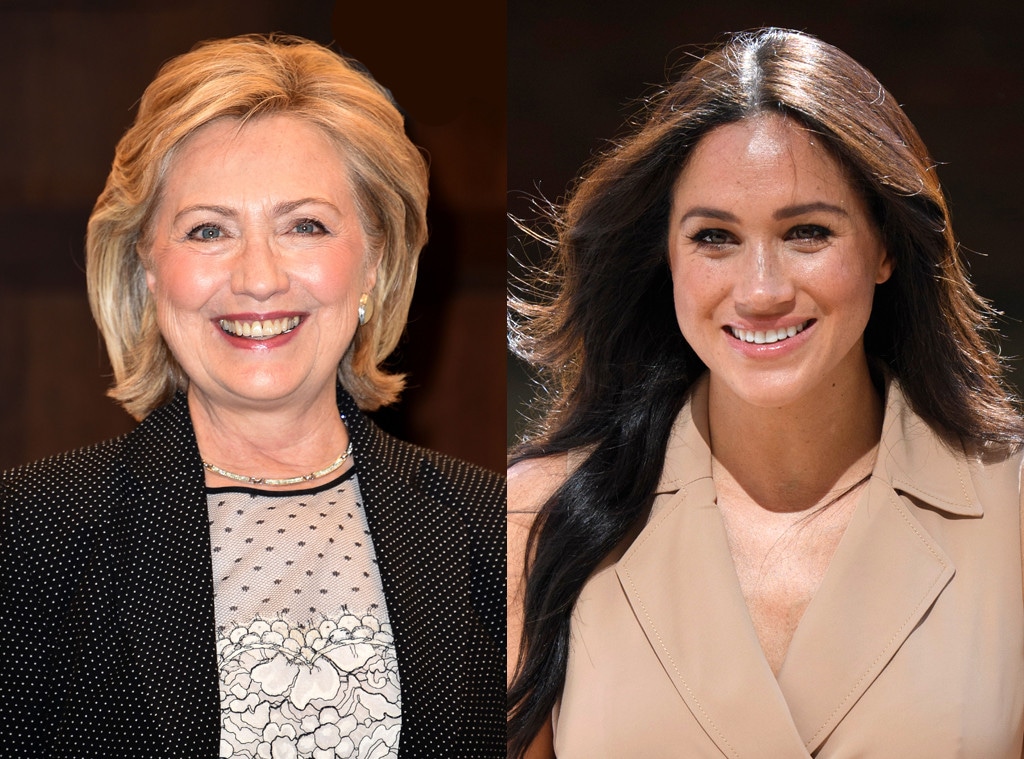 Shutterstock
Meghan Markle has found a fan in both Hillary Clinton and daughter Chelsea Clinton.
In an interview with the Sunday Times, the former Secretary of State and 2016 Democratic presidential candidate shared her thoughts on the Duchess of Sussex and wife of Prince Harry, and the criticism she has received in the press in the U.K.
When asked if they think Meghan is a gutsy woman, they exclaimed "Yes!" in unison.
"Yes. She. Is." Hillary said. "I'm a huge Meghan Markle fan."
Last month, in an unprecedented move, Harry called out the entire British tabloid press over their "ruthless" campaign against Meghan, following months of unflattering media coverage about her, including while she was pregnant with their now-5-month-old son Archie Harrison. The couple's lawyers also initiated legal proceedings against The Mail on Sunday over its publication this year of parts of a private letter Meghan had written to her estranged father Thomas Markle. He had provided the note to the newspaper and defended his choice to have it made public.
"Oh, but our laws are so different," Hillary told The Sunday Times, when asked about the matter and negative coverage about herself by the press at home. "But I do want to say that the way she's been treated is inexplicable."
"Well, I think if the explanation is that she's biracial, then shame on everybody," she added. "It's certainly part of it."
Chelsea said, "I also think it's because she proudly had a career first and has a voice that she thankfully continues to use. Anyone who has the temerity to break the mold of what has previously been established and expected often, unfortunately, receives criticism and bile that I don't understand. We've seen this pattern repeatedly. I don't know her, but as someone who respects her, I'm so grateful that she persists, and is unbowed, and is doing work she feels called to do. And also isn't willing to be bullied."
Hillary has sung Meghan's praises before. In September, she posted on her Instagram a gushing post about the duchess after she launched the Smart Set capsule collection, a workwear line created in collaboration with Smart Works, of which she is a Patron.
"I'm so inspired by how Meghan Markle—aka one half of @sussexroyal—is representing the U.S. in the U.K. and on the world stage," Hillary wrote. "Meghan's new project: Helping @SmartWorksCharity equip women who have been out of the workforce with the office essentials they need to feel confident in job interviews and beyond. The ability to earn their own paycheck is a key part of women's economic, social, and cultural equality, and it can all start with some smart suits."
The two also have a mutual connection: In March, Buckingham Palace announced that Sara Latham, a former senior adviser on Hillary's presidential campaign, who also worked at the White House when Bill Clinton was President in the late '90s, will lead Meghan and Harry's communications staff.
British royals are not allowed to speak publicly about politics. But Meghan has communicated with Hillary when she was the First Lady of the United States.
"Growing up, I had a poster in my room of Rosie [the Riverter] flexing her biceps," the former Suits actress wrote in an essay in Glamour in 2017. "When I was in grade school, I saw this sexist commercial for dish soap. With Rosie's 'We can do it!' mantra in mind, I wrote a letter to Procter & Gamble, Hillary Clinton, and Nick News anchor Linda Ellerbee, who sent a camera crew to meet me. Guess what? They changed the commercial.
And in May 2016, two months before she met Harry, Meghan slammed then-candidate and now-President Donald Trump, Hillary's arch nemesis.
"Yes, of course Trump is divisive. Think about just female voters alone," she said on Comedy Central's The Nightly Show With Larry Wilmore. "With as misogynistic as Trump is, and so vocal about it, that's a huge chunk of it. You're not just voting for a woman if it's Hillary, just because she's a woman, but certainly because Trump has made it easy to see that you don't really want that kind of world that he's painting.
"It's really the moment that I go," she said. "We film Suits in Toronto and I might just stay in Canada. I mean, come on, if that's reality we are talking about, come on, that is a game changer in terms of how we move in the world here."