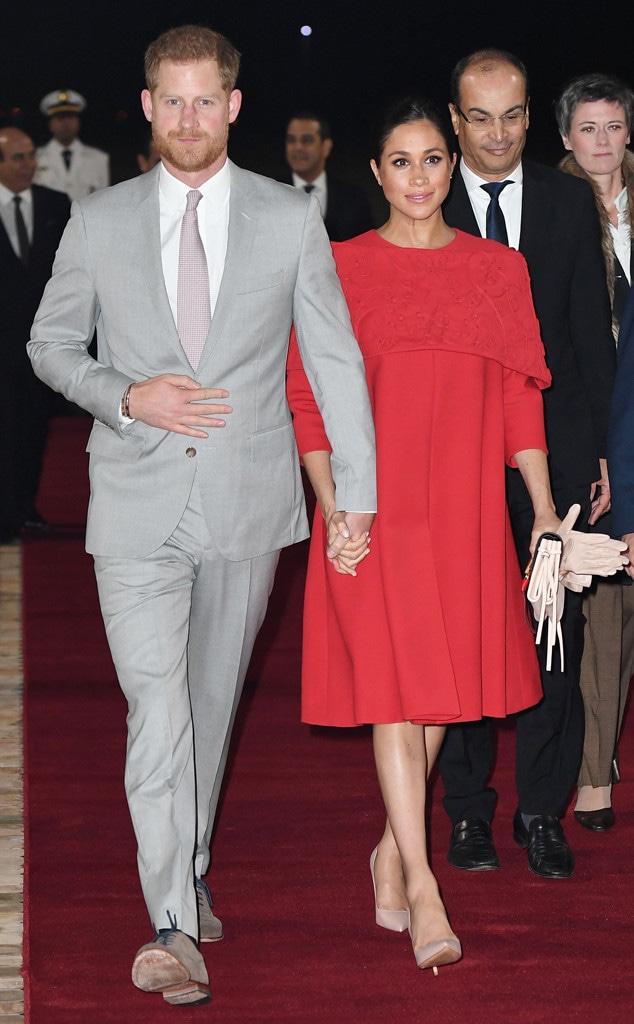 Tim Rooke/Shutterstock
Ahead of Prince George's 2013 arrival, even the most casual of royal observers knew how this whole thing would roll out. 
With the first signs of labor, Kate Middleton was to be ferried to the Lindo Wing at London's St. Mary's Hospital where the suites come equipped with climate control, upscale catering and a healthy serving of history, Princess Diana having delivered both Prince William and Prince Harry in the posh ward. Upon the tiny heir's debut, the couple would place calls to their nearest and dearest, starting with her majesty, Queen Elizabeth II of course, before informing the public, both via Twitter and the obligatory notice posted on a gold easel outside of Buckingham Palace. 
The process played out more or less the same when Princess Charlotte entered the world in 2015 and her little brother Prince Louis followed last April. And when Baby Sussex makes his or her appearance in a matter of weeks, the Queen will likely be in the know and the news shared at Buckingham. But outside of that, well, Harry and Meghan Markle haven't really let us in on a whole lot. 
While a return to Harry's birthplace has been ruled unlikely—Surrey's Frimley Park Hospital where Prince Edward's wife Sophie, Countess of Wessex, labored has been floated as a possibility thanks to its top-notch ratings and proximity to the pair's new home at Windsor Castle—the couple have given no inclination as to which way they're leaning or if they'll choose a hospital at all. Home births, after all, were the royal norm for a few centuries. 
Nor have they spilled on potential names or parenting practices that they'll consider. But based on the way each waxes on about their respective mothers, it appears that both the London-reared royal, 34, and his California bride, 37, feel they had upbringings that were more than just all right. 
Take the tribute Meghan gave to mom Doria Ragland, listing her as one of the "10 Women Who Changed My Life" in a 2017 Glamour article, right alongside former Secretary of State Madeleine Albright and legendary novelist Toni Morrison.
"My mom's a yoga instructor, but she does social work, as well, and she works specifically with the geriatric community," the actress shared. "For me to watch this level of life-long sensitivity to nurturing and caregiving, but at the same time my mom has always been a free spirit. She's got dread locks and a nose ring. She just ran the LA Marathon. We can just have so much fun together, and yet, I'll still find so much solace in her support. That duality coexists the same way it would in a best friend."
Harry has likewise surmised that Meghan and his mom would be close had her life not been cut tragically short, saying the two would be "thick as thieves, without question." Mother and son would have doubtlessly shared the same bond, Harry eternally grateful for the way she strived to make the nearly 13 years they spent together light on the anxiety and heavy on fun.
"She made the decision that no matter what, despite all the difficulties of growing up in that lime light and on that stage, she was going to ensure that both of us had as normal life as possible," he said in the 2017 documentary Diana, Our Mother: Her Life and Legacy, speaking on the good times he and William were afforded. "And if that means taking us for a burger every now and then or sneaking us into the cinema, or driving through the country lanes with the roof down in her old school BMW to listen to Enya."
At quick glance, the reigning assumption would be that blue-blooded Harry had a childhood altogether dissimilar to the one Meghan enjoyed in the leafy suburbs of Los Angeles' San Fernando Valley. Though he wasn't born with the weight of the monarchy on his tiny shoulders, he did come equipped with titles both official—Prince Henry Charles Albert David—and colloquial, though of as the spare heir to his 27-months-older brother. 
It's true he was afforded certain privileges mere commoners could never dream of. He and William toured naval ships in Canada, rode tanks in Germany, regularly dashed to Switzerland for ski trips and a 13-year-old Harry even held hands with a few members of the Spice Girls for a photo snapped ahead of their 1997 concert in Johannesburg. They were also required to master the art of shaking hands with dignitaries and waving to admirers as their first days of school and other momentous occasions were to be documented far beyond today's standard Instagram.
In 2013, bodyguard Ken Wharfe recalled to ABC News how Diana prepped her eldest for his first day at Jane Mynor's nursery school in 1985 (Harry would follow along two years later), letting him know he needed to behave as photojournalists snapped away. "And he, in this sort of just William way, said to his mother, just below the pink cap, 'I don't like 'tographers,'" he recounted. "She said, 'Well, you're going to get this for the rest of your life.'"
But despite such intrusions, Diana managed to give both he and Harry snippets of an upbringing that could be likened to a slice of pure Americana, the type of existence Harry's future bride enjoyed in California where her dad, Thomas Markle, spent Saturdays chauffeuring her to tap and ballet classes, then treating her to club sandwiches and fruit smoothies.
"My mother took a huge part in showing me an ordinary life," Harry told Newsweek in 2017. "Thank goodness I'm not completely cut off from reality."
The princes were permitted to wear jeans and baseball caps, indulge in fast food French fries and enjoy regular Easter holiday trips to England's Thorpe Park. There, as was the case during a 1993 outing to Walt Disney World, they stood in line with the rest of the fun-seekers.
Mike Forster / Daily Mail /REX/Shutterstock
And though they lived in a literal palace, they were able to enjoy some garden variety fun, racing through the halls wearing sheets as they pretended to be ghosts. (The time Harry tried to trick their chef into giving them pizza instead of chicken and roast vegetables for dinner is, perhaps, less relatable, but still emblematic of general childhood hijinx.) 
"She made sure that they experienced things like going to the cinema, queuing up to buy a McDonalds, going to amusement parks," Diana's chief of staff Patrick Jephson told ABC News of the People's Princess, "those sorts of things that were experiences that they could share with their friends." 
Also of utmost importance to Diana was driving home to her boys just how good they had it. As William recalled in a 2012 interview with Katie Couric, his mom "very much wanted to get us to see the rawness of real life. And I can't thank her enough for that, 'cause reality bites in a big way, and it was one of the biggest lessons I learned is, just how lucky and privileged so many of us are—particularly myself."
The princess' goals extended beyond a lesson in humility. She also felt it necessary to ready her boys for the life of service they'd be expected to take on as adults.  
"It was a very difficult dilemma for Diana to prepare them for the very distinctive, unique life that they have had to lead," Jephson told ABC News. "And she did it very cleverly, I think."
That included taking a 7-year-old William to a homeless shelter "completely out of sight of any camera or media," Wharfe recalled to the outlet. "This was Diana's way of actually saying to William, 'Listen, it isn't all what you think it is living at Kensington Palace.' That was a quite a brave thing on Diana's part."
In addition to trips to homelessness projects, "I've taken William and Harry to people dying of AIDS—albeit I told them it was cancer —I've taken the children to all sorts of areas where I'm not sure anyone of that age in this family has been before," Diana told the BBC's Martin Bashir during their 1995 sit-down. Her work had the desired effect. As a grown man, Harry has made the fight against AIDS a pet cause, publicly taking HIV tests in an effort to erase the stigma and launching the MenStar Coalition with Sir Elton John with the goal of ceasing transmission of the disease. 
Though Meghan's modest home in Woodland Hills, Calif. was far outpaced by Harry's Kensington Palace digs, her parents strived to instill the same devotion to philanthropy. 
"Buying turkeys for homeless shelters at Thanksgiving, delivering meals to patients in hospice care, donating any spare change in their pocket to those asking for it and performing quiet acts of grace—be it a hug, a smile, or a pat on the back to show ones in need that they would be alright. This is what I grew up seeing," she wrote on her now-shuttered lifestyle blog The Tig in 2016, "so that is what I grew up being." 
By 13, she was a regular volunteer at The Hospitality Kitchen in L.A.'s notorious Skid Row, already having made it something of a mission to correct any injustices she happened upon. She staged her first political protest at 10, Andrew Morton writes in his 2018 biography Meghan: A Hollywood Princess. When a classmate voiced concerns about his brother serving in the Gulf War, Meghan organized a group to picket outside their school with signs blasting the early '90s conflict. 
The following year, having spied a sexist advert for dish soap with the tagline, "Women all over America are fighting greasy pots and pans," she crafted her own letter-writing campaign reaching out to then-First Lady Hillary Clinton, news anchor Linda Ellerbee, and attorney Gloria Allred to flag the issue. Proctor & Gamble eventually changed the line. 
Seeing the effective change she could produce at a young age set Meghan up for a lifetime of advocacy. As she put it in an Elle UK essay, "I've never wanted to be a lady who lunches; I've always wanted to be a woman who works. And this type of work is what feeds my soul."
A propensity towards largesse isn't the only thing that connected the future spouses. Before they'd each finished elementary school—London's pre-prep Weatherby School for Harry; Hollywood's Little Red Schoolhouse for Meghan—they knew what it meant to come from a divided home. Though Charles and Diana both made strides to effectively co-parent their boys, and Diana retained her residence at Kensington Palace, "The two of us were bouncing between the two of them," Harry shared in Diana, Our Mother: Her Life and Legacy. "We never saw our mother enough. We never saw our father enough."
And with the estranged spouses' disagreements playing out in newspapers and in television interviews, "It was an interesting way of growing up."
Of course all of that paled in comparison to learning his mother had been killed in a car accident just days before his 13th birthday, an occurrence no one, least of all a teenage boy with the eyes of the world trained upon him, could possibly be equipped to deal with. "I think losing your mother at such a young age, does end up shaping your life, massively. Of course it does," he said during a 2016 appearance on Good Morning America. "And now I find myself trying to be there and give advice to other people who are in similar positions."
Meghan's somewhat peripatetic upbringing shaped her as well. 
Falling madly in love after crossing paths on the set of a soap opera in the late '70s, her parents wed at Sunset Boulevard's Self-Realization Fellowship, shrine of the Hindu guru Yogananda, and settled into the suburbs, Thomas continuing his work as a lighting director, Doria selling sundresses out of her own boutique in a Topanga mall.
But just two years after Meghan came along in 1981, as Thomas' older children from a previous marriage were preparing to move out on their own, the couple divorced, sending Meghan on a criss-crossing journey of living with one parent and then the other until it was determined she would settle in with Thomas full-time because of his proximity to Immaculate Heart, her $15,900-a-year private Catholic school.
Sharing stories from that time, Meghan has made light of the fact that she'd walk straight from a day of studies to stay with her dad on the set of Married...with Children, "which is a really funny and perverse place for a little girl in a Catholic school uniform to grow up," she told Esquire in 2013. "There were a lot of times my dad would say, 'Meg, why don't you go and help with the craft services room over there? This is just a little off-color for your 11-year-old eyes.'" 
But she's also spoken about her struggles to find common ground with the rest of her peers. 
"[Growing up], I was called the nerd: bookworm, gap in my teeth, crazy hair, peg legs," she told Elle Canada. "Even through high school I never fully felt as though I fit in—finding myself as a biracial girl teetering in between groups. I remember busying myself and being the president of every club. Not because I actually wanted to, but because I didn't want to eat alone at lunchtime. This overachiever mask I wore was really just the way I battled feeling displaced."
The anxiety may have felt especially pronounced because of how hard Meghan's parents had worked to create an inclusive world view for her, a daughter so beloved they'd taken to calling her "Flower" at a young age. 
Decades before their painful stand-off would become headline news, Meghan's father was a guy who took pains to, as she put it in an Elle UK essay, craft "the world around me to make me feel like I wasn't different but special." 
Steve Parsons/Pool Photo via AP
As a 7-year-old, she shared, "I had been fawning over a boxed set of Barbie dolls. It was called The Heart Family and included a mom doll, a dad doll, and two children. This perfect nuclear family was only sold in sets of white dolls or black dolls. I don't remember coveting one over the other, I just wanted one. On Christmas morning, swathed in glitter-flecked wrapping paper, there I found my Heart Family: a black mom doll, a white dad doll, and a child in each color. My dad had taken the sets apart and customized my family."
His guidance went even deeper when she was faced with a mandatory census form in a seventh grade English class. "You had to check one of the boxes to indicate your ethnicity: white, black, Hispanic or Asian," she recalled to Elle. "There I was (my curly hair, my freckled face, my pale skin, my mixed race) looking down at these boxes, not wanting to mess up, but not knowing what to do. You could only choose one, but that would be to choose one parent over the other—and one half of myself over the other." 
She relayed the story to Thomas that night, how her teacher had informed her to "check the box for Caucasian 'because that's how you look," but that she couldn't bring herself to summarily reject her mother, and watched as his face grew red in anger. "He said the words that have always stayed with me," she wrote, "'If that happens again, you draw your own box.'"
Because for any challenges both she and Harry faced growing up in their separate worlds some 5,000 miles apart, what tends to stick out was the constant outpouring of love they felt from their parents. To Meghan, her mom was the woman who fostered her love of the outdoors and cooking, teaching her how to prepare shrimp gumbo and salads bursting with fresh herbs, she shared in a Tig post. She was the woman who found time to spend afternoons with her mom and mother-in-law "rubbing their feet to help with circulation, brushing their hair so gently when they couldn't do it on their own. Kissing them goodbye, and cradling their faces with such tenderness after each visit that their eyes sparkled with tears." 
As for her dad, she wrote on the site, he put "gas in my car when I went from audition to audition trying to make it as an actress," and "believed in this grand dream of mine well before I could even see it as a possibility." She lauded "the blood, sweat and tears this man (who came from so little in a small town in Pennsylvania, where Christmas stockings were filled with oranges, and dinners were A potatoes and Spam) invested in my future so that I could grow up and have so much."
What Harry remembers most, beyond his mom's naughty streak ("Our mother was a total kid through and though," he shared in Diana, Our Mother: Her Life and Legacy,) was her propensity for love. "Even talking about it now I can feel the hugs she used to give us and you know I miss that, I miss that feeling, I miss that part of a family, I miss having that mother to be able give you that hug and that compassion that everybody needs," he said on the special, adding, "She was our mom, she still is our mom you know and of course as a son I would say she is the best mom in the world." 
And so we'd imagine as Meghan and Harry go through the work of figuring out the types of parents they'd like to become as they raise Baby Sussex, a child who won't have the weight of the monarchy on their shoulders, but will still be saddled with certain expectation, they'll keep in mind what was, perhaps, Diana's most important, overarching message. "I want to bring them up with security," she asserted of her boys. "I hug my children to death and get into bed with them at night. I always feed them love and affection; it's so important."