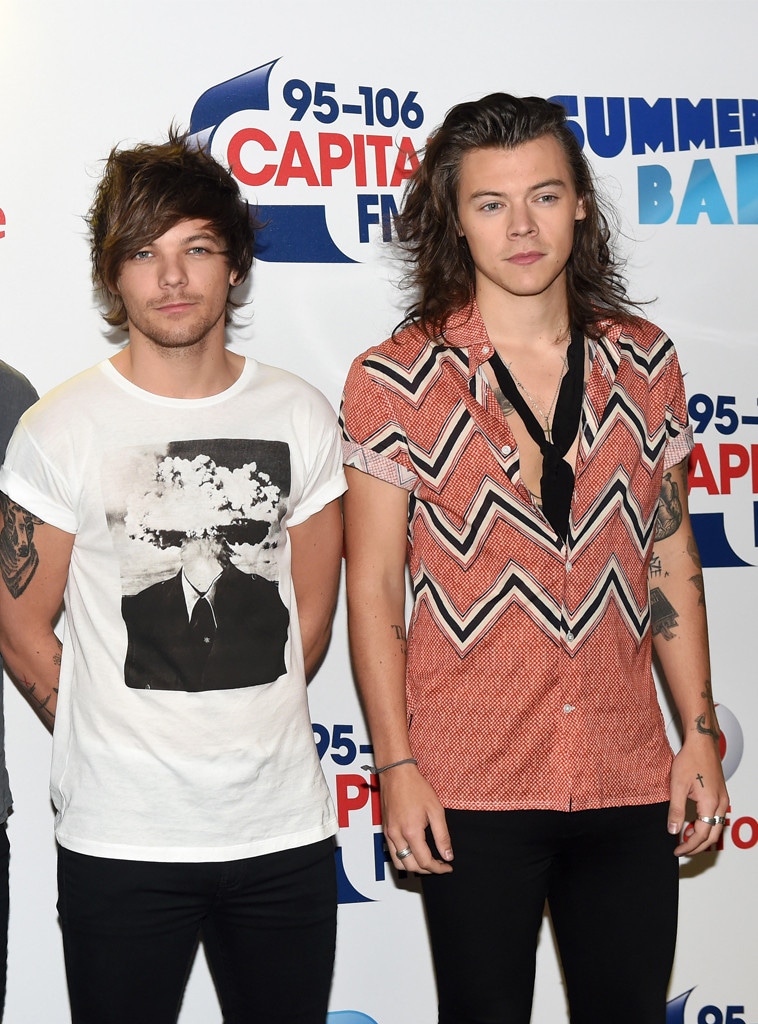 Karwai Tang/WireImage
Listen up, One Direction fans: Louis Tomlinson has had enough of those Harry Styles relationship rumors.
The 27-year-old artist revealed how he really feels about the "Larry Stylinson" theories during an interview with The Guardian published Wednesday. 
"I know, culturally, it's interesting, but I'm just a bit tired of it," he told the newspaper.
While fans have questioned the artists' relationship status for years, the speculation went to a whole different level after HBO aired an episode of Euphoria featuring a sexually explicit animated scene about the two stars. Tomlinson made it clear he was "not contacted" about the episode and didn't approve it. 
"Again, I get the cultural intention behind that. But I think …" he said, trailing off. "It just felt a little bit … No, I'm not going to lie, I was pissed off. It annoyed me that a big company would get behind it." 
Still, Tomlinson has nothing but love for Directioners. 
"So many people have bulls--tted about what they feel about the fans, but they're like family to me," he told the news outlet.
He also has respect for his former bandmates.
"We're not texting each other every day, but what we do have, which will never go away, is this real brothership," he said. "We've had these experiences that no one else can relate to."
Tomlinson and the other members of One Direction—Styles, Zayn Malik, Liam Payne and Niall Horan—announced their hiatus in 2015. It was a move that "rocked" Tomlinson.
"I wasn't ready for it," he said. "I felt like I was getting to be a better songwriter, singer, a more confident performer, and all of a sudden, when I felt I was finally getting some momentum …"
While he's tried to regain this momentum throughout his career as a solo artist, he's also experienced several personal tragedies, including the death of his mom in 2016 and the death of his sister Félicité earlier this year.
"That whole dark side I've gone through, it sounds stupid to say, but it gives me strength everywhere else in my life, because that's the darkest s--t that I'm going to have to deal with," he told The Guardian. "So it makes everything else, not feel easier and not less important, but, in the grand scheme of things, you see things for what they are, I suppose."
Still, Tomlinson is continuing to follow his dreams. For instance, he released his song "Kill My Mind" earlier this month. But does he ever compare his solo career to those of his former bandmates?
"Oh, naturally," he admitted. "I'd be lying if I said I didn't. I've never been competitive like that, but, naturally, you think: 'If they're getting this, then I deserve that.' I think, the longer time goes on, I can see it for what it is and just be proud of them."
To read his full interview, check out The Guardian.