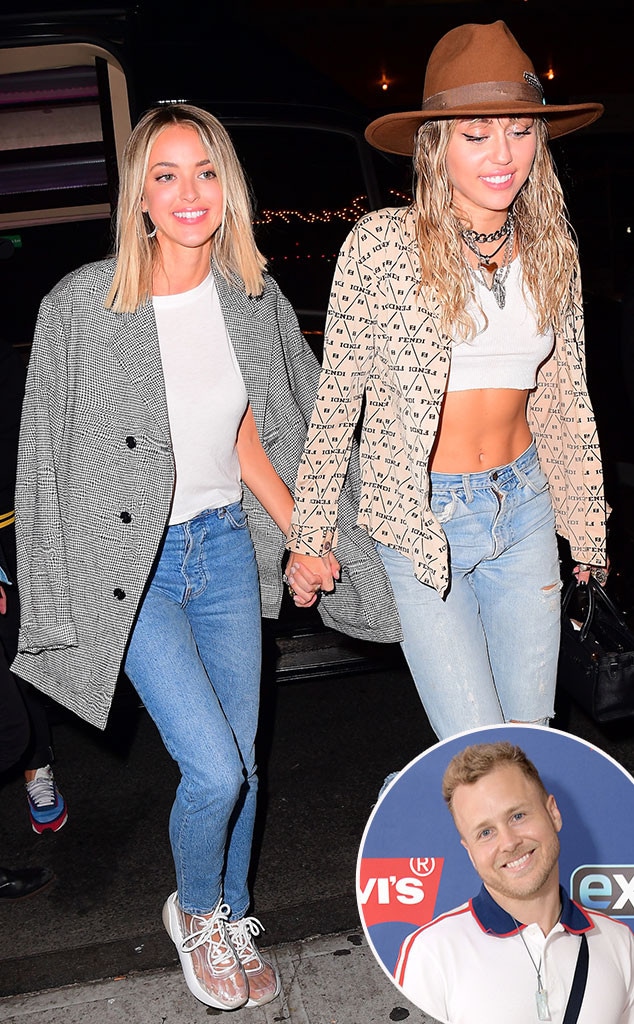 DIGGZY / SplashNews.com, Michael Loccisano/Getty Images
Seems like Spencer Pratt is picking up a suspicious energy from his crystals.
The pot-stirring reality star is calling out his The Hills: New Beginnings co-star Kaitlynn Carter and questioning the timeline of her relationship with Miley Cyrus. On the latest episode of the MTV reality show, Kaitlynn seemed upset over rumors that she and now ex Brody Jenner were in an open relationship, a claim she continually denies. But Spencer isn't so sure about that.
"It's tough for me to listen to Kaitlynn complain about people talking about her allegedly open relationship with Brody when we know she had a thing going with Miley," he told Cosmopolitan. "She already had something going on with her when these scenes were filming—maybe not physically, but definitely emotionally."
"No one's judging you for whatever it is you and Brody do when he's not sleeping in his car," continued the 36-year-old. "We just don't want people to lie about their lives. Maybe you shouldn't have gone on television. It's called a reality show, hon. And the reality is that Brody's been talking about your sex life on his podcast for years."
Which brings us to his next point. During the episode, Kaitlynn said her castmates lacked "common decency" when it came to keeping the private details on her relationship with Brody to themselves.
"I would love to know Liam Hemsworth's thought on Kaitlynn's recent display of 'common decency,'" he quipped to the publication. "You know what I call 'common decency?' Getting it on at your Italian villa and not in front of the paparazzi."
In early August, Kaitlynn and Brody went their separate ways, with Kaitlyn moving out of their Malibu, California home—and on with Miley. The duo, along with her sister Brandi Cyrus, took a girls' trip to Lake Como.
And while Spencer has his opinions, Brody has nothing but love and support for his ex.
"There is far too much negativity being directed at someone who I love and care about very much," he shared on Instagram. "I feel the need to set the story straight. Kaitlynn and I have been best friends for 6 years, and we continue to be. We, like many others before us and many after us, grew in different directions over those same 6 years."
"Kaitlynn is a wonderful person, beautiful and fun to be with, always a positive force in my life," the DJ continued. "We decided the best move for both of us was to keep our love for watch other strong but move forward separately with our lives. I respect Kaitlynn and care deeply about her. She deserves to be able to move forward with her life with respect and happiness."
For his part, Brody has also moved on: He's now seeing Josie Canseco.
While celebrating his 36th birthday last month, the model showered her man with love. 
"They were all over each other and never far apart," a source told E! News at the time. "Brody had a table and he and Josie were side by side most of the night. She was always making sure he felt special on his birthday."