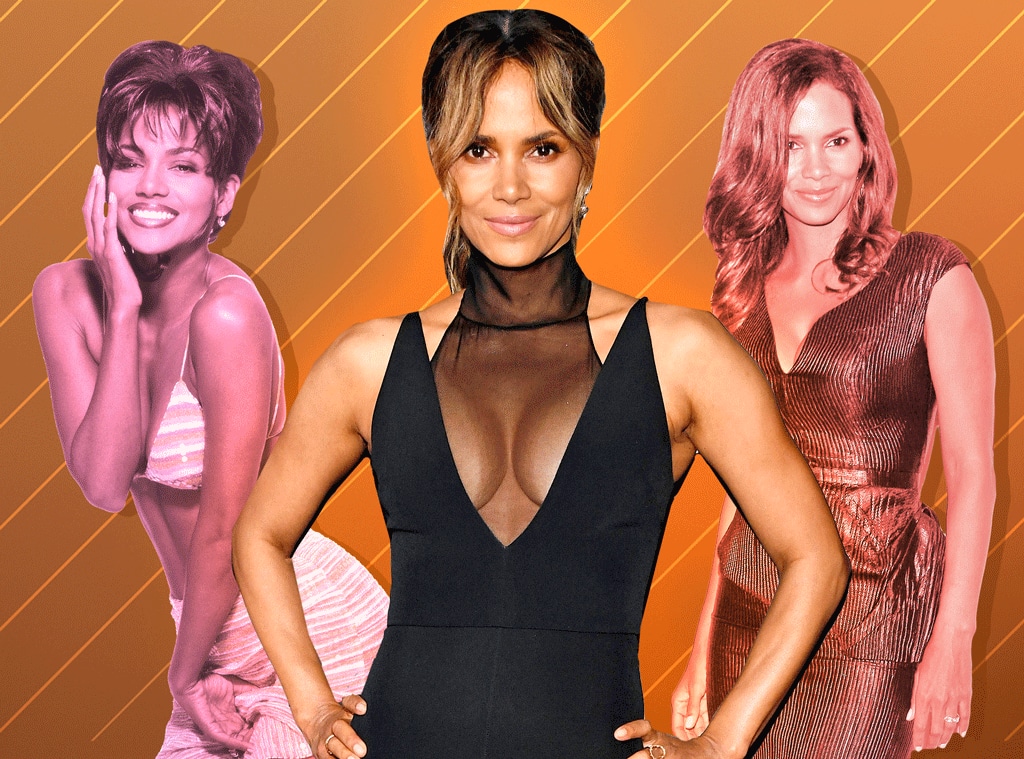 Getty Images/E! Illustration
Any year now, we're waiting for Halle Berry to reveal whatever deal she's made with the devil to continue to look like... well, like Halle Berry.
Obviously some sort of trickery is afoot, because at 53, the Emmy and Oscar winner is looking as fresh-faced as ever, with or without makeup, on a red carpet or mid-workout.
Of course, the John Wick: Chapter 3 star would disagree with the notion that she hasn't changed a bit since her early-'90s soap days on Knots Landing. But she is on board with the observation that, if she has changed, it's only been for the better.
"Embracing [aging] is realizing every stage you're at, and being OK with that," she told fellow Revlon model Olivia Wilde in a 2014 video for the brand. "When you feel good about how you look and the age you are, and you're not trying to be 10 years younger—if you look that way, great—but aging is about embracing who you are and the life that you've lived, and the knowledge and the wisdom that you've gained. 
"And when you do that, I think those women have a light that shines through—and you don't notice wrinkles if they have them so much, because that light is so powerful, and that confidence, and that sense of being, and knowing who you are."
Better call the power company, because someone has been leaving the light on for decades.
Berry's luminosity has persisted, refusing to be snuffed out even on purpose, such as when she played a desperate, grieving small-town waitress in Monster's Ball, the role she won an Oscar for, the world realigning itself when she showed up at the 2002 Academy Awards looking impeccable in Elie Saab.
But though we're still going with alchemy, Berry has always been open about what sort of effort she puts in to maintaining, not just her enviable everything, but her overall health. Obviously the best actress winner is her genetics, but she has employed a rotating cast of supporting characters as well, from bone broth to boxing.
For starters, as has been known for years, Berry has diabetes, so her relationship with sugar has historically been frosty to nonexistent.
Once she was diagnosed, after spending a week in a diabetic coma in 1989, "I started to eat loads of wonderful fresh vegetables, chicken, fresh fish and pasta," she told the Daily Mail in 2005. "I cut out red meat and cut back on fruit because it can contain quite a lot of sugar. Now one of my favorite dishes is something simple but tasty such as grilled tuna and garlic mashed potato."
In a happy accident for her, she tended to crave salty foods rather than sweet anyway, so crunchy chips were her go-to snack. "I'm usually watching The Biggest Loser eating Doritos," she quipped to Harper's Bazaar in 2009. But overall, "I always had to diet. I'm diabetic, so it's a lifestyle for me anyway just to stay healthy and not end up in the hospital."
Fast-forward to 2019, and Berry swears by a high-fat, moderate-protein, low-carb ketogenic diet, which she has credited for helping get her condition under control like never before.
"The idea of it is you train your body to burn healthy fats and so I eat healthy fats all day long," she divulged on Live With Kelly and Ryan a few years ago. "Avocado, oil, coconut oil, butter, but don't have sugar. So when your body gets trained to burn fats and you're constantly on fat-burning mode, that's the secret."
In January 2018, still all in on keto, she wrote, "Being diabetic most of my life, I have always had to take food very seriously. So for years, I have been following the keto or ketogenic diet. I hate the word 'diet' so while you'll see the word diet, just know I encourage you to think of it as a lifestyle change NOT A DIET! Keto is a very low-carb food plan which actually forces your body to burn fat like crazy. I also believe it's been largely responsible for slowing down my aging process. The keto lifestyle offers so many benefits such as weight loss, (moms that's how we get rid of our baby bellies), appetite control, more energy and better mental performance. If you're like me, you can possibly reverse type 2 diabetes, you'll experience better physical endurance, better skin and also less acne if that's an issue. And it even helps control migraines!"
(To all trends and non-expert health tips there is an equal and opposite reaction, so definitely read up and consult a medical or nutrition professional before you try it.)
Berry has also been a devotee of various exercise regimens over the years, and she's been happy to share her secrets.
For a long time she abided by celeb trainer Harley Pasternak's 5-Factor Fitness Plan, and she reportedly shed her baby weight with the help of Ramona Braganza's 3-2-1 Baby Bulge Be Gone.
But over the past year and a half Berry's Instagram has been awash in fitspo from trainer Peter Lee Thomas, who she calls her "secret weapon." Sometimes the ab-happy kyokushin karate specialist demonstrates the moves himself, while in other slides it's just Berry, and sometimes it's the two together in new routines she posts on "Fitness Fridays." Lately the X-Men star has been doing a mix of boxing, martial arts (to master the moves required of her in John Wick 3 and to play an MMA fighter in the upcoming Bruised), strength training and calisthenics, and she and Thomas sit down for occasional "PHIT Talks" to answer questions about CBD products, calorie counts and other head-to-toe wellness topics.
"People want to know how she gets into that kind of shape," Thomas said during a Skytalk session earlier this year, per the Los Angeles Times, acknowledging the body envy his famous client induces. "It's perplexing to them."
As for counting calories, Berry insists she doesn't: "I just eat healthy, I follow the ketogenic lifestyle, and as long as I feel good in my body, who cares what I weigh? It's about feeling good—for me." (She tries not to ascribe to a one-size-fits-all mentality.) 
Since she finally started her account in 2016, Berry's Instagram has proved a wellspring of information about her tricks of the trade. When she posted a selfie with her face slathered in Olga Lorencin's Ageless Facial mask in January, the Internet lit up with "aha, so this is how she does it!" excitement.
But the mask is just the icing on the sugar-free cake.
Berry said in one PHIT Talk, "I do believe that exercise is so related to healthy skin and how you not only feel but how you look. Cardio. Cardio Cardio. Getting the blood running through your body is so good for your complexion. Sweat, and the cheeks get naturally flushed."
Thomas usually works with her five days a week, but you don't have to have a personal trainer: Berry credits the elliptical trainer and a good old-fashioned plank pose for some of her most heart-pounding moments.
Other tips from the fountain of youth that is Berry's social media to savor:
She enjoys the occasional Diet Coke, but tries to stick to La Croix or Perrier when she desires a fizzy treat, and she says she goes through about four bottles of Hint Caffeine Kick water with every workout.
She spikes her coffee with collagen powder.
Thomas recommends kale chips for those must-binge moments.
Bone broth. Berry makes it overnight in her Crockpot.
With her body and skin shipshape, Berry attends to her mental health with meditation, curling up with a good book (or her Labradoodle) in bed and making sure she and her children are sharing a lot of laughs together. Presumably it isn't too weird for them that their mother is aging in reverse.