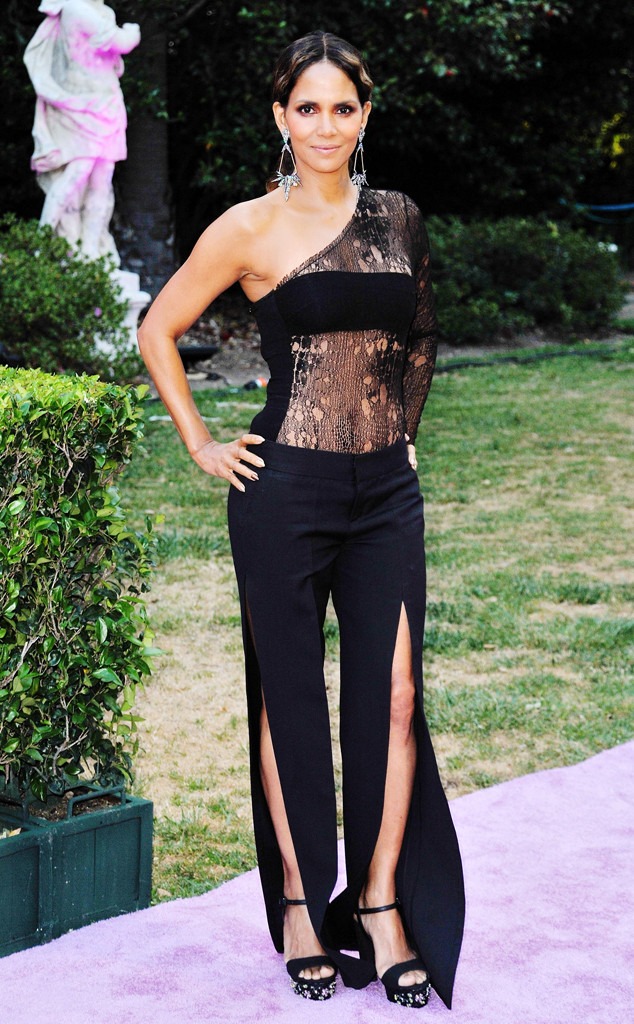 Jerod Harris/WireImage
Halle Berry works hard for her figure. Like, really hard. 
The movie star's 2.6 million Instagram followers have taken note as Berry documents her journey to transforming mind, body and soul through weekly "#FitnessFriday" updates. Peter Lee Thomas is the personal trainer responsible for helping Halle get in the best shape of her life, and as he explained to E! News, it takes gut, grit and determination to work for your dream bod day in and day out. 
Read on for our exclusive Q&A with the health guru behind one of Hollywood's most enviable physiques: 
E! News: You've been training with Halle for a while now. It's been years! What does a typical workout entail? 
Thomas: She pretty much had a checklist of things she wanted as far as her physique is concerned and we had a bulletproof battle plan... You better believing we are doing some boxing, some kick boxing, some Muay Thai... I'm definitely working on those skill sets with her and she's also doing strength and conditioning. She's using kettle bells, bar bells, dumbbells, working on the pull up bar, doing dips, sprinting pushing heavy things, pulling stuff. It's just a really dynamic way to jumpstart anyone's metabolism. 
E! News: How many times do you guys usually train during the week?
Thomas: We typically meet up every day, 5 days a week. She's putting in the work. She doesn't mess around. That's really, really great for me because I know that when we go there it's like preparing for war. There's an objective and there's a goal. 
E! News: What exercises does Halle get most excited about? 
Thomas: She loves to train her core, her legs. She likes to work her upper body as well. She likes to do push-ups. I don't think there is a push-up out there that she can't do. 
E! News: Any particular moves you avoid with Halle? 
Thomas: We stay away from running far distances. She's not really a long distance runner—not to say that she couldn't do it—but we try to keep things explosive and really metabolic. For longevity purposes it saves your knees and joints. We'd rather do sprints rather than run five to 10 miles.
E! News: How did you achieve Halle's toned, but not overly muscular body?
Thomas: The time-tested concept of doing higher volume, more reps. We combine lower weights with higher repetition, and also using your body weight more. Going outside, not having to be fixed to a certain machine.
E! News: Is there a specific meal plan you recommended Halle go on? 
Thomas: Purium is so incredible. I was using it for about 10 to 12 years, and I just felt incredible once I started introducing superfoods into my life. I had no idea what goji berries were or wheatgrass, spirulina and chlorella. Purium brought the muscle building, weight loss aspect and truly helped my transformation. There's an amazing product called "Juice Bar In a Bag." It's incredible stuff.
I never like to push anything on anybody but Halle incorporates these into her diet... The same diet doesn't work for everyone. I typically have a modified Ketogenic diet. A high-fat, moderate protein and low-carb, low-sugar diet works for me. This is the same diet that Halle is also following. Halle naturally was eating a Ketogenic diet and it works for her. I always suggest to eat real food that comes from the kitchen opposed from a laboratory.
E! News: What's it like training Halle?
Thomas: I have never met anybody that works harder and trains harder and is just so resilient. She is getting faster, stronger and becoming more athletic. I've never met another person who can do it like her.
Anyone else feeling inspired to crank up their workout regimen?
(This interview has been edited and condensed for clarity.)