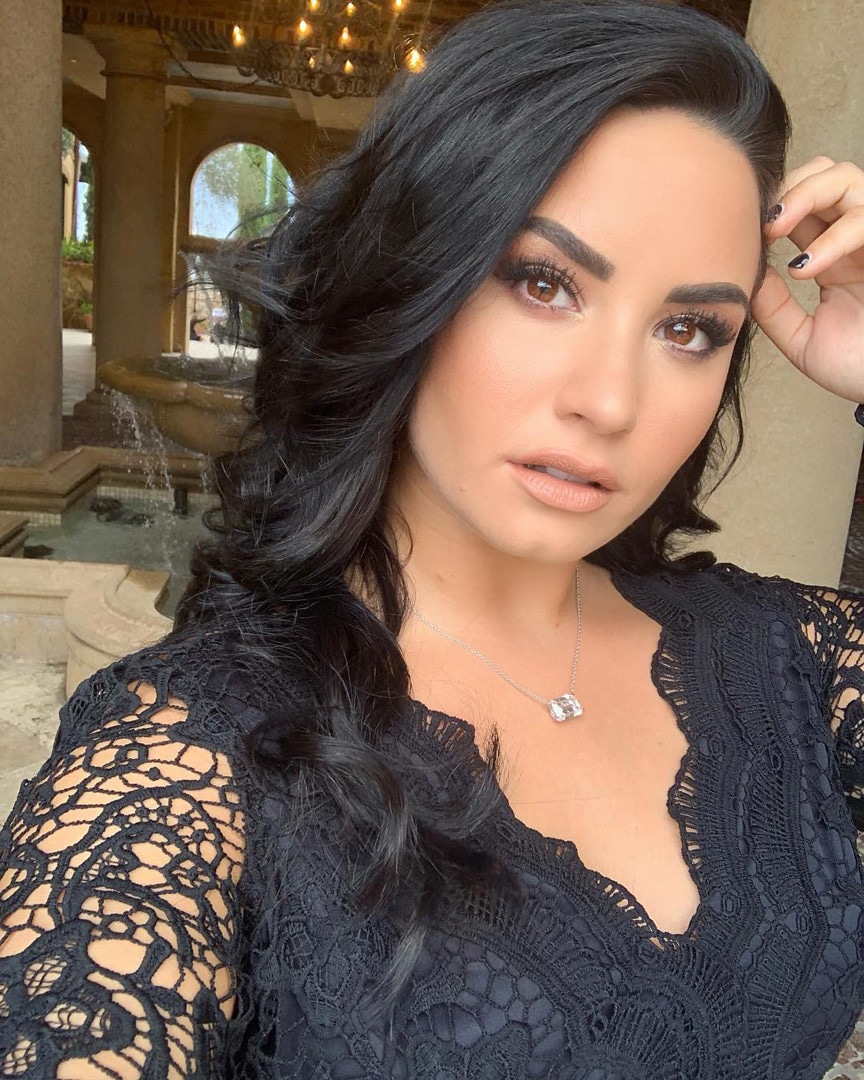 Instagram
As Demi Lovato marks one year since her overdose, the singer is "very focused" and "committed" to her sobriety.
On July 24, 2018, the "Skyscraper" star was rushed to the hospital from her home in the Hollywood Hills after an apparent drug overdose. Two weeks later, Lovato checked into rehab after being released from the hospital.
"I now need time to heal and focus on my sobriety and road to recovery," Lovato wrote in a message to fans at the time. "The love you have all shown me will never be forgotten and I look forward to the day where I can say I came out on the other side. I will keep fighting."
And fight she did.
In Nov. 2018, three months after her overdose, Lovato was spotted out of rehab. Since leaving treatment, Lovato has worked to "clean house and start over," a source tells E! News. Nowadays, the 26-year-old star has a "very set routine that she follows."
"She works out at Unbreakable with a trainer several times a week. She goes to therapy. She eats healthy food and takes great care of herself," the insider shares. "She goes to lunch or dinner with friends. Her health and well-being are her priority. Her life is simple but fulfilling because she is feeling great."
The source adds that Lovato has been writing music and recording, telling E! News, "She has a lot to say and can't wait to share it. She's feeling the best she has ever felt and is very grateful."
Watch:
Demi Lovato's Sister Gives Update on Her Rehab Progress
"Demi is very focused and committed to her sobriety and being the best version of herself that she can be," the insider continues. "She has surrounded herself with good people and the right kind of friends. She has gotten rid of the negative influences and made a conscience effort to clean house and start over."
"She has her family close by and they are a big support," the source tells E! News. "Her team is also a constant and always there for her and she loves them dearly. She has worked very hard to get back on her feet. She doesn't take anything for granted and wants to get the most out of every day and everything she does."
On the eve of the one-year anniversary, Lovato was spotted out with her pals at a birthday celebration.
"Demi had a great time celebrating her friend's 22nd birthday at Barton G. LA last night," a second source tells E! News. "It was a party of 16 people and Demi had a mocktail."
"She feels like she is back and even better than before. Her entire mindset has changed," a third source tells E! News. "Demi is thankful for her journey and also truly grateful to be alive. She checks in with her therapist and doctors and makes sure to sustain a healthy lifestyle with working out minimum 4 days per week and eating correctly."
"Demi knows her mental health is just as important and makes sure to be surrounded by good people and energy," the insider continues. "She's ended a lot of friendships this year but is thankful for the few quality people she can count on. Her mom has been a huge support system. They spend a lot of quality time together which helps Demi stay on track."
The source adds that Demi is "very committed" to this sober lifestyle, sharing, "She will be releasing music next year and a lot of her tracks will be influenced by her dark days and her rising up against her struggles."