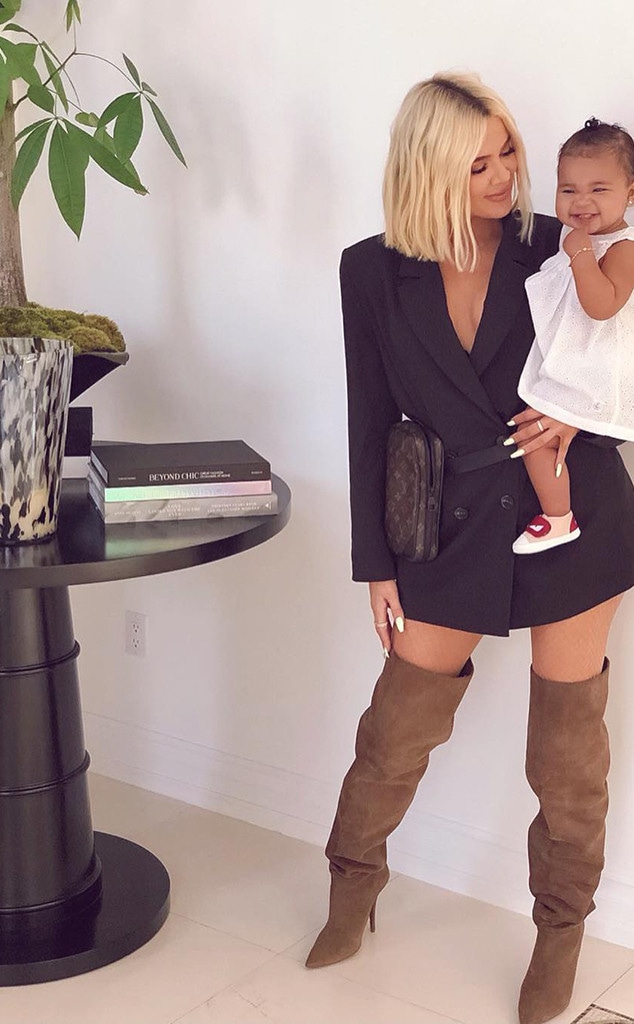 Khloe Kardashian / Instagram
Move over, Kendall Jenner! There's a new model in the family and her name is True Thompson.
Khloe Kardashian took to Instagram on Tuesday to show off her 1-year-old daughter's modeling skills, and in that same post, she teased her younger sister. "You guys I cant handle this! I'm so annoying I know but I'm obsessed," she shared with several heart-eye emojis. "She has the smile down!! Auntie Kenny.... baby True is coming for you!"
In the sweet snap, the reality TV personality's little nugget smiled for the camera as she sat on a white toddler-size bench chair. As for her fashionable 'fit? True rocked a pretty-in-pink dress and dainty jewelry pieces.
Striking a pose for the camera, its' safe to say that the Revenge Body star's baby girl has her angles down to a T! If anything, this isn't True's first time at the rodeo when it comes to taking professional portraits.
Last month, the 1-year-old cutie starred in Khloe's Good American activewear campaign. The mother-daughter duo rocked stylish ensembles, with True wearing a flowy off-white long-sleeve dress and matching hair bow. The E! reality TV star showed off pieces from her latest collection, wearing a pink sports bra and matching leggings.
"Me and my baby girl," the fashion mogul captioned her Instagram photo.
Along with her modeling chops, True is also a makeup artist-in-training. Earlier this month, the 1-year-old beauty hijacked her mom's Vogue tutorial.
"She loves to hand me brushes, she eats my sponges," the Keeping Up With the Kardashians star joked about her baby girl. "Right? You love pink Q-Tips."
Instagram / Khloe Kardashian
During the video, the first-time mom shared her beauty routine and how she keeps a close eye on her daughter while she gets ready.
"Since becoming a mom, this is what I do, I literally locked my front door, my bedroom door, so she can't get out, so she's kinda trapped," she said. "Normally, I allow her to have free reign 'cause I have baby gates, 'cause then I chase after her. So if I'm doing this and I hear she's silent for too long or, I dunno, I don't hear her for too long, of course, [I] run after her."
She continued, "I had to learn how to do makeup really quickly and not do too many wet things, 'cause then once it's wet and I have to run after her, it's gonna set really weird and then I'm gonna look super blotchy."
It looks like True is jack of all trades!