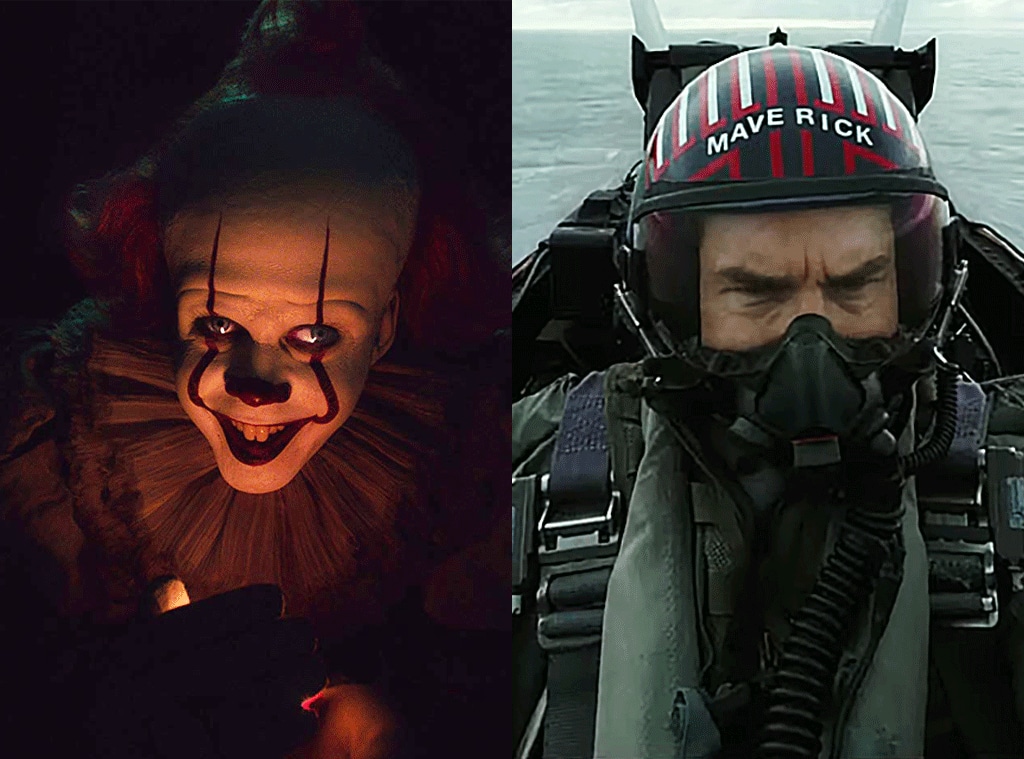 Warner Bros. Pictures; Paramount Pictures
Comic-Con never fails to impress!
From horror films, to thrilling action flicks, there is truly something for everyone. And this year was no different.
Tom Cruise delighted the crowds when he made a surprise appearance to reveal the highly-anticipated trailer for Top Gun: Maverick. Comic-con goers had just finished enjoying the Terminator: Dark Fate panel, when the elusive A-lister suddenly appeared onstage. Of course, his unannounced visit was enough to amaze the audience, but he took it one step further by unveiling the first footage from the flick. 
This is just the beginning of the five day convention taking place at the San Diego Convention Center in downtown San Diego. There is plenty more to come, with panels for Star Trek: Picard scheduled for Saturday, as well as a panel for HBO's season 3 of Westworld. 
It's not all good news though. ABC announced that the next season of Marvel's Agents of S.H.I.E.L.D.  will be it's last. 
Fortunately, there's so much good content to look forward to. To see for yourself, check out the trailers that were released at Comic-Con this week.
Watchmen series (HBO):
On Saturday during Comic-Con 2019, the cable network released the first full trailer for the show inspired by the graphic novel, two months after dropping a teaser.
"There are people that believe is fair and good. It's all lollipops and rainbows. We don't do lollipops and rainbows," Regina King's character Angela Abar says in the trailer. "We know that those pretty colors that just hide what the world really is: Black and white."
Watchmen also stars the likes of Jeremy Irons, Yahya Abdul-Mateen II, Hong Chau, Adelaide Clemens and Don Johnson. Trent Reznor and Atticus Ros composed its soundtrack. The series is set to premiere on HBO this fall.
Preacher 
AMC unveiled the first trailer for the fourth and final season of the cult-favorite series at Comic-Con. And it looks like fans of the show can expect for all hell to break lose as the apocalypse is near. The show premieres Aug. 4.
Star Trek: Picard
Patrick Stewart is back! The legendary actor revealed the new trailer for the upcoming series at Comic-Con on Saturday. Fans of the franchise can expect to see Stewart, Brent Spiner, Jeri Ryan, Jonathan Del Arco and more stars appear opposite Stewart. It will premiere in early 2020 on CBS All Access.
The Rook
Emma Greenwell, Olivia Munn and Joely Richardson join forces for the first season of The Rook. If you love supernatural stories mixed with a spy, thriller tone, then this Starz series will be right up your alley. It airs on Sundays at 8 p.m. ET.
21 Bridges: 
Set for a Sept. 2019 release date, Chadwick Boseman stars as a disgraced NYPD detective who takes on a citywide manhunt for a pair of cop killers after uncovering an unexpected conspiracy. The action flick also stars Sienna Miller, J.K. Simmons and Taylor Kitsch. 
Mayans M.C.:
FX unveiled the first trailer for Season 2 of the Sons of Anarchy spin-off series ahead the show's panel at Comic-Con. In it, EZ (JD Pardo) reveals the truth behind his mother's death to brother Angel (Clayton Cardenas), meaning viewers are in for one hell of a ride when Mayans M.C. premieres Sept. 3.
Westworld
It's coming back, y'all! While Season 3 won't premiere until 2020, the star-studded cast gave fans a taste of what's in store—and let's just say, it's a lot.
Creepshow: 
Horror fans are in for quite a treat when this anthology series, based on the 1982 Stephen King film of the same name, premieres Sept. 26 on streaming service Shudder.
His Dark Materials:
Lin-Manuel Miranda, James McAvoy and Ruth Wilson co-star in the adaptation of the books by Philip Pullman. Per HBO, the first season follows Lyra (Dafne Keen), a seemingly ordinary but brave young woman from another world. Her search for a kidnapped friend uncovers a sinister plot involving stolen children, and becomes a quest to understand a mysterious phenomenon called Dust. The HBO series is set to premiere this fall.
Top Gun: Maverick:
After many years of waiting, Cruise is giving the people what they want. He returns to his role as the Maverick in the official trailer for the already-beloved sequel. It seems that not much has changed, judging by the way Ed Harris addresses Cruise. "Thirty plus years of service. Combat metals; citations; only man to shoot down three enemy planes in the last forty years. Yet you can't get a promotion; you won't retire and by your best efforts you refuse to die. You should be at least a two star admiral by now. And yet here you are, Captain." Ouch!
But, like we said. Not much has changed, because Pete cheekily responds, "It's one of life's great mysteries, sir." 
The film is expected to premiere in the summer of 2020.
It: Chapter Two:
If people thought the first It  was scary, then the sequel is downright horrifying. Jessica Chastain, James McAvoy and Bill Hader revealed terrifying footage during their panel, where they discussed the underlying theme of childhood traumas. The trailer is just the tip of the iceberg. The crowds were treated to even more revealing scenes, but people will have to wait till the film hits theaters on September 6.
Jay & Silent Bob Reboot:
Kevin Smith is following the current trend of reviving past fan favorites. The famed director dropped the trailer for Jay & Silent Bob Reboot on Thursday. Stars like Craig Robinson, Joe Manganiello and Justin Long are featured in the trailer, which means people are pumped to see the movie when it premieres on October 15.
Check back here to see all the new trailers as they are released.
(This story was originally published Thursday, July 18, 2019 at 1:21 p.m. PST)