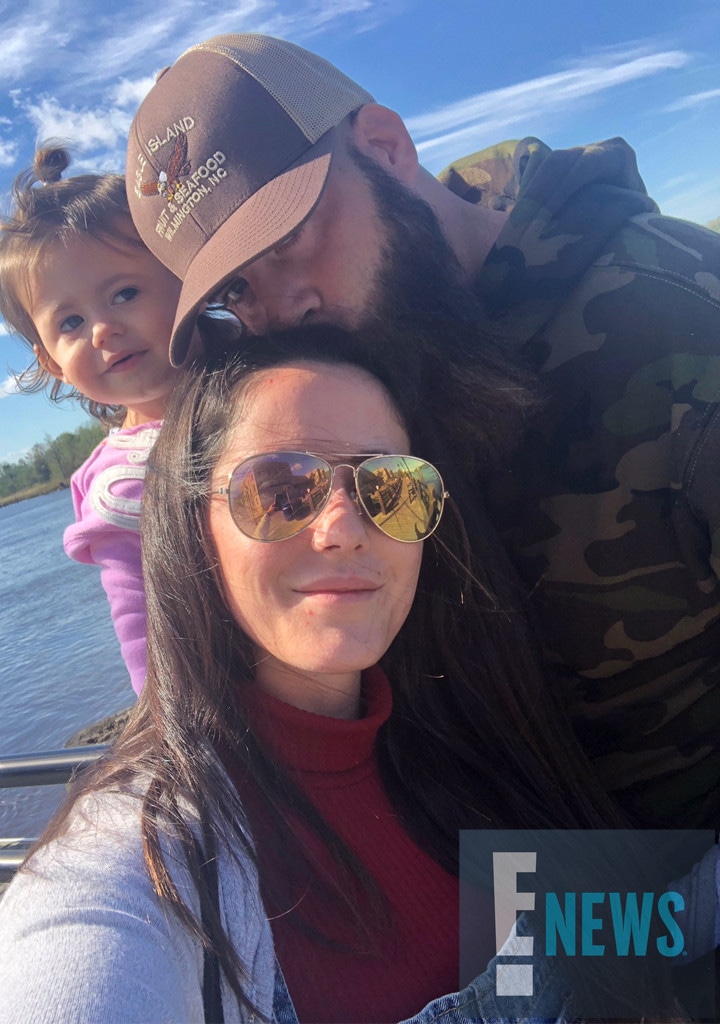 E! News
UPDATE: Doris Davidson, mother of Nathan Griffith, Jenelle Evans' ex and father of their son Kaiser, told E! News, "Nathan is an absolute wreck over this. He called me saying, 'Mom, I can not believe this.' Kaiser is so loved, sheltered and protected here, I felt like I was lying to him, when I told him I was going to protect him. I couldn't protect him. My heart is broken, its just broken...We are in shock, absolute shock, at the judge's decision."
________________
Jenelle Evans' kids are coming home.
The Teen Mom star has regained custody of some of her kids, five weeks after they were removed from her home. Evans tells E! News, "I am ecstatic to regain custody of my kids back! Through out this long process and final decision, I am excited to be moving forward and continuing to show america i'm a good parent."
As it stands, Jenelle's mother Barbara Evans tells E! News her son Jace continues to remain in her custody. 
"The Columbus County judge did a great injustice to these children," Barbara shares.  "Jace was very upset and didn't want to go so I didn't send him back."
A source also maintains that the 9-year-old was not ordered by the court to return to Jenelle's home, but will continue with supervised visits. 
In May, a source told E! News that Kaiser, 4, and Ensley, 2, were taken into Child Protective Services' custody after Kaiser informed school counselors about the environment at home. Jenelle and David were later allowed a one-hour supervised visit each week while the custody trial was ongoing. 
The court's initial decision "stunned" Evans, but she said she vowed to do "everything possible to cooperate with Child Protective Services."
The mother-of-three has stayed strong throughout the entire trial, despite the difficulties of being separated from those she loves most. She previously said the challenging part about the custody trial was maintaining her composure in front of her kids. "It's really hard holding my emotions together when your child doesn't want to let you go, but if you don't hold it together and break down it will make the child more concerned and upset," the 27-year-old shared.
Luckily, there was nothing but positivity at Kaiser's recent birthday party, which was attended by both Jenelle and David. A source told E! News, "Oddly, everyone got along. Nathan invited Jenelle and David. The party was held at Nathan's mom's home. Barbra brought along Ensley and Jace. This was an unsupervised visit."
"Can't believe you are 5 already! You might be getting older but you're still my baby #MommasBoy #HappyBirthday," Jenelle captioned a photo of herself holding the birthday boy. 
Hopefully Kaiser and Ensley's homecoming marks the end of the family's long legal battle. It's been at least two months since Eason allegedly shot and killed their French bulldog, Nugget, which initially sparked concern for the kids' well-being. David seemingly defended his alleged actions in a long Instagram post from May. "Some people are worth killing or dying for and my family means that much to me. You can hate me all you want but this isnt the first time the dog bit Ensley aggressively," he passionately wrote. "The only person that can judge weather or not a animal is a danger to MY CHILD is ME."
TMZ was the first to break the news. 
(Originally published on Tuesday, July 3, at 5:06 p.m. PT)