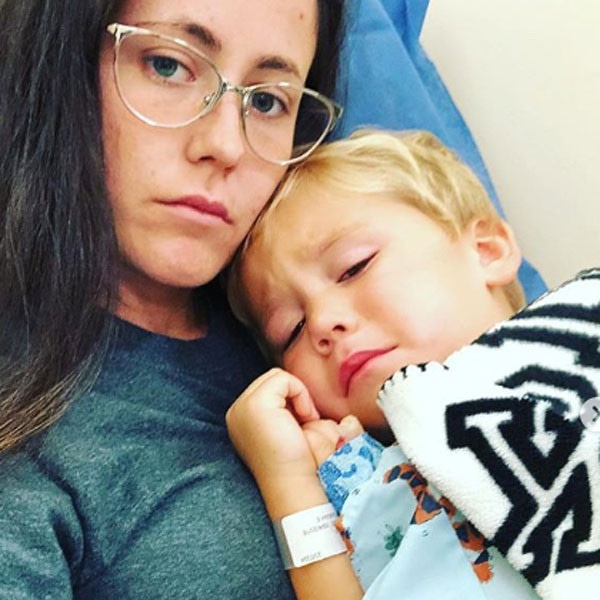 Instagram
Jenelle Evans is working to regain custody of her son, Kaiser.
The mother-of-three tells E! News, "During this difficult time, I am focused on getting Kaiser back and cooperating with my legal team on the next steps to getting my children back."
According to a source, the 4-year-old told his school counselors about the events that recently unfolded in his home, which prompted Child Protective Services to become involved. The source adds that the CPS took Kaiser from his school on Friday, May 10, but Jenelle didn't discuss the case with the media over the weekend "at the request of her CPS lawyers."
It appears that Evans maintains custody of daughter Ensley Jolie, as the mother shared a video of herself and the toddler on her Instagram Story on Monday. 
Her eldest child, Jace, currently lives with Jenelle's mother, Barbara Evans, who has full custody of the 9-year-old. 
There is an ongoing investigation into the death of Jenelle's French bulldog, which her husband, David Eason, allegedly intentionally shot and killed. The Columbus County Sheriff's Office and Columbus County Animal Control in the couple's home state of North Carolina began looking into the shooting of the dog on Thurs. May 2, but there have been no charges filed and no arrests made thus far.
Watch:
Jenelle Evans' Husband Breaks Silence on Dogs Death
According to Jenelle, David allegedly shot and killed their dog, Nugget, after it "snapped" at their 2-year-old daughter. She later said that she "considering divorcing him," but she later told E! News that they are looking into marriage counseling instead.
As for David, he is defending his behavior towards their dog, although he won't say what actions he took in protecting their daughter. "I dont give a damn what animal bites my baby on the face... whether it be your dog or mine, a dog is a dog and I dont put up with that s--t at all," David wrote alongside a video of Nugget and Ensley. "I'm all about protecting my family, it is my lifes mission. Some people are worth killing or dying for and my family means that much to me. You can hate me all you want but this isnt the first time the dog bit Ensley aggressively. The only person that can judge weather or not a animal is a danger to MY CHILD is ME."