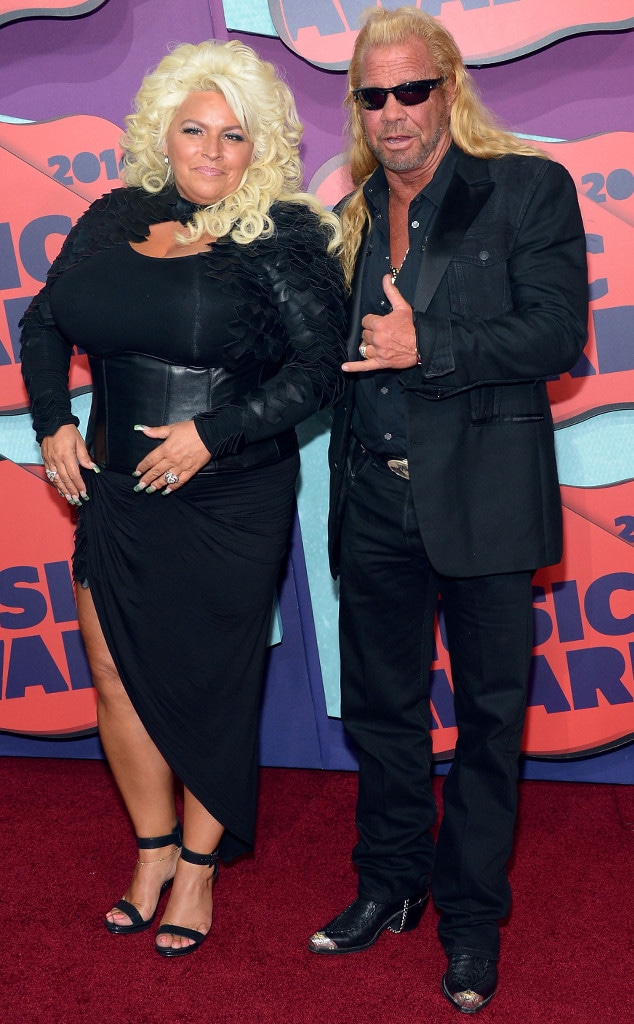 Michael Loccisano/Getty Images
Dog the Bounty Hunter refuses to give up hope as his wife Beth Chapman remains in a medically induced coma.
In his first Twitter post since revealing her hospitalization over the weekend, Dog—born Duane Chapman—shared a gut wrenching, close-up photo of Beth's hand while she lays in bed.
"You all know how she is about HER NAILS !!" he captioned the picture, which captured her signature bedazzled manicure. The snap also showed the IV in her hand and medical bands around her wrist.
The 51-year-old, who is battling throat cancer, was admitted to the ICU at Queen's Medical Center in Honolulu on Saturday. "Please say your prayers for Beth right now," Dog tweeted on Saturday. "Thank you love you."
The family's agent confirmed to E! News that she is in a coma. "Beth is one of the strongest people I've ever known, and if anyone can beat this, it's her," the agent said in a statement. "No matter what happens, she and the family have placed all of their hope, faith, and trust in God. Other than that, I'd just ask that all of her and Duane's fans keep Beth and the entire family in their prayers."
After being in remission for more than a year, Beth learned her cancer had returned in November 2018. She was rushed to a Los Angeles hospital, where she underwent emergency surgery to remove a tumor that had reportedly been obstructing her breathing. The following month, Dog revealed that the cancer had spread through her throat and lungs and is "incurable." 
Beth faced another health scare in April and was hospitalized due to an accumulation of fluid in her lungs. 
"Doctors performed an emergency procedure to alleviate pressure that had built up," a rep said in a statement to E! News. "She is now at home resting with her husband. She and Dog are so grateful for the thoughts and prayers from their fans. Keep them coming."
Watch:
Dog the Bounty Hunter Shares Heartbreaking Photo of Wife Beth
Ever the fighter, she has continued to film episodes of their WGN America series Dog's Most Wanted with her husband.
"She is still hitting the ground running with me," Dog previously told DailyMail TV. "Beth is determined cancer won't slow her down. In fact, I am so amazed by Beth's strength and positive attitude. She has told me repeatedly that if these are her last days on earth she wants to spend every moment with me on the hunt, living life to the fullest and enjoying the time we have left together."
"The best part of my job is having her by my side on every journey," he said. "I can't imagine a day without her and think deep down inside she is always concerned for my safety because she wants the security of knowing I come home to her every night."