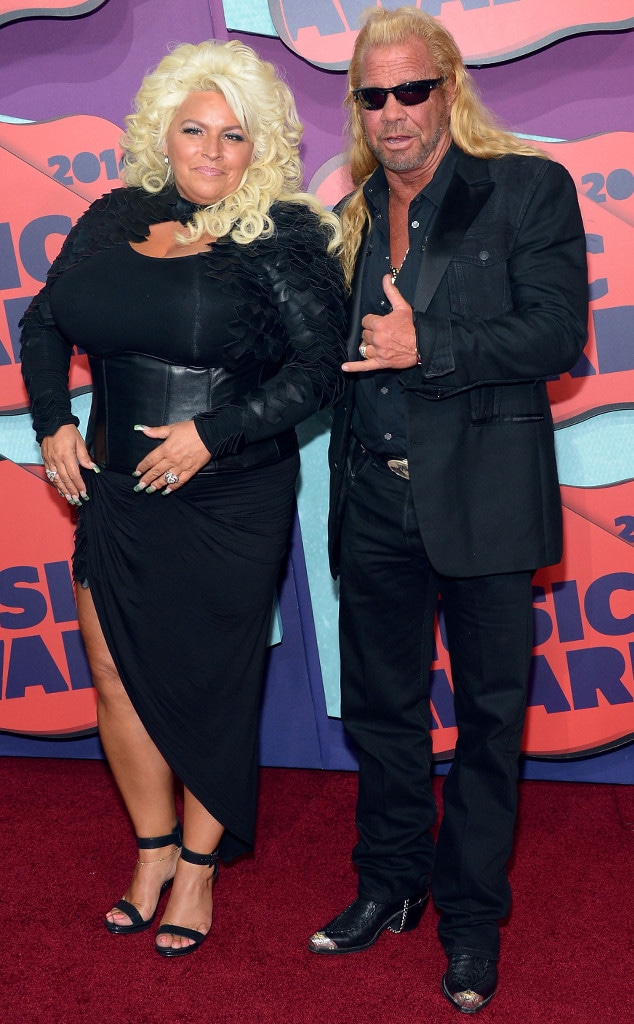 Michael Loccisano/Getty Images
Dog the Bounty Hunter's wife Beth Chapman is recovering at home after being hospitalized over another health scare amid her longtime battle with cancer.
The 51-year-old reality star, mother of two and fellow bounty hunter was treated at a medical center on Saturday "due to an accumulation of fluid in her lungs," a rep said in a statement to E! News on Sunday.
"Doctors performed an emergency procedure to alleviate pressure that had built up," the rep continued. "She is now at home resting with her husband. She and Dog are so grateful for the thoughts and prayers from their fans. Keep them coming."
"They are going well, but they certainly take their toll on Beth," he said. "She's a trooper though and a very tough lady."
Late last month, Dog, 66, told DailyMail TV, "My baby has cancer and she is fighting like hell. I have cried a lot over this because Beth is my everything. Despite all of the obstacles I have overcome, this is by far the biggest test of my life and mark my words, I will not let her die. She is my rock and my bodyguard. I will do everything I can to keep her here."
Despite her illness, Beth has been filming 10 episodes of the new WGN America series Dog's Most Wanted with her husband.
"She is still hitting the ground running with me," Dog told DailyMail TV. "Beth is determined cancer won't slow her down. In fact, I am so amazed by Beth's strength and positive attitude. She has told me repeatedly that if these are her last days on earth she wants to spend every moment with me on the hunt, living life to the fullest and enjoying the time we have left together."
"The best part of my job is having her by my side on every journey," he said. "I can't imagine a day without her and think deep down inside she is always concerned for my safety because she wants the security of knowing I come home to her every night."
—Reporting by Taylor Bryant