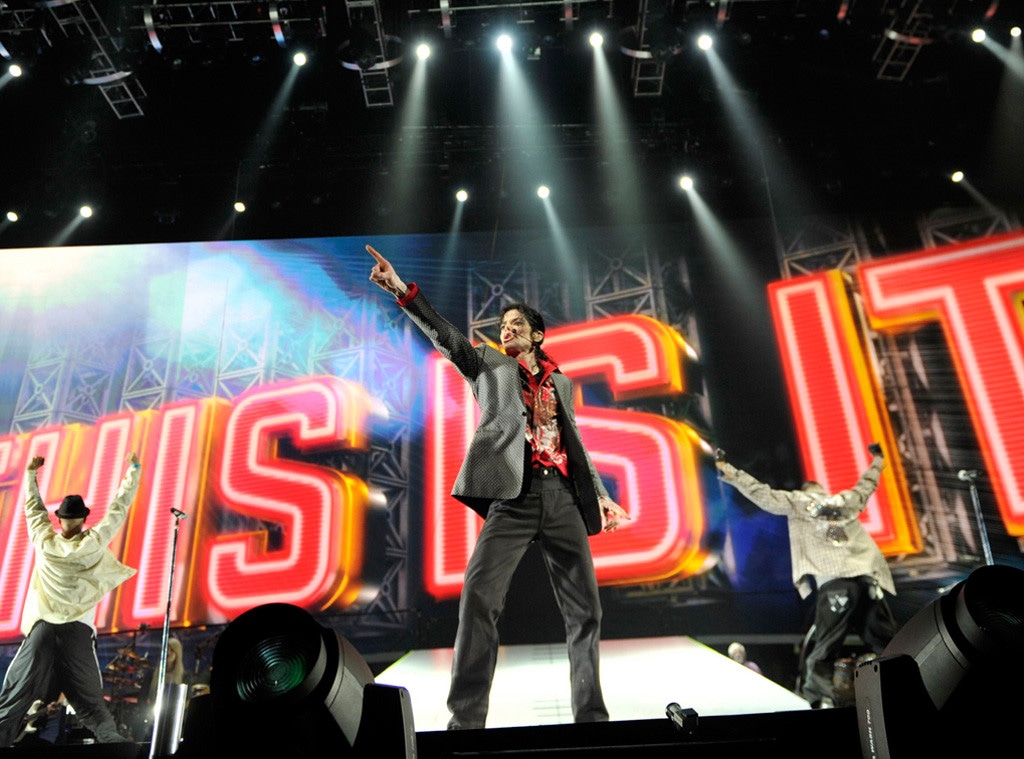 Sony Pictures
On June 25, 2009, Farrah Fawcett died.
The star of Charlie's Angels and one of the most iconic posters of all time was 62. The previous month the docu-special Farrah's Story had given an up-close look at her life, courtesy of home movies shot by her dear friend Alana Stewart, as Fawcett was treated for anal cancer, which she was first diagnosed with in 2006. 
Her story was full of highs and lows, triumphs and tragedies, and her family, friends and the Hollywood community in general were devastated to lose her.
And then, a few hours later, also on June 25, 2009, Michael Jackson died.
Suddenly, there was only one story unfolding in Southern California, on cable news, the Internet and beyond.
"It was such an odd coincidence that she and Michael Jackson should die just within hours of each other," Stewart later told CNN. "It's just amazing that something like that could happen."
But she liked to think that Fawcett would have found that twist of fate amusing. "I always had the sense that Farrah would kind of be getting a laugh out of that and saying 'Thank God, they're over there, finally,'" Stewart said. "'They're leaving me alone. The paparazzi, the reporters, the news cameras.'"
As fate would have it, it was Farrah's memory that people were far more openly interested in paying tribute to when last year's 10th anniversary came and went, Jackson's legacy—golden forever to some, already in tatters for others—having taken a hit with the release of the HBO documentary Leaving Neverland. The two-part film, detailing two men's allegations that Jackson molested them when they were children, had people wondering en masse (led by music critics, some of whom admittedly idolized Jackson growing up) whether they could even listen to his work anymore.
After absorbing countless opinions on the subject from those who believed the men's stories, most life-long fans concluded that yes, they could still listen... but maybe not yet. And it wouldn't be the same. (Jackson's family and estate have fervently denied any and all claims that he molested children.)
But nothing about what has unfolded over the last decade, or over the past year, changes what a surreal day it was when Michael Joseph Jackson, one of the biggest-selling pop artists of all time, suddenly died.
In his final weeks, Jackson had been rehearsing for a 50-date comeback engagement called, forever eerily, "This Is It," to take place at London's O2 Arena. The concerts, what amounted to his first tour since 1997, were already sold out.
There had been questions about his health, and sightings—including ones in 2008 of Jackson in a wheelchair and wearing a surgical mask—told of a thin, frail-looking man.
And though many of those who witnessed the 50-year-old in action said he had been bringing his usual inimitable magic to the stage, a perfectionist as always and involved in every aspect of the production, there had been some disturbing moments during his final days as well.
"I saw a Michael that frightened me," This Is It director Kenny Ortega later testified when the $1.5 billion negligence lawsuit filed by Jackson's family against concert promoter AEG Live went to trial in 2013. The artist was, in his opinion, under the influence of a substance on at least four occasions, a state that was "fairly obvious" to others on the set, Ortega said. In an email he wrote to promoters that he read aloud in court, Ortega said of Jackson, "He was like a lost boy. There still may be a chance he can rise to the occasion if we get him the help he needs."
But, according to AEG CEO Randy Phillips, a four-hour physical Jackson underwent earlier that spring with an independent doctor had turned up "no issues whatsoever." 
When Jackson first died, Ortega told the LA Times, "He was so in love with this project. When I looked into his eyes, they looked great...Michael was sincerely happy."
AEG would counter in its defense that Jackson's personal physician, Dr. Conrad Murray, who was convicted of involuntary manslaughter in 2011, was pulling the strings behind the scenes. A jury later found AEG not liable in Jackson's death.
Watch:
Michael Jackson's Family Says He Was "Too Pure For This World"
At the very least, Jackson was exhausted. In fact, he was being anesthetized in order to go to sleep at the home he was renting for $100,000 a month in the extra-posh Beverly Hills neighborhood of Holmby Hills.
Murray, a Houston-based cardiologist he had recently hired, was administering propofol, a surgical-grade drug, to him at night. Jackson called it his "milk."
"I want it to hit my vein and I want to be asleep," Jackson told one of his nurses, according to J. Randy Taraborrelli's Michael Jackson: The Magic, the Madness, the Whole Story. "I don't even want to wait a minute for it to get into my system. I want to be knocked out, asleep."
A member of Jackson's household staff told Unmasked: The Final Years of Michael Jackson author Ian Halperin, "He wasn't eating, he wasn't sleeping and when he did sleep, he had nightmares that he was going to be murdered. He was deeply worried that he was going to disappoint his fans...He said he was worried that he was going to end up like Elvis."
Elvis Presley—whose only daughter, Lisa Marie Presley, Jackson was briefly married to in the 1990s—died in 1977 at the age of 42. Though no one officially said "prescription drug overdose" at the time, he had been abusing pills and was suffering from myriad health problems, including diabetes.
Jackson showed up for rehearsal on the night of June 24.
The next morning, a Thursday, Murray left Jackson's bedroom, where he was under the influence of propofol, to make some phone calls. When he returned, Jackson wasn't breathing.
Paramedics were called to the house shortly before 12:30 p.m.
MARK RALSTON/AFP/Getty Images
Jackson was in cardiac arrest and Murray was administering CPR when the ambulance arrived, a reported three minutes and 17 seconds after the call. Paramedics worked on the Thriller artist for 42 minutes at the house before transporting him to UCLA Medical Center, 2 miles away. He was pronounced dead at 2:26 p.m.
Brother Jermaine Jackson confirmed the news to the media that had amassed outside the hospital.
And just like that, for a little while anyway, there was nothing weird about Jackson, nothing controversial, no questions lingering. It was just one of the saddest, most game-changing days ever for pop culture, as well as for the 24/7 online media that cover it.
Gus Ruelas/Sipa Press via AP Images
"People fell to their knees," Ortega told the Los Angeles Times about the moment he told the dancers who were rehearsing when he got the call that Jackson had died.
Vigils sprang up practically instantaneously all over the world, including outside Jackson's childhood home in Gary, Ind., and in New York at the Apollo Theater, where the Jackson 5 performed when its precocious frontman was 9 years old. It was reported that Google's inner workings interpreted all the simultaneous searches for "Michael Jackson" as a possible cyber attack. 
Sign-wielding fans gathered outside the hospital started singing, and a nearby UCLA fraternity house blasted Jackson music. 
"I came because no one around me felt my pain," Zai Bryant, who came from Inglewood about 12 miles away to join the crowd at UCLA, told the Times. "I said, 'You know what—those people at UCLA, they feel my pain. I need to be among fans who know what I'm going through."
AP Photo/KEYSTONE, Martial Trezzini
Flowers and candles covered the sidewalk around his star on the Hollywood Walk of Fame and fans left notes and gifts outside the gates of the Hayvenhurst House, the Jackson family compound in Encino, Calif. 
Meanwhile, the TV news was wall-to-wall Jackson, with even the helicopter transport of his body to the coroner's office televised.
"I am absolutely devastated at this tragic and unexpected news," Quincy Jones, who produced Off the Wall, Thriller and Bad said in a statement later that day. "For Michael to be taken away from us so suddenly at such a young age, I just don't have the words. Divinity brought our souls together on The Wiz and allowed us to do what we were able to throughout the 80's. To this day, the music we created together on Off The Wall, Thriller and Bad is played in every corner of the world and the reason for that is because he had it all…talent, grace, professionalism and dedication.
"He was the consummate entertainer and his contributions and legacy will be felt upon the world forever. I've lost my little brother today, and part of my soul has gone with him."
Martin Scorsese, who directed the video for Bad, called Jackson "extraordinary" and said, "He was wonderful to work with, an absolute professional at all times, and—it really goes without saying—a true artist. It will be a while before I can get used to the idea that he's no longer with us."
PAUL J. RICHARDS/AFP/Getty Images
Will.i.am, who had collaborated on the digitally remastered Thriller: 25 that was released in 2008, said, "I am so grateful to have worked with the King. He was a gift to the world, he is a bright light and I wouldn't be surprised if the world stopped spinning tomorrow."
Such was the shock and disbelief echoed by thousands of people, family, friends and fans alike. It didn't seem real. How could someone so larger than life just be...gone?
As former Sony Music president Tommy Mottola said, "His music bridged races and ages and absolutely defined the video age. Nothing that came before him or that has come after him will ever be as big as he was."
Jackson had been diminished on paper by years of rumor, innuendo and crude jokes, but you would have never guessed by the singular adoration that poured forth that night, and for months—and years—to come.
And before 24 hours had passed, Jackson's family was demanding that Murray be investigated and authorities leave no stone unturned in probing what happened to the fallen idol.
The aftermath of that, including an autopsy that revealed numerous puncture marks on Jackson's body and ephedrine and Lidocaine in his system in addition to propofol in what was otherwise a generally healthy system for a man his age, weight and height, was tragic enough. But almost everything about his death and its aftermath had a tinge of the bizarre to it.
In his will, Jackson had entrusted his beloved mother, Katherine Jackson, with the care of his three children, Prince, Paris and Blanket (who is now 17 and going by Bigi these days), and if for some reason she was unable to do so, then he wanted Diana Ross to step in.
A star-studded, musical memorial service attended by thousands at L.A.'s Staples Center that July had people wondering where these luminaries all were when Jackson as alive. But the event is almost entirely remembered for 11-year-old Paris Jackson's first-ever public words about her father.
"Ever since I was born, Daddy has been the best father you could ever imagine," the child said, crying. "And I just wanted to say I love him so much."
Jackson's immediate family was an hour late to his funeral at Glendale Forest Lawn Memorial Park, leaving the punctual mourners, including screen legend Elizabeth Taylor, Quincy Jones, Lisa Marie Presley, Macaulay Culkin and his then girlfriend Mila Kunis, waiting outside in the L.A. heat for the 31-car motorcade to show up. More than 460 media credentials were handed out to cover the arrivals.
After a 90-minute, by-invitation-only service that took place more than two months after his death, Jackson was laid to rest inside the Great Mausoleum.
That final rehearsal footage—which showed a performer who could still command a room and, if not at the peak of his talents certainly could still hold his own—was swiftly turned into a concert documentary, Michael Jackson's This Is It, that grossed more than $260 million worldwide. Cirque du Soleil's Michael Jackson ONE was pressing on in Vegas and a Broadway musical utilizing his greatest hits was in the works before the COVID-19 pandemic put everything on hold.
Though his finances were a notorious mess in life, Jackson has been the top-earning dead celebrity for years, according to Forbes, grossing $400 million in 2018 to top a distant second Elvis Presley's $40 million. The singularly massive number was due to his estate selling his share of EMI Music Publishing back to Sony for $288 million, but Jackson remained the posthumous king last year, too, bringing in $60 million in 2019.
But memories of the myriad troubles he faced while he was alive abound. Though his old hits from the 1980s and early '90s remained huge draws, just as Jackson found that his later releases weren't similarly beloved, albums featuring "new" music cobbled together from unreleased recordings, such as 2010's Michael, weren't the most exciting additions to the canon.
In 2015, Neverland Ranch, the Santa Barbara-area idyll where Jackson hosted kids at his personal zoo and amusement park and perhaps the biggest reminder of his troubling excesses, was put on the market for $100 million and rebranded Sycamore Valley Ranch. In May 2019, it was re-priced to sell at $31 million after several other adjustments along the way.
It's "a tough sell," Landmark Research Group CEO Randall Bell, an appraiser who specializes in infamous properties, told Los Angeles magazine. "Michael Jackson brings a range of emotions. He's associated with some very ugly crimes."
Moreover, Bell added, "the whole place is designed around Michael Jackson's tastes, which were somewhat unconventional. It's going to take a special kind of buyer."
In February, an agent at Compass, which had previously handled the listing, told Business Insider that the estate formerly known as Neverland Ranch was off the market.
But real estate experts have remained confident that a deal will get done one day, also noting that it wasn't unusual for the area to have a property that expensive sit on the market for a few years.
"It was priced where it was in the beginning to capture a celebrity trophy buyer, someone that was willing to pay the extra money because it was Michael Jackson's," Mansions and Millionaires host Michael Corbett told Yahoo! Entertainment in December. "Unfortunately now, since there's been a lot of negative press, someone is probably not going to purchase it for that reason... Now someone's going to buy it because it's an amazing piece of real estate."
(Originally published June 25, 2019, at 3 a.m. PT)