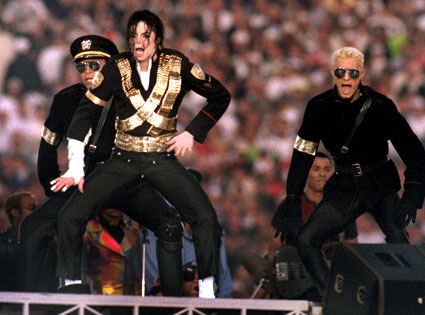 George Rose/Getty Images
The crowns fit: Michael Jackson was the King of Pop; Elvis Presley was the King of Rock 'n' Roll. Both men commanded the pop-culture landscape, as much as the charts. Both men influenced their industry, as well as scores of artists.
And both men died suddenly and barely into middle age.
Jackson, whose landmark Thriller broke records and racial divides, whose smooth moves revolutionized dance as much as pop, and whose penchant for headline-making helped burnish his brand, and, following child-abuse allegations, helped tarnish it as well, died today after being found unconscious at his Los Angeles-area home.
Jackson suffered cardiac arrest around noon, according to father Joe Jackson, and never recovered. He was prounced dead at 2:26 p.m., officials said.
Music's eternal Peter Pan was 50. In the end, the King of Pop outlived Presley, whose daughter Lisa Marie Presley Jackson would wed, by just eight years.
"There's really no question if you're going to talk about the most looming, dominant figure in 20th century pop music," pop-music expert and USC associate professor Josh Kun tells E! News, "Michael Jackson is that person."
"He became synonymous with what pop was, and what it still is today."
Beginnings
Born Aug. 29, 1958, in hardscrabble Gary, Ind., Jackson was a nightclub performer by the age of 5. The first gig, with older brothers Jackie, Marlon, Tito and Jermaine, earned the group $8, and, according to a Billboard-branded history of the charts, a whole lot more in tips.
"On stage for me was home," Jackson told Oprah Winfrey in 1993. "I was most comfortable on stage but once I got off stage, I was like very sad.
In 1969, the brothers were signed to Motown Records. Their band, the Jackson 5, with then 11-year-old Michael on electrifying lead vocals, scored its first No. 1 hit in 1970: "I Want You Back." "ABC," "The Love You Save" and "I'll Be There" followed. As did teen idoldom.
Like their Osmonds counterparts, the Jackson 5 lived the 1970s highlife: hit records, magazine covers, an animated series, and a prime-time variety show, The Jacksons, which gave early exposure to a very young Janet Jackson, the musical family's youngest child, and a semi-green David Letterman. Unlike the Osmonds, the Jackson 5 did it all by breaking barriers as the first teen-idol act of color.
At the center of it all was Michael, who became a chart-topper on his own with 1972's "Ben," a song sweet enough to transcend its rat-movie roots.
The singular member of the Jackson 5, rebranded as the Jacksons in 1976, Michael Jackson seemed primed for film stardom, as well, after costarring as the loose-limbed Scarecrow, opposite his mentor, Diana Ross, in The Wiz. But the 1978 musical bombed, and took out the decade's once-booming black-film market with it.
Breakthroughs
Hollywood's loss was pop music's gain. In 1979, Jackson released his first solo album, Off the Wall. Though overshadowed by what was to come, Off the Wall was an influential work in its own right, and a best-seller, too, producing classic tracks such as "Rock With You."
Then came Thriller.
Released in December 1982, Thriller represented the pinnacle of Jackson's career, and the birth of the Pepsi-pitching, Disneyland-appearing, "We Are the World"-promoting superstar. Combined with his Moonwalk-introducing appearance on Motown 25, the 1983 TV special, Jackson—and music—were transformed. The revolution, at the dawn and maybe peak of the music-video era, was televised on MTV, which previously had been slow to showcase black artists.
In a 2002 interview with Vibe magazine, Jackson said he knew Thriller and Off the Wall were going to be special.
"Not to be arrogant, but yes. Because I know great material when I hear it, and meoldically and sonically and musically, it's so moving." Jackson said. "They keep the promise."
Back before albums were cherry-picked by iTunes-downloading consumers, Thriller was its own greatest-hits playlist, producing almost as many singles as there were tracks, seven in all—"Beat It" and "Billie Jean," among them.
"We call a lot of things king-sized," Syracuse University pop-culture expert Robert J. Thompson tells E! News. "In this case, it was not hyperbole. He even dressed like royalty."
On Grammy night in 1983, Jackson, decked out in a glimmering military-style jacket, dark shades and one lone sequined glove, his trademark, carted off eight awards: seven for Thriller and one for his work on a children's recording of that year's film phenomenom, E.T.: The Extra-Terrestrial.
Thriller ended up selling more than 104 million copies worldwide. In the United States, it spent years jockeying with volume one of the Eagles' greatest-hits collection for bragging rights as the Recording Industry Association of America's all-time certified best-seller.
Transitions

In his Thriller heyday, Jackson was viewed as both genius and man-child, but not necessarily an eccentric. Sure, he attended award shows in the company of Webster star Emmanuel Lewis, and, sure, his nose looked as if it might have been nipped a bit after Off the Wall, but there was nothing to scare off Pepsi, for which he was hired to sell soda to a new generation (and, in the process, singe his hair during a 1984 commercial shoot), or Disneyland, for which he starred in the park's Captain EO attraction.
Then a series of small things happened: the 1986 shot of him napping in a hyperbaric chamber; the tabloid story abut him wanting to buy the bones of the so-called Elephant Man; the menagerie of critters, including Bubbles the chimp, that comprised his posse at Neverland Ranch, the 2,800-acre estate turned fantasyland that Jackson bought in 1987.
And then a lot of plastic surgeries appeared to happen. By Jackson's count, he underwent only two procedures in his lifetime. But most bystanders begged to differ. Digital photo techology seemed invented to demonstrate how Jackson's face, and even his skin color, morphed over the years.
By the late 1980s, Jackson was all but branded an official eccentric. And he didn't care.
"The fans know the tabloid garbage is crap," Jackson told USA Today in 2001. "They always say to me, 'Let's have a tabloid-burning.'"
The hits, meanwhile, kept coming: "Dirty Diana," "Man in the Mirror," "Smooth Criminal," "Dirty Diana," and more, including the title track from 1987's Bad; "Black or White" and others from 1991's Dangerous.
Trouble
In 1993, Jackson, who, by that time, was positioned as an all-out kid-championing, if not kid-friendly, performer, was accused of molesting a 13-year-old boy. Jackson denied any wrongdoing, and no criminal charges were filed. Years later it was reported Jackson paid his young accuser $23 million in a settlement.
In 1994, shortly after the molestation case was dropped, the 35-year-old Jackson wed Lisa Marie Presley. The two music-business babies had met in Las Vegas in the early 1970s. But if their union had a great backstory—King of Pop marries King of Rock's daughter—it was met with a great deal of skeptism. The couple protested.
"I'm not gonna marry somebody for any reason other than the fact that I've fallen in love with them. Period. Period," Presley told ABC News in 1995. "And they can eat it, if they wanna think any differently."
Jackson and Presley divorced in 1996.
Musically, Jackson seemed to vent his anger over the molestation case in 1995's "Scream," a joint howl with Janet Jackson, whose success at times nearly rivaled her big brother's.
While the song was a hit, Jackson's career took a hit, especially in the United States. As the years passed, Jackson produced more lawsuits, more headlines about his strained finances and more unusual behavior than music. A second marriage, in 1996 to Debbie Rowe, a former nurse for Jackson's dermatologist, with whom the entertainer had two children, didn't change popular opinion of a man dubbed "Wacko Jacko" by the British press.
Jackson and Rowe divorced in 1999.
More trouble ensued. In 2002, Jackson drew criticism for showing off his youngest child, a son born that year via surrogate and nicknamed Blanket, to the press gathered below his Paris hotel balcony.
In 2003, months after Jackson told interviewer Martin Bashir that he had innocently "slept in a bed with many children," the singer's Neverland Ranch was raided—and Jackson was subsequently arrested. Another child-molestation case was on. This time, the case went to trial. And the circus was on.
The salacious 2005 trial, involving testimony about chimps, Macaulay Culkin and a hot-air balloon plot, and briefly sidetracked by a hospitalization for the frail-looking defendant, ended in Jackson's acquittal.
Post-trial, Jackson and his children hopscotched the globe, eventually returning to the states, although never to Neverland. And never to his Thriller heights.
Even with all the blows, Kun says, Jackson's star never fully dimmed. "Elvis is still very much remembered for the glory days of his career," he says. "And with Michael Jackson, that's what people are going to remember the most."
Legacy
In late 2007, Jackson, approaching his 50th birthday and looking back on the 25th anniversary of Thriller, described himself as grateful for his run.
"I'm very proud that we opened doors, that it helped tear down a lot," Jackson told Ebony magazine. "Going around the world, doing tours, in stadiums, you see the influence of the music."
This past March, Jackson announced a series of concerts, scheduled for July in London, which would mark, as he put it, "his final curtain call."
"When I say this is it," Jackson said, "it really means this is it."
Jackson's survivors include his three children, parents Joe and Katherine, his six bandmates and brothers, including Randy, a latter-day member of the Jacksons, and sisters Janet, Rebbie and La Toya.
He also leaves behind 13-career Grammys, and, scattered in record collections throughout the world, 750 million album copies of Jackson's life work: his music.
(Originally published June 25, 2009, at 3:12 p.m. PT)
From child star to music icon—reflect on Michael Jackson's life with our collection of photos.