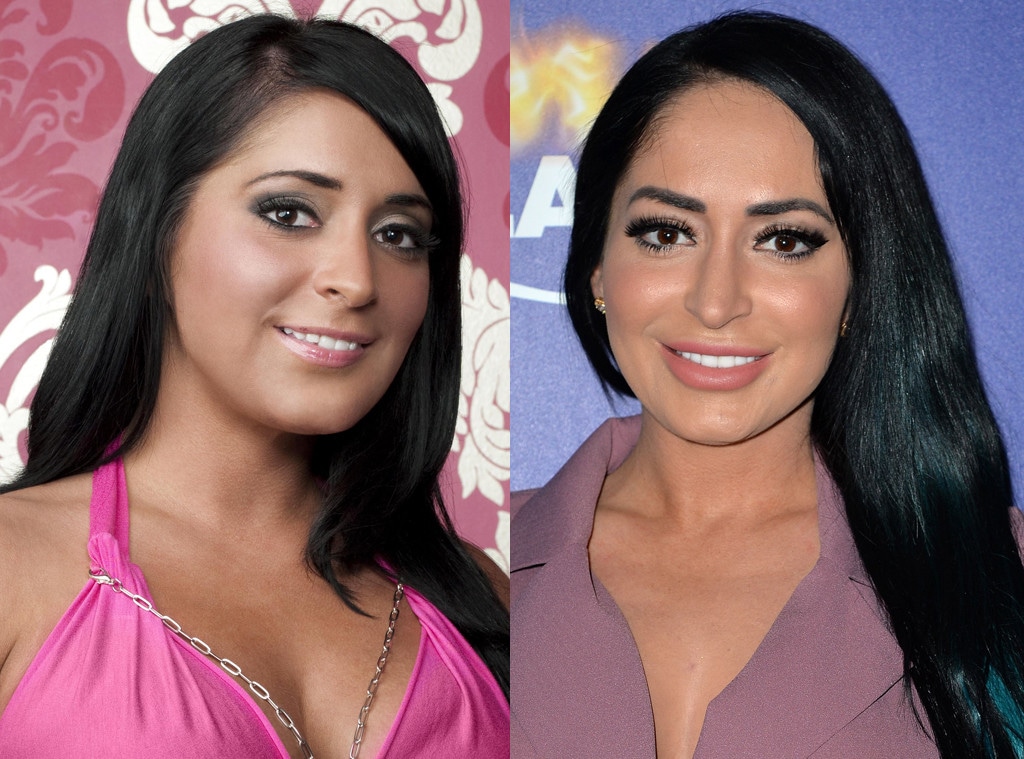 Mtv/Kobal/Shutterstock, Kristin Callahan/ACE Pictures/Shutterstock
Gym, tan, laundry!
It appears Jersey Shore star, Angelina Pivarnick, followed the famous motto thanks to the help of co-star Vinny Guadagnino. Speaking exclusively to E! News, the reality TV personality opened up about her weight loss journey and prepping for her upcoming wedding with fiancé Chris Larangeira.
When asked how she slimmed down, she put things simply. "So I listened to Vinny, which is so cute and I sort of did half Keto." For her, she explained, it's all about eating right but not depriving herself.
"I kind of followed [Keto], but on Sundays I gave myself a cheat day, which I think Vinny does, too," she said. "I basically followed what Vinny told me to do. Never in a million years would you think that I would be listening to Vinny." 
She most certainly credits her diet and the 31-year-old reality star for her nearly 20-pound weight loss.
"[Vinny]'s been amazing and I really appreciate that he's helped me get ready for my upcoming wedding," she said. What's more? Pauly D and her soon-to-be husband have noticed her major weight loss.
"When I saw Pauly and Vinny recently, they were like, 'Oh my God, you've lost so much weight.' And I was like, 'Thanks, Vin.'" As for her boo thang? "Chris loves it," she said. "He's like, 'Oh my god, my sexy future wife.' He says he can't wait to marry me."
Along with her diet, Pivarnick shared her exercise routine. And luckily for us lazy folks, she doesn't do anything too hardcore.
"I do cardio," she revealed, adding, she wasn't able to do much else due to an injury. "I really can't lift weights because my back is injured from being an EMT. But I'm allowed to walk on the treadmill and I'll do an incline sometimes. But it's really all diet."
Additionally, Angelina has her morning routine set with her fave meal services: Eat Clean Bro and Boom Bod.
"Eat Clean Bro, holy f--k. I wake up in the morning, I'll take a Boom Bod packet, you put it in the water, you mix it, you drink it. Then I'll either have a 310 Nutrition shake or I'll have a really light breakfast. And then at lunch, I'll have an Eat Clean Bro."
All in all, she feels ready to walk down the aisle after taking care of her health. But she admits she hasn't started some of the wedding preparations, like dress shopping!
"We haven't gone dress shopping yet, but everyone's going to start helping me with that soon." While she's still figuring things out, she knows exactly how she wants her hair styled. "I'm definitely going to have my hair down for the wedding. 100 percent."
Fans of the Jersey Shore star can expect her to say "I do" soon-ish. "It looks like my wedding will be sometimes in the fall," she shared, adding the reason why she's waiting so long. "I want Mike [Sorrentino] to be there with Lauren [Pesce]."
In the meantime, we'll be taking notes and writing down these hot tips!