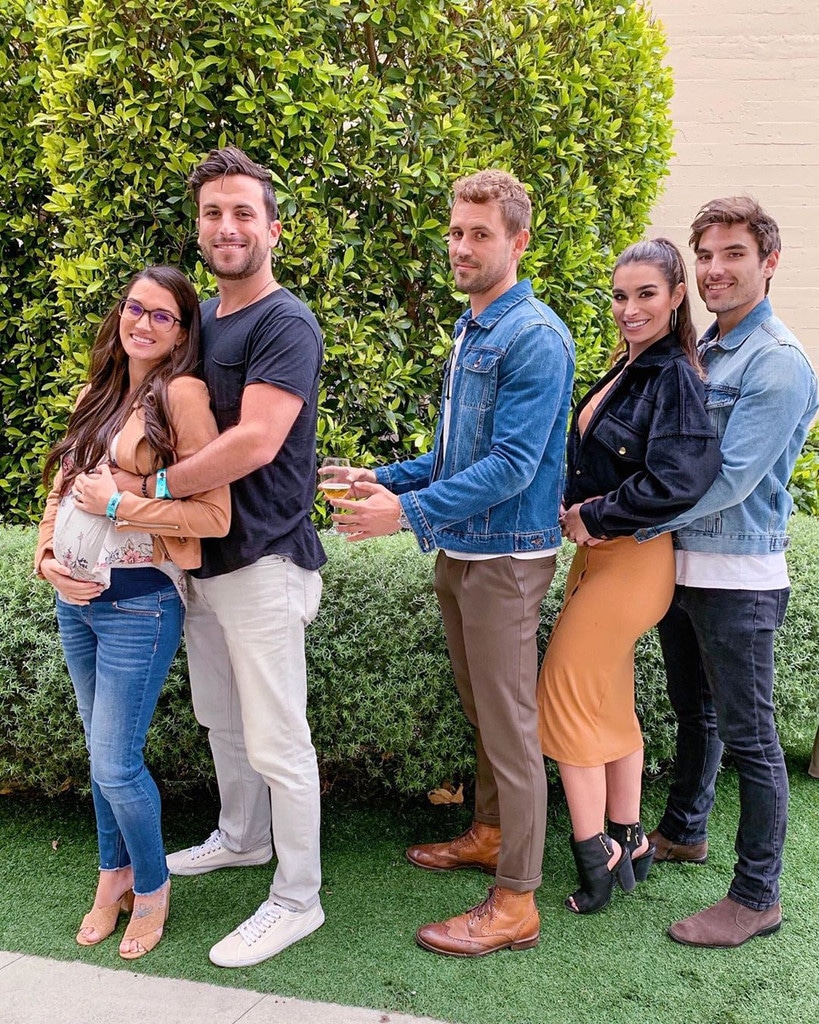 Instagram
Jared Haibon and Ashley Iaconetti got engaged on Bachelor in Paradise, but their soon-to-be married life isn't all sunshine and margaritas on the beach.
The Bachelor Nation couple has a love story that rivals most box office chart-topping movies and now they're taking their relationship to new heights with a YouTube show called What Now? The show (produced by Kinetic Content) also features Bachelor alums Nick Viall, Jade Roper and Tanner Tolbert. The first two episodes were released on Tuesday and are available to stream on YouTube.
What Now? explores the romantic relationships between Ashley and Jared and Tanner and Jade as well as their friendship as a whole. Fear not for the semi-fifth wheel Nick, who launched his essential oils brand called Natural Habits. He joked during the second episode that he is a "former accountant, software sales person, art directing essential oil photo shoot…single."
His relationship status has become the butt of many jokes that the friends have shared on Instagram, and he seems to be taking it all in good stride.
Much of the show's first few episodes center around two major moves: Jared into Ashley's apartment that she shares with her sister Lauren and Jade and Tanner leaving Kansas City for Orange County.
Jared kept his descriptions of the apartment pretty restrained. "It's very female. It's very sparkly. It's very glam," he told the camera. "This should be pretty interesting." 
Aside from the glitz and the glam, Jared also has to adjust to where he's going to fit all of his belongings. His few boxes presented themselves as hurdle number one in the new apartment.
Ashley explained in a confessional, "Jared finalizes his move today and I'm very, very excited to live with him but I'm really scared about where we're going to store his stuff."
After moseying around the room that's supposed to house his dresser—but also includes Lauren and Ashley's vanities—Jared said he felt he was "quickly becoming female."
Jared and Ashley discussed their geographic preferences at one point and what it means to Ashley that her fiancé lives so far from his family in Rhode Island. Ashley inquired if Jared would rather live in Northern Virginia rather than L.A. and he called that question a "toughie."
"You have to understand, I moved here and I'm living in an all-girls apartment with two women, with none of my friends around," he said. "I'm not trying to complain, I'm just trying to lay out the facts. I miss home sometimes and it does get me down at times."
In a rather apt contrast to the apartment situation, Jared revealed that he got invited to perform in a Chippendales show in Las Vegas. "I don't feel too prepared," he explained as he took a bite out of a piece of cheese.
Meanwhile, Ashley and Nick both voiced more enthusiasm.
The former Bachelor leading man joked he could "probably clear my schedule for that."
Ashley added, "I feel like it's going to be really weird to watch Jared dance Chippendales, but I'm gonna have a really good laugh." 
That's the spirit!
Later in the second episode, Jade and Tanner shared some exciting news with Ashley and Jared: they're moving to California!
Jared invited them to the show and Tanner replied with a huge laugh, "How? Why? Why would they want you?" Then they went a bit NSFW and talked about all the places Jared should consider waxing before he does the show.
The 30-year-old did, in fact, participate in the Chippendales show in Vegas in December and he has the Instagram photos to prove it. He praised the experience and called "a blast" and "such a cool experience" in his Instagram caption that evening.
While Jared and Ashley continue their wedding planning and adjust to living together, Tanner and Jade cope with the transition from the Midwest to Southern California. 
"We're going from five acres to one fifth of an acre," Tanner told Jade while they looked at houses.
The couple spoke a lot about having an extra room for another kid in case they have a second child, which they really want.
Jade shared, "With Emerson, it was really easy for us to get pregnant but having a harder time this time around has made me wonder, maybe there is something wrong. Like, the what ifs? Or  what's wrong with my body?"
In February, Jade and Tanner revealed in a very candid YouTube video that Jade suffered a miscarriage before she had their daughter Emerson. On a more positive note for the couple, Jade and Tanner announced in January that they were expecting their second child together.
"We are overjoyed our bundle of love will be joining us in August! We've been dreaming of you for a while now, and you are already loved beyond imaginable, sweet baby," she captioned a picture on Instagram. Two months later, they said they'll be having a baby boy.
New baby, new home! There's no stopping this family of (almost) four.
Congrats on the new show, Ashley, Jared, Jade, Tanner and Nick!