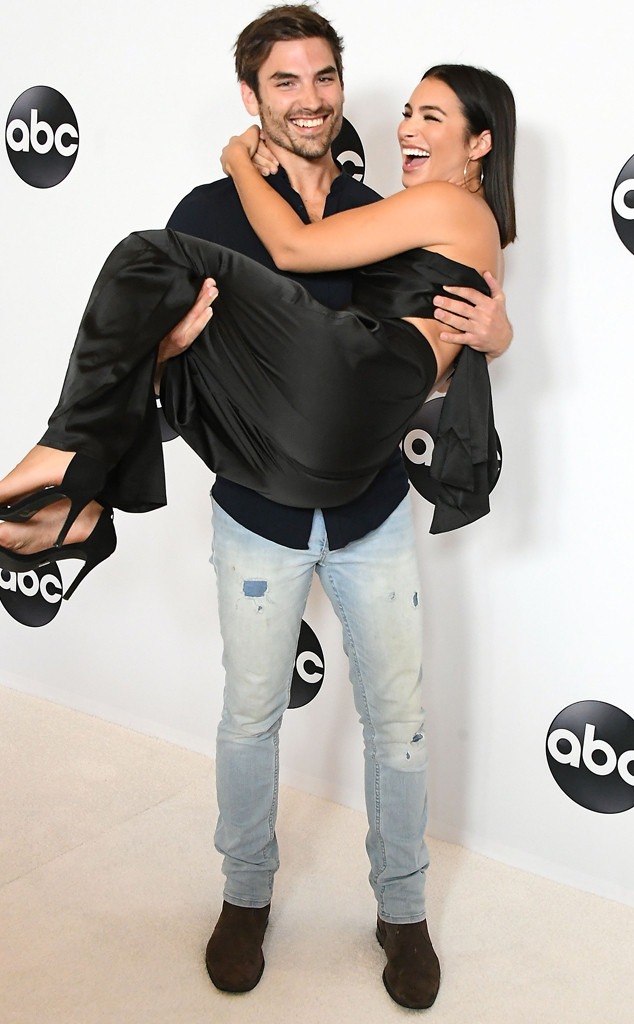 Steve Granitz/WireImage
In just one short year, everything can change.
For months and months, Ashley Iaconetti and Jared Haibon were the best of friends. They appeared on Bachelor in Paradise together, shared similar social circles and loved spending time together. Even their social media posts would constantly spark romance rumors.
But time and time again, the pair would say they are just friends.
That all changed one year ago when Jared appeared on Ashley's digital web series called "The Story of Us" where they both delivered a shocking development. These two were finally dating.
"We did develop a friendship on the show even though it was this weird one where she had romantic feelings for me and I had more friendship feelings, but there was this rapport and chemistry that we had where we loved hanging out with each other," Jared recalled to E! News exclusively. "I saw her at this charity event in Virginia a couple months after Paradise and seeing her in her element, planning this event and really just working it the entire weekend, I knew that there could be something more between us."
Ashley added, "In Paradise, I was just so nervous. I didn't think anything could actually come of it probably like I wanted it to."
Fast-forward to today and the couple is stronger than ever as they plan their fairy-tale wedding, host their own iHeartRadio podcasts and prepare to star in a new digital series produced by Kinetic Content called "What Now?"
Amy Plumb for iHeartRadio
"I think we're different than any other Bachelor couple in that we had developed this strong friendship over the years before becoming boyfriend and girlfriend, where a lot of other couples that come from the franchise they become boyfriend/girlfriend and then fiancées very quickly after that," Jared shared with us. "Ashley and I got to see each other outside, in our lifestyles and how one another would fit in that—friends groups, careers, places we want to live, things of that nature. We got to cultivate that friendship before we started dating."
Today, the couple is hard at work planning their dream wedding that will likely include plenty of Bachelor Nation members in attendance. For those hoping for a front-row seat to the wedding planning, the happy bride and groom-to-be promise you'll get a taste in "What Now?"
"We're hoping our second season will be the wedding," Ashley teased to us. "We'll see, time will tell."
What the couple can confirm is co-stars Tanner Tolbert and Nick Viall were asked to be groomsmen while Jade Tolbert will serve as a bridesmaid—if she's able to attend while pregnant.
"For me personally, the most stressful [part about planning] has been the guest list.  It sucks," Jared confessed to us. "You're not throwing a party where you can say, 'C'mon by, stop in, have a drink, say hi.' You have a certain amount of people and we've encountered a couple times now where we've been debating on people, talking about it and then it's just a difficult conversation to have."
Ultimately, it's a problem that may have never happened if these two didn't take a chance on love and turn their friendship into something more.
For those debating if they too should take a leap of faith, Ashley has some advice.
"There are two things I have as options.  You either cut off the friendship and say, 'Look, I have feelings for you and I can't just be your friend anymore.' And it's not something that you can just, I'll see him every now and then. No, you have to cut them off," she explained. "If they come back, then they can't picture their life without you and if they don't come back then they were probably never going to like you."
She added, "You can do the same sort of thing by getting a boyfriend or a girlfriend and if the person doesn't react or come out about their feelings or feel any sense of jealousy, it's also probably never going to happen.  I also say we are the exception to the rule because most of the time, I think it's hard to get out of the friend zone.  Someone who has denied you multiple times is never going to come around. They've expressed their feelings, but I'm the exception to the rule. Thank you babe!"
"What Now?" premieres tonight at 6 p.m. EST on KineticContentTV.