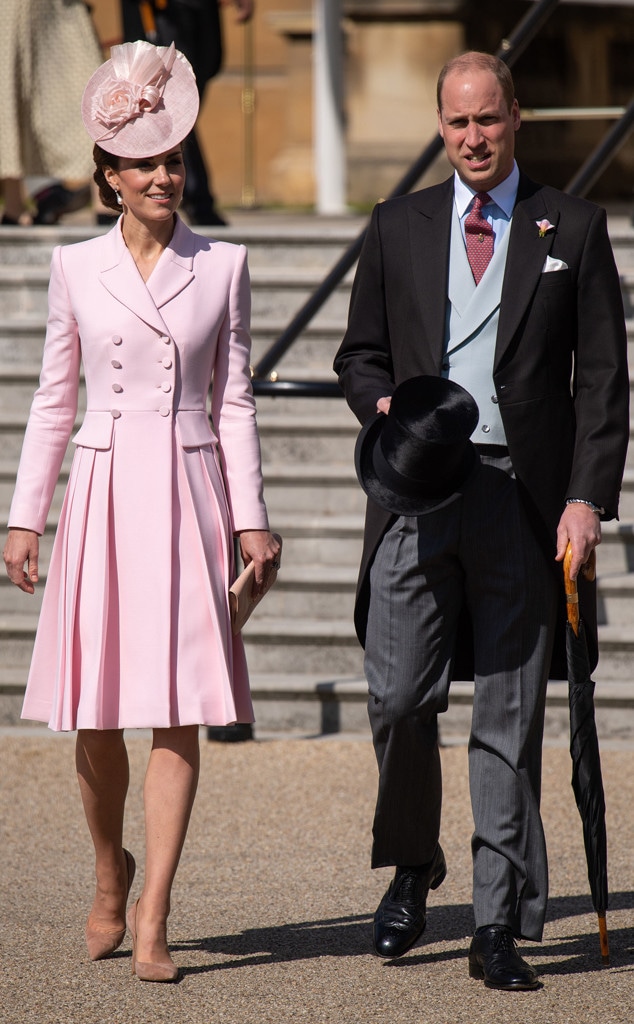 Shutterstock
Kate Middleton and Prince William were all smiles at Queen Elizabeth II's garden party on Tuesday.
The garden parties, which are hosted by the Queen at Buckingham Palace, help to put a spotlight on public service. While at the gathering on Tuesday, the Duke and Duchess of Cambridge were spotted chatting with fellow attendees, including Kerry Irving and his assistance dog Max.
"In 2006, Kerry's car was hit by a truck, leaving him housebound with chronic neck and back pain," a statement on the Kensington Palace Instagram reads. "Kerry still suffers with the pain from his back injury, but he credits Max with helping him to get his life back on track. Kerry has since retrained as a locksmith and Max is always with him."
Kate, wearing a gorgeous pink Alexander McQueen dress, was spotted petting Max at the event.
The Duchess of Cambridge paired the dress with what appeared to be the late Princess Diana's pearl earrings. She also donned a fascinator by Juliette Botterill and $625 Manolo Blahnik BB pumps, along with the Tab Clutch by Loeffler Randall in champagne color.
For her look, the Queen donned a light blue buttoned coat with a matching hat, embellished with flowers.
It was just a day ago that the Queen visited Kate's Back to Nature garden, where the Duke and Duchess of Cambridge gave the royal monarch a tour.
"The #RHSChelsea Back to Nature Garden, designed by The Duchess and award-winning landscape architects Andrée Davies and Adam White of Davies White Landscape Architects, is a woodland setting for families and communities to come together and connect with nature," Kensington Palace has previously shared on Instagram. "Her Royal Highness is a strong advocate for the proven benefits the outdoors has on physical and mental health, and the positive impact that nature and the environment can have on childhood development in particular."