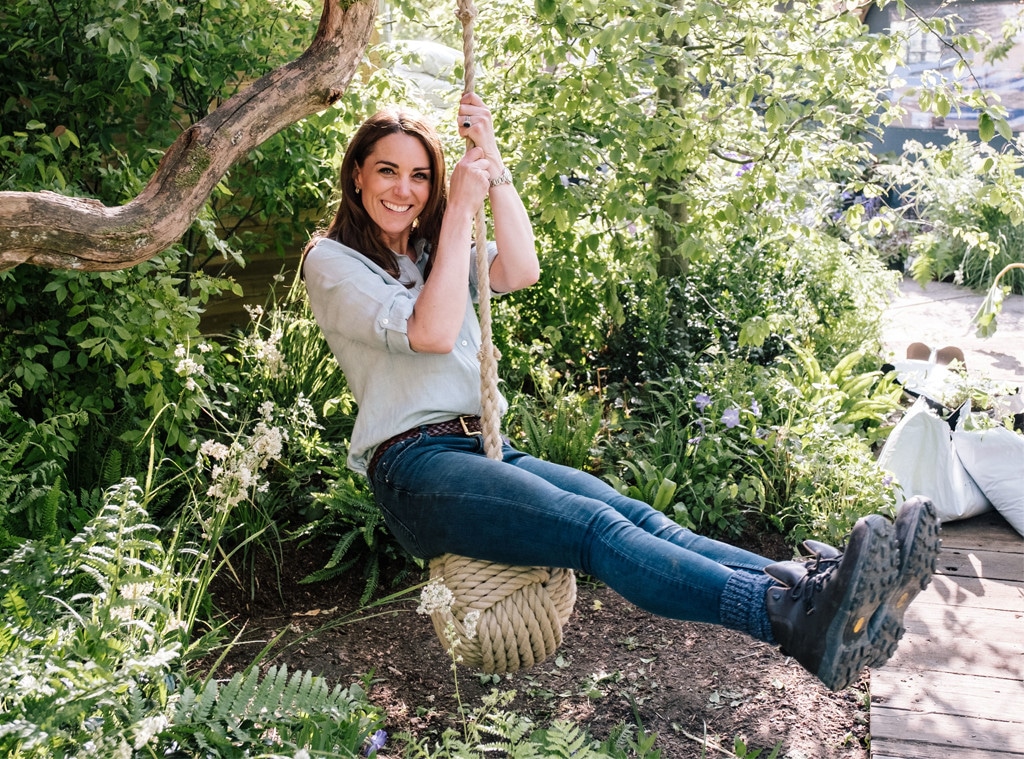 Kensington Palace/PA Wire
Kate Middleton has created a magical garden kingdom just in time for the Chelsea Flower Show.
Kensington Palace's Twitter account shared a number of photos that previewed the Duchess of Cambridge's "Back to Nature" garden that she designed specifically for the beloved event. The Chelsea Flower Show kicks off May 21 and runs until May 25.
The Royal Family's official page specified that she will be co-designing the Royal Horticultural Society Garden.
In one photo, Kate sits on a rope swing in a light blue button-down shirt with blue jeans, thick wool socks and brown boots.
"We invite you to take a sneak peek at The Duchess of Cambridge's #RHSChelsea 'Back to Nature' Garden!" the palace captioned the picture.
According to Kensington Palace's Twitter, "The garden includes a swing seat, hanging below the garden's centrepiece, a high platform tree house."
But that's just one aspect of her contribution to the flower show.
Her "Back to Nature" area looks like a dream come true for any nature fans, especially young ones.
Treehouse lovers and aficionados will appreciate the one that she added to her garden. Kate's own treehouse here "is inspired by a bird or animal nest and provides a wonderful place to retreat and look out through the trees."
Kensington Palace/PA Wire
It was constructed out of "chestnut, with hazel, stag horn oak and larch nest cladding."
The 37-year-old had a very specific vision for her garden, too. The palace explained it is "aiming to inspire interaction with the natural environment through its multi-sensory, green and blue plant scheme."
There's more than rope swings and treehouses in it, too. There will be a plethora of plants and other types of foliage. It "will be filled with incredible edibles, plants for craft activities, forest scents and a diverse range of plants, shrubs and trees of different heights and textures."
The royal family's website wrote that Kate was partaking in this design "to highlight the benefits of the natural world and inspire children, families and communities to enjoy the great outdoors."
"The garden will build on Her Royal Highness's passion for the outdoors and the proven benefits that nature has on physical and mental health," the site explained. "The Duchess is a strong advocate for the positive impact that nature and the environment can have on childhood development."
Kensington Palace/PA Wire
Kate's upbringing in the countryside as well as her three kids Prince George, Princess Charlotte and Prince Louis helped inspire her designs for the garden.
The site said, "It is hoped that the garden will recapture the sense of wonder and magic that adults enjoyed as children when exploring outside."
Kate and her husband Prince William have a number of patronages that often focus on mental health, especially for children. She also happens to work closely with a few athletic and outdoorsy organizations.
On April 29—her 8th wedding anniversary—Kate's mother-in-law Queen Elizabeth II appointed her to the Dame Grand Cross of the Royal Victorian Order, which is given in recognition of her services to the sovereign.
Kate's contribution and addition to the Chelsea Flower Show comes right on the heels of Queen Elizabeth's royal garden parties, which include over 30,000 guests taking in the scenery at Buckingham Palace.