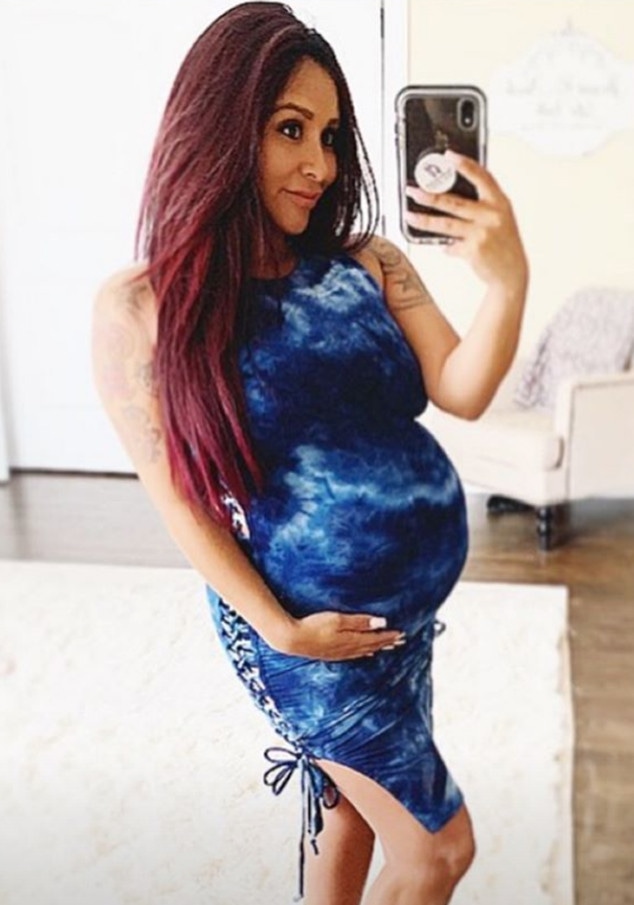 Instagram / Snooki
Snooki's family just got a little bit bigger. 
The Jersey Shore star and husband Jionni LaValle welcomed baby boy Angelo James LaValle earlier today at 2:30 a.m., weighing 7 pounds, 8 ounces, her rep confirms to E! News. Snooki, whose real name is Nicole Polizzi, shared two adorable pictures of her little meatball on Instagram.
To say the mother-of-three is overjoyed by his arrival is an understatement. She and her kids have been eagerly awaiting their little brother's arrival ever since the family shared they were expecting on Thanksgiving last year.
Plus, the mom has always wanted another boy in the family. She previously told E! News, "I don't want any more girls. If I have a girl, I'm just going to be really upset about it."
But the Jersey Shore star got her wish! Her kids, Lorenzo and Giovanna, took part in the reveal by posing with the sonogram of Angelo. "What I'm thankful for this Thanksgiving," the 31-year-old captioned the sweet moment. 
While they waited for Angelo to make his debut, the LaValle-Polizzi family made the most of his days as a baby bump. A plethora of cute videos were shared to Snooki's Instagram, including a sweet moment when Giovanna and Lorenzo introduced themselves to their little brother.
Giovanna and Lorenzo were even responsible for making the big gender reveal. Lorenzo hit a baseball filled with blue powder, which elicited excited screams from Giovanna as Snooki looked on adoringly. 
At the same time, Snooki kept her pregnancy brutally real with her followers. Throughout the course of her pregnancy, the 31-year-old shared pictures of herself throwing up and the perils of only being able to fit into yoga pants. She managed to maintain her sense of humor with funny hashtags like "#jesustakethewheel" and "#help," which plenty of expectant moms can relate to. 
She didn't let the pregnancy pains put a damper on the celebrations though. In lieu of a baby shower, the mom and her co-stars, JWoww and Deena Cortese, hosted a sprinkle, which was basically a gathering of their kids and families to celebrate the impending birth. 
Congratulations, Snooki!