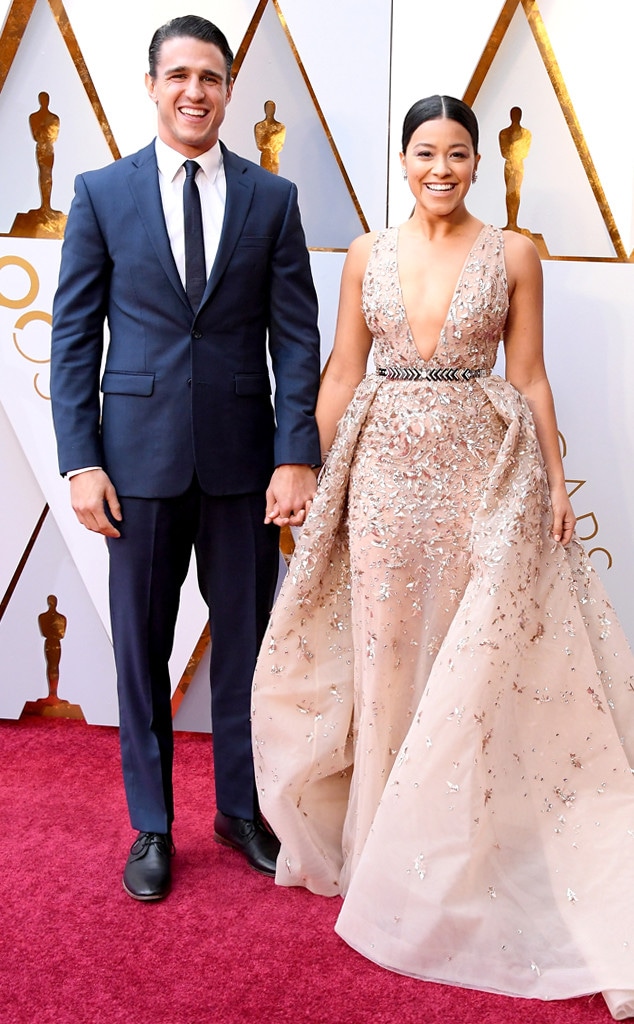 Steve Granitz/WireImage
And just like that, she's married!
Gina Rodriguez married her longtime love Joe LoCicero in a romantic ceremony over the weekend.
The actress took to Instagram to announce the exciting news, writing: "Thank you to my mother in law for the wedding of my dreams. And the village that helped her."
She then thanked everyone who helped pull together the very special event and ended the beautiful wedding video with the following sweet note to her new husband.
"May 4th, 2019 was absolute MAGIC. To my husband Joseph, I am yours forever."
The Jane the Virgin star and her beau tied the knot about nine months after confirming their engagement.
However, the Miss Bala star remained mum when it come to giving details about how he proposed.
Rodriguez hinted in July 2018 that LoCicero had popped the question when she shared a series of photos from their vacation in Mexico together and she sported a huge diamond ring on her finger. The new jewelry also appeared the same weekend of her 34th birthday. Talk about a good birthday present!
"34. 'They thought I was a Surrealist, but I wasn't. I never painted dreams. I painted my own reality.' - Frida," she captioned a picture of herself with a huge grin talking on the phone.
Just a few weeks later, Rodriguez gushed to E! News, "I'm stuck with that man for life, he made that so."
"That I'm gonna keep to myself, that I don't think I'm gonna ever share that," she told us. "Because there's only so many things that you get to own when you become a public figure, because it's the blessing and the curse of it, you know?"
While she loves being able to have a thriving acting career, being a celebrity also means "nothing's a secret anymore, you don't get to hold anything to yourself."
Michael Kovac/Getty Images for Moet & Chandon
Rodriguez recently opened up to Elle about the "wild phase" of her dating life, wedding planning and some important life lessons she learned in her 20s.
"I was told by my sister at a very young age, your twenties are all about dating. Don't get married in your twenties. Date everyone, date every gender, just date like crazy and enjoy yourself. It was definitely something that I paid attention to," she told the magazine. "Part of me is really happy I did that, but also happy that wild phase is done. Because I did...crazy things."
Well, things clearly calmed down a bit for the 34-year-old because she explained that she met LoCiero at an important part of her life as she worked through her insecurities and fears.
"Timing is everything. If he was not down to go to those spaces with me, we wouldn't have worked out," she said.
Rodriguez called wedding planning "so easy" mostly because her mother-in-law has been such a huge help.
"I would happily marry Joe today in the courthouse, but we belong to a big Italian family and a big Puerto Rican family. That was not going to happen," she shared. "We're doing the thing for our family, and we hope they're happy. That's all that matters to me, that everybody's happy."
Congrats, you two!