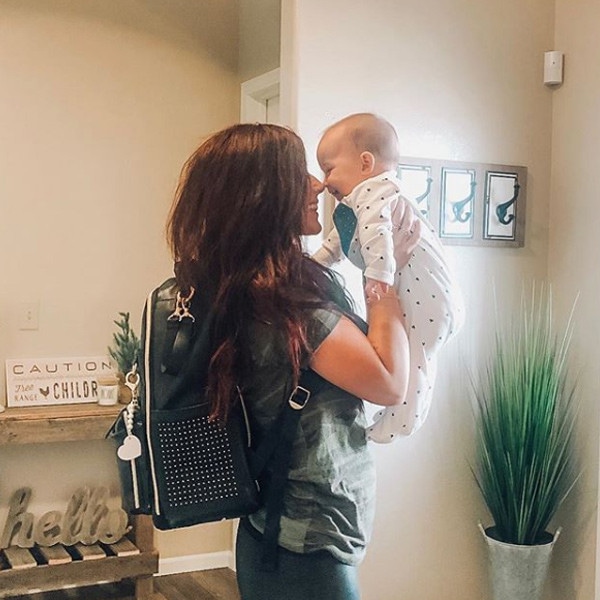 Instagram
When comparing Chelsea DeBoer's life to her co-stars, it's relatively drama free.
The proud mother of three lives in a beautiful home far away from the hustle and bustle of the city. Her relationship with husband Cole DeBoer has never been stronger. And yes, her three kids are pretty darn cute too.
But in tonight's new episode of Teen Mom 2, the MTV star will reveal her struggles with anxiety after welcoming her third child.
"Around six months postpartum, I started experiencing some—I would say—pretty severe anxiety attacks and I think it was a mixture of postpartum and the robbery," Chelsea shared with E! News exclusively. "I think it was a mixture of a lot of things."
She continued, "I think it's really common and it's not something a lot of women talk about. I thought it was important to bring it up on the show."
According to the reality star, who recently collaborated on a collection with Itzy Ritzy, the anxiety may not have just occurred after baby Layne was born. Instead, there may have been signs after the arrival of her first two kids as well.
"This seemed different from the others but I think it is something I experienced after the other two also," Chelsea explained to us. "I think it's helpful to share because sometimes when you're in it, you can feel like maybe you're the only one or the people don't understand so I wanted other people to watch it and relate."
Today, Chelsea is proud to say she is "definitely feeling better." The whole process has also been easier because her husband has been supportive and encouraging.
"Oh my gosh, [Cole] is definitely patient and sweet and understanding so I'm very lucky and I hope others can have someone who supports them like he has for me," she shared.
That bond came in handy when the pair decided to collaborate with Itzy Ritzy on a line of everyday products for modern moms and dads. Items include diaper bags for both mothers and fathers and T-shirts that proudly state "Fierce Mama Raising Brave Babies."
"I just feel like all mamas are fierce mamas and they have to be able to own that," Chelsea told us when discussing the line. "You got to feel good about yourself as a mom and raise some awesome babies."
With the new season of Teen Mom 2 wrapping up in the coming weeks, both Cole and Chelsea can't help but agree on their favorite memory of the season. It easily happened near the beginning when baby Layne was born.
"Obviously when Layne was born is my favorite. It was an amazing experience," Cole shared with us.
Chelsea added, "Not a lot of people have that memory—that drive to the hospital and all the emotions you are feeling right before we had the baby—so I love that we captured that. "
And with the Teen Mom 2 reunion shot and complete, fans may be surprised to learn Cole made his first appearance on stage. And according to the reunion newbie, it was "pretty stress free."
"It was probably the best reunion maybe ever. It was good," Chelsea teased. "I think it was really great. Good conversation, not too much drama at all."
Watch Chelsea and her family on new episodes of Teen Mom 2 airing Monday nights at 9 p.m. only on MTV.