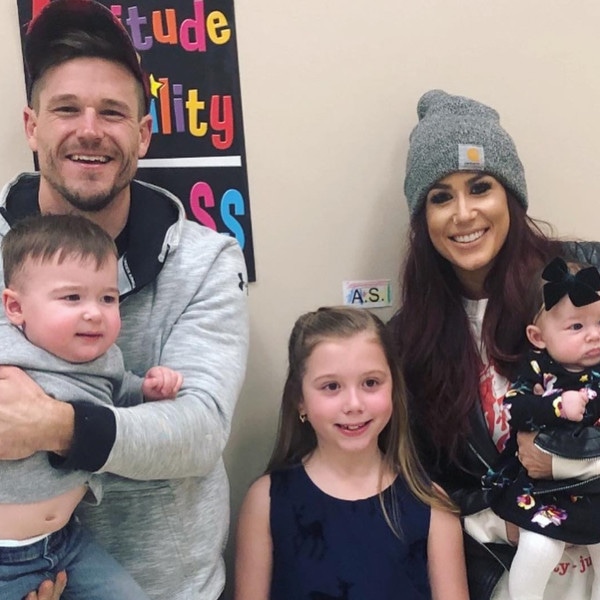 Instagram
When it comes to Chelsea Houska's household, family rules all day, every day.
On Monday evening, viewers watched the Teen Mom 2 star expand her family when she gave birth to a baby girl named Layne. The smooth and successful delivery was the ultimate gift for a reality star who just so happened to be celebrating her birthday the very same day.
But more than five months after welcoming her third child, Chelsea is getting used to her new reality that includes a whole lot of love and heart.
"I feel like [baby Layne] is like Cole. I think Aubree is like me and Watson and Layne are like Cole," Chelsea shared with E! News exclusively. "She's very laid back. She's easy, she's smiley, she's chill, very chill."
From the moment Layne met her older brother and sister, it was love at first sight. And as viewers can likely guess, Aubree is already helping mom out with her two younger siblings under two.  
"Oh my gosh! I honestly think that she makes life so much easier," Chelsea explained. "Having Aubree's help has been amazing.  She loves helping. She plays with her brother when I need her to. She can get his little boots on or something when we're heading out the door so she's been amazing."
Credit also has to go to Chelsea's husband Cole DeBoer. Fans loved watching his kind gestures and positive words when taking his wife to the hospital in last night's episode. And as it turns out, he's like that all the time.
"I mean, Cole is just great all around," Chelsea gushed after celebrating Valentine's Day over the weekend. "I'm more of the laid-back parent and he's definitely more paranoid and worried all the time, which is funny because it's usually the mom but I mean, he's so helpful. He changes diapers. He gets in there. He does it all."
With life looking and sounding so sweet, fans have already started asking if more kids could be in this family's future.
Although the pair isn't in a rush, Chelsea admitted that more children are definitely a possibility in the years to come.  
"We definitely want more kids—at least one—but I think we're going to wait probably a little farther than the last two babies. Maybe when she's two, we'll start thinking about it," she teased. "But there will be more."
In the weeks to come, Teen Mom 2 fans will get to witness Chelsea adjust to having three kids under one roof. Cameras will also roll as the proud mom faces some bumps in the road with Aubree's biological dad Adam Lind.
"I definitely have my own opinion and my own opinion on things, but I have to try my best not to put my feelings out on her," Chelsea explained to us when looking back on recent episodes involving Adam's inability to meet with his daughter. "He's still her dad. She still has her own feelings about it so I kind of have to keep my feelings to myself and let her have her own little opinion."
She continued, "I'm proud of her for being so mature but it's not even something a kid should have to deal with but I think that we've always been so open with her and let her accept her feelings and try to explain things to her as best as we can."
As for the upcoming Teen Mom 2 reunion taping, Chelsea isn't feeling nervous or anxious. Instead, she's looking forward to introducing baby Layne to her fellow co-stars.
"I'm sure baby Layne is going to get plenty of loving from all of the ladies," she shared with us.
Follow Chelsea's motherhood journey when Teen Mom 2 airs Monday nights at 9 p.m. only on MTV.