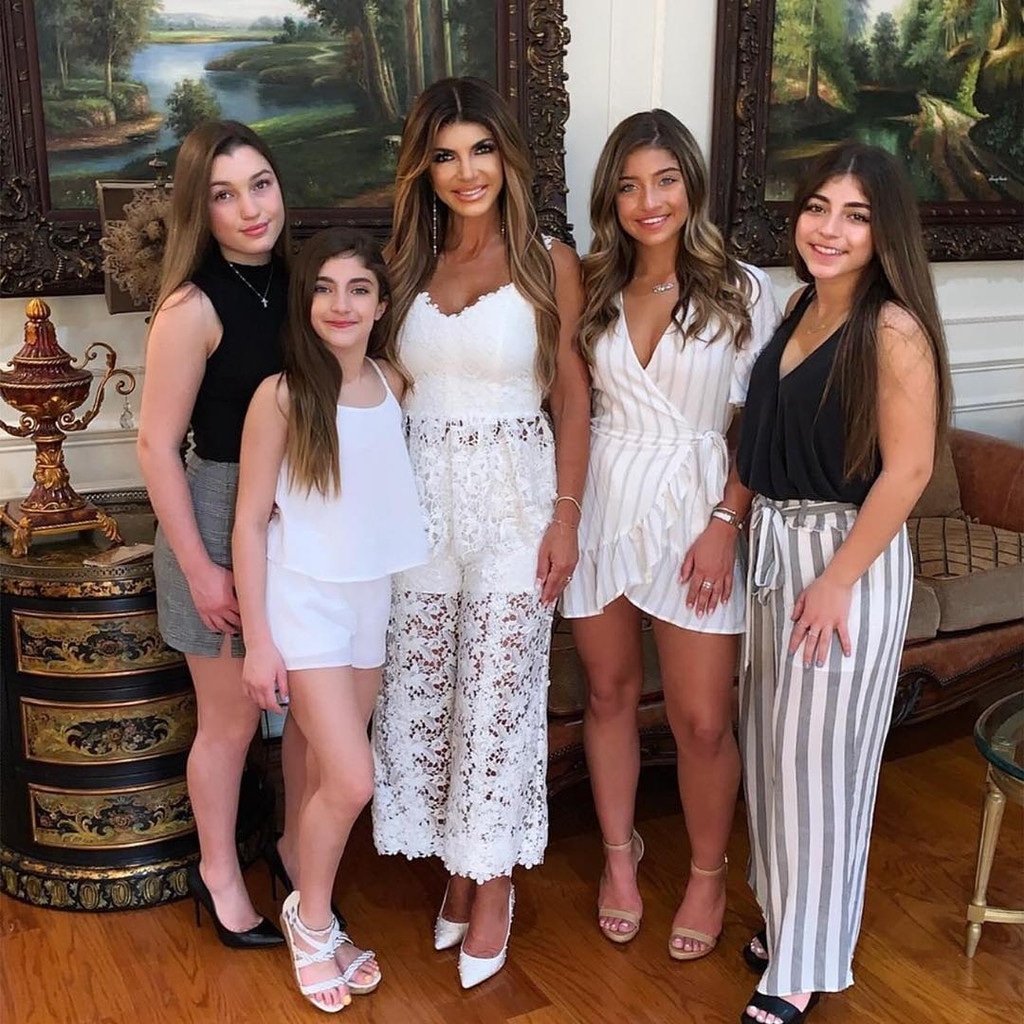 Instagram
Joe Giudice has left federal prison after nearly three years for bankruptcy fraud, but he isn't walking free just yet.
On March 14, Joe went into federal custody with U.S. Immigration and Customs Enforcement (ICE) in western Pennsylvania as he waits to learn the fate of whether or not he will be deported to his native Italy. 
Joe's family, including his wife Teresa Giudice and daughters Gia Giudice, Gabriella Giudice, Milania Giudice and Audriana Giudice, have supported him throughout this time in prison and have vowed to fight the looming deportation decision.
E! News has learned, however, that The Real Housewives of New Jersey star and her four girls have yet to visit Joe in ICE custody. One source explained to E! News that Teresa hasn't gone because "her filming schedule has been pretty hectic, and the ICE facility where he is being detained is several hours away."
They added, "The girls love their dad so much and miss him tremendously."
A second source shared similar information and didn't sugarcoat the state of his current living situation. 
"The family hasn't visited Joe because it's a horrifyingly frightening place where Joe is living in filthy conditions," they said. "The facility is several hours away from their home and Teresa has tried to keep a very low profile when it comes to Joe on the request of his immigration attorneys."
Joe and his legal team filed a last-minute appeal to fight the deportation order on Nov. 10, just in time for the deadline to do so. His attorney James Leonard Jr. told E! News at the time that they "remain optimistic that Joe will soon be home with his family where he belongs."
E! News learned last week that The Board of Immigration Appeals ruled against his deportation appeal on April 6. However, he has one last chance to fight it. A federal court could review the decision, but if they refuse to do so, he "will get deported," according to a source.
With Joe's fate still in limbo, apparently so is his marital status.
Sources have told E! News that there is a chance Teresa will not follow Joe to Italy if he is forced to leave the U.S. The first source reiterated to us, "While Teresa is ready to leave him if his appeal is denied and he is ultimately deported, it would break the girls hearts to not have him with them."
Upon his release from prison, another insider explained to E! News that Teresa was "happy and relieved" that his sentence finally ended. That source added, "However, the reality is that Joe's release really only changes things for Joe. Very little changes for Teresa and the kids as a result of his release. Joe still can't come home and his deportation is still looming over their heads."
Although the reality TV star "hasn't given up hope" despite his deportation being a clear possibility, Teresa "has accepted the fact that the odds aren't in Joe's favor."
The family's attorney explained to People why the Giudice women haven't had a presence at the ICE facilities.
"The facility where Joe is being held does not allow for contact visits. Joe does not want to put Teresa and the girls through the horrific ordeal of driving several hours to visit him and not be able to hug him," Leonard told the magazine.
Leonard called the situation "inhumane" and the fact that he "can not hug his wife or kiss his daughters" if they visited. He added that Teresa and Joe "speak several times a day" and "they are fighting this together to the very end."
Gia recently created a Change.org petition to fight the deportation and composed the plea to President Donald Trump. She advocated on behalf of her family and argued that Joe "knows nothing of Italian culture, laws, societal norms" and "is not a danger to society." So far, her petition has garnered over 42,000 signatures.
"We request that our President, Donald J Trump review our petition and pardon my father to relieve him of this life sentence the courts are bestowing on him," she wrote in the last paragraph.
The 18-year-old described her father as "our handyman, our confidont [sic], our cheerleader, our challenger and most importantly our protector."