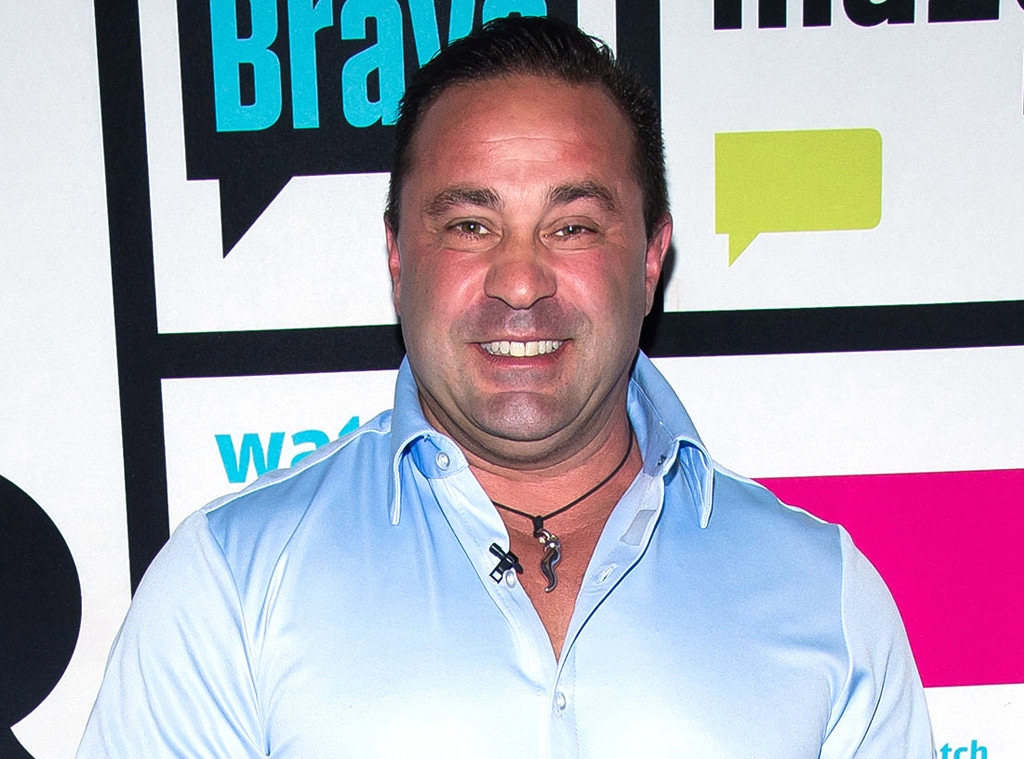 Charles Sykes/Bravo
Joe Giudice began his federal prison sentence Wednesday.
The 43-year-old Real Housewives of New Jersey star arrived at Fort Dix Federal Correctional Institution in New Jersey, where he began the 41-month sentence he was given after being convicted of bankruptcy fraud and failure to file income tax returns.
"Joe Giudice surrendered himself to the Federal Correctional Institution at Fort Dix today at 12 p.m. to begin serving his sentence," family attorney James Leonard Jr. tells E! News in a statement. "His brother, his sister and several other members of the Giudice family, as well as myself, were present when he turned himself in to the prison, including Teresa. It was obviously a very emotional day, but this is a very strong family with a tremendous support system and they will get through this, just as they did when Teresa was away."
Joe's wife Teresa Giudice, who was released from her 14-month prison sentence in December, will continue to take care of the couple's daughters Gia, Gabriella, Audriana and Milania. "I feel bad for my daughters just having to go through this again," she previously told E! News. "That's what breaks my heart."
The couple silently left their New Jersey home early Wednesday morning as Joe headed to begin the sentence. They kissed and hugged, but kept it brief before he left.
These haven't been easy times for the Giudice family, but Joe and Teresa's relationship "is stronger than ever and they are still very much in love with one another," her lawyer told E! News earlier this month while refuting a report that the couple was headed for divorce.
Joe will undoubtedly miss his family while he's behind bars, but he's determined to do something positive with his time in prison. "I'm looking at it like rehabilitation for me," he told People. "I am not going to be able to drink for a while which is good because I don't even know when it's been since I haven't had a drink. It's been a long time. Definitely the whole year I definitely drank every day a couple bottles at night just to go to bed."
In an interview published Monday, the Real Housewives of New Jersey star revealed he wasn't all that worried about heading to Fort Dix Federal Correction Institution. "It's not a big deal," he told People. "They tell me that the low security and the camp there are almost the same so it's no big deal."
"It's a military camp is what it is," he continued. "It's not a high security, and anybody that's in there is basically people that have already served a lot of time basically working their years to get out. So once you are there if you screw up there, then you go back to high security."
Meanwhile, Joe's closest friends and family members held a going away party for the reality star at Blu Alehouse in Riverdale, N.J., a few days before he began his sentence.
A partner of the restaurant and close pal to Joe, John Harms, told E! News exclusively, "It was amazing, as perfect as I would have wanted it. It was just family and true friends...Teresa and the girls were there, obviously. Joe's mom and his sisters and brothers and aunts and uncles. It was a family reunion. There ended up being about 150 people. The restaurant was filled. It was great. About 50 kids."
Harms added, "There were toasts, [and] Joe had a few words to say. He told everyone, 'Stop making me cry, I'm not going to the electric chair,'" Harms revealed. "His attitude is as good as it can be. You can tell he's being strong for everyone else. There were a lot of tears."
Joe spent his final night (Tuesday) before leaving for prison with Teresa and their four daughters.
Watch:
Teresa Giudice Talks Joe's Sad Farewell