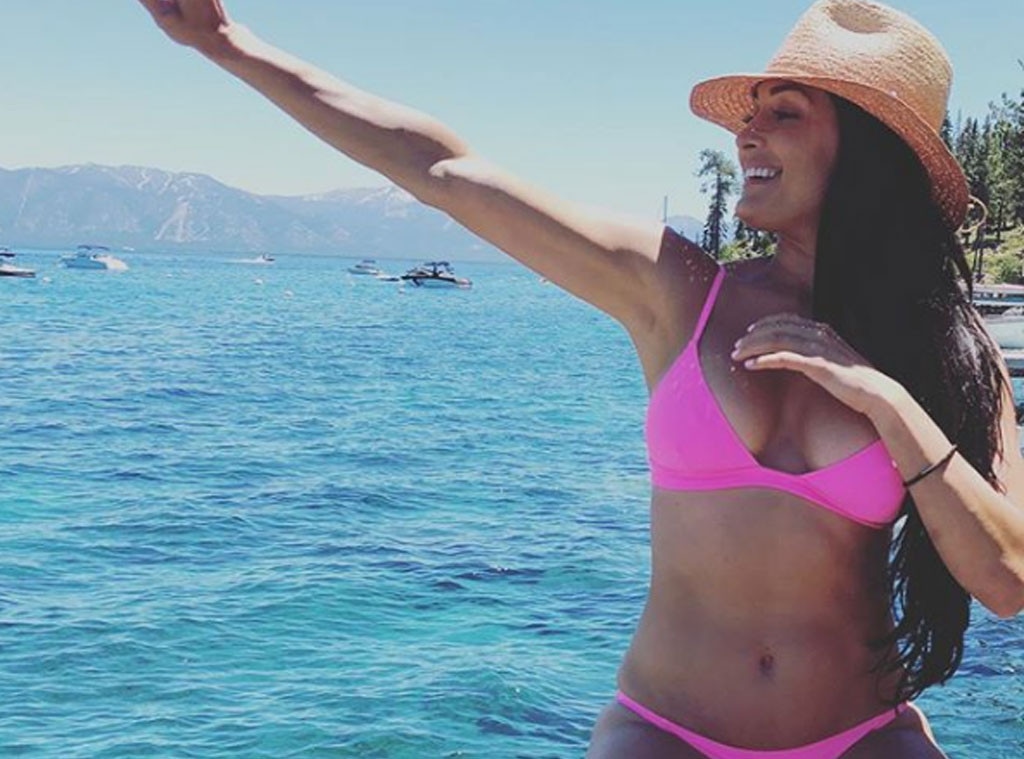 Instagram
Nikki Bella was bracing herself for the worst. 
Though she had been keeping ex-fiancé John Cena apprised of her various dates, wanting him to be in the know before photos of any potential suitors were splashed across the Internet, she hadn't requested he do the same, afraid the news would be too much to take. 
So she was sure that first snap of the WWE world champion walking hand-in-hand with a new woman would break her.
"No matter what, the next time I see him with someone it's gonna kill me," she speculated on the March season finale of Total Bellas. At the time she and sister Brie Bella were making a return pilgrimage to California's Napa Valley for the first time since they'd toured prospective wedding venues for her planned May 2018 nuptials to Cena. And while the painful trip down memory lane was accompanied by the requisite tears, "I feel like it was the first time I'm just fully, like, starting my true grieving and healing process," she shared, adding she felt prepared for whatever lie ahead: "I'm ready for a new me. I need it." 
And it turns out Nikki 2.0 is equipped with a healthy perspective on loves lost.
She had imagined she'd feel that familiar pang of envy the first time her 41-year-old ex was linked with a new paramour. And certainly when some well-meaning friends sent her links to articles of Cena out in Vancouver with electrical engineer Shay Shariatzadeh, "My stomach went into knots," the former WWE Superstar, 35, admitted on the Apr. 10 edition of The Bellas Podcast. But within seconds of double-tapping, she continued, she felt strangely at peace. 
"You know when you get a text or you see a photo or you see your significant other flirt with someone or something, you know how you get those knots in your stomach that hurts? You either want to poop your pants immediately...or you just have the craziest tummy ache, right?" she shared. "So neither of that happened to me when I saw the photos."
FlightPhotoAgency, Michael Bezjian/Getty Images for Entertainment Studios
Their breakup one year ago may have felt dramatic to the fans who'd been following their journey since the colleagues went on that first unexpected dinner date in 2012. After all, it played out across both her E! reality show and through the media, with Cena famously issuing a plea during a Today Show interview. But the split, while complicated, never veered into bitter territory, making it possible for each to root for the other's continued contentment. 
And then there was the guilt Nikki carried, knowing that much of the tale of their broken engagement was delivered from her viewpoint thanks to Total Bellas' cameras capturing it in real time. "I felt bad for John," she allowed. "I felt bad because I felt like I embarrassed him, I felt like I disappointed him, and I have to live with a lot of that stuff. Because of how said I made him and how much I felt like I hurt him, when I saw the big smile on his face with the paparazzi photos, I think that's why I didn't want to s--t my pants. I felt happy for him. I am very happy for him." 
Of course, it's far easier to be magnanimous toward an ex when you're in the midst of your own steamy situation.
As Nikki has embarked on her own dating adventures, she's kept Cena apprised whether it be her set-up with onetime Bachelorette frontrunner Peter Kraus or the surprise romance that has blossomed between her and former Dancing With the Stars partner Artem Chigvintsev. 
"I let him know everything. He's known every date I've been on," she told People. "I have so much respect for him. And this breakup wasn't a bad, like, it didn't end bad, we didn't do bad things to each other. He's still close with my family. Anything I knew was coming out, anything that I've done, I let him know just because I don't want him to ever be hurt by it or shocked by it."
Though, she conceded it'd be unlikely he'd feel too bothered what with not having one jealous bone in his entire six-foot frame.  
Watch:
What?! Nikki Bella Rejects Peter Kraus' Kiss!
So while the status of Cena's courtship with the University of British Columbia grad, a product manager at Vancouver-based Avigilon, is largely unknown outside of the one outing captured by cameras, Nikki is open about finding her current rhythm with Chigvintsev. 
Though, admittedly, there have been a few missteps along the way, including the Arizona native's slight naiveté about what it means to date in 2019.  
Having been off the market for so long, she was sweetly unaware of the gravity of uploading a selfie—never mind one in which she's kissing him on the cheek—to Instagram in late March. 
"I posted a photo of us because we're dating and we're having fun," she recalled to People at the Apr. 5 WrestleMania 35 kickoff event. "Then everyone went (and said) we were official." 
Which was fair play, according to Brie, who despite being wed to fellow professional wrestler Daniel Bryan since 2014 appears more well-versed about dating in the social media age. "Well, you posted a photo, so that makes you official," the mom to 23-month-old Birdie Joe Danielson explained to her twin.
Semantics aside, Nikki insists that her public display of affection doesn't mean she's "fully taken." 
It's an arrangement that could best be described as "dating heavy," she told Us Weekly. "Like, I only stay the night at his house. Let's put it that way....But I don't like the titles 'boyfriend and girlfriend.' It freaks me out." 
She further delineated the situation on her podcast. "Yes, we are dating. Yes, I spend the night at his house. Yes, we have date lunches at Joan's on Third and we like to get food for his house—or should I say, produce from the farmer's market," she said on the March 27 episode. "Artem and I are dating. We are not engaged, we are not married, we're not boyfriend and girlfriend, we don't say, 'I love you.'"
But what they do enjoy is making out, she asserted. "He's a great kisser."
Instagram/Artem Chigvintsev
It's his other skills that have made him a hit with her close-knit kin. 
Though Nikki told Us Weekly, "I adore the s--t out of him," she admitted that Brie didn't initially share her same take of his being "the sweetest man you'll ever meet." 
Years of viewing Cena as a natural extension of the family left her feeling anti-Artem, noted Nikki, "because she was so in love with John." Eventually, though, Chigvintsev's charms did their thing. 
"I was Team John for so long because, you know, he was my brother," Brie allowed. "If [he and Nikki] get back together, I'd love it. So I'd never give Artem the time of day because I was like, 'No, they're getting back together, so I don't care about you.'" She even bristled when Nikki floated the idea of having the Russian-bred ballroom pro, 36, choreograph a dance for her and mom Kathy Colace.
"Yeah, I don't know if I would use him," Brie advised on a January episode. "I just think, how you guys' chemistry was, it would cause rumors."
But as months passed with absolutely no sign that Nikki and Cena would be tag-teaming ever again, said Brie, "Now I've finally given Artem a chance, and he's super sweet." 
Nikki is well aware that her sister wasn't the only one to struggle with seeing her move onto a new guy after so many years by Cena's side. Though she's intent to keep many of the more private circumstances behind their breakup under wraps, she made it clear on her podcast that the overarching issue was quite a common one: In the end they just weren't 100 percent compatible. 
"John is an amazing man, and you know what? Our timing wasn't right," she concluded. "Who knows? Can the timing be right for us in the future? Maybe, maybe not. Are we right for other people? Maybe."
She gets that their six-year romance continues to be shipped by some of their more dedicated fans, but that's simply not enough to sustain a relationship. "I think when you're on a reality show and you put your love out there, we get judged on it so hard. People only see us together," she said. "But...I have to follow my heart, I have to follow my feelings. If I'm not happy in a situation, I have to get out of it. Him the same."
Overall, she urged to her listeners, "Let's just let people be happy."
Christopher Polk/E! Entertainment/NBCU Photo Bank via Getty Images
And these days, Nikki can best be described as ecstatic with the direction her life has taken. Though she and Brie have opted out of a return to flagship reality show Total Divas ("We had to let one show go to keep our sanity,") and are putting life in the WWE on hold, they have more than enough to fill their days, what with their wine line Belle Radici, their women's empowerment-focused clothing brand Birdiebee and beauty venture Nicole + Brizee, plus their podcast and shared reality series. The juggling act is all a means to achieving Nikki's ultimate life goal. "I want to be one of Forbes' top entrepreneurs," she told The New York Post last year.
And while she's made it clear her personal growth comes first—"I don't want my relationship to define who I am, as a woman," she stressed in an October interview with Cosmopolitan. "And to take away all the hard work that I've ever done in my career,"—she doesn't mind devoting any free spaces in her schedule to checking out her adopted new city of Los Angeles from the back of Chigvintsev's Ducati.
"I just feel like this free spirit. Truly like a butterfly out of her cage," she shared on the show's finale. "I don't know, I have this new level of excitement. I'm ready to really explore new things and people and just really see what certain chemistries are all about."
She's cool with her ex doing the same, so count her among those thrilled to Cena smitten with the Canadian engineer. Though, should that change, Shariatzadeh should be aware that the sculpted athlete has gone toe-to-toe with the likes of Ronda Rousey and a slew of other WWE pros throughout the course of her decade-long wrestling career.
"As long as John's happy, I'm happy," she said on her podcast, "but let me tell you, she breaks his heart? I will rack-attack her in a heartbeat. Still protective of that man."