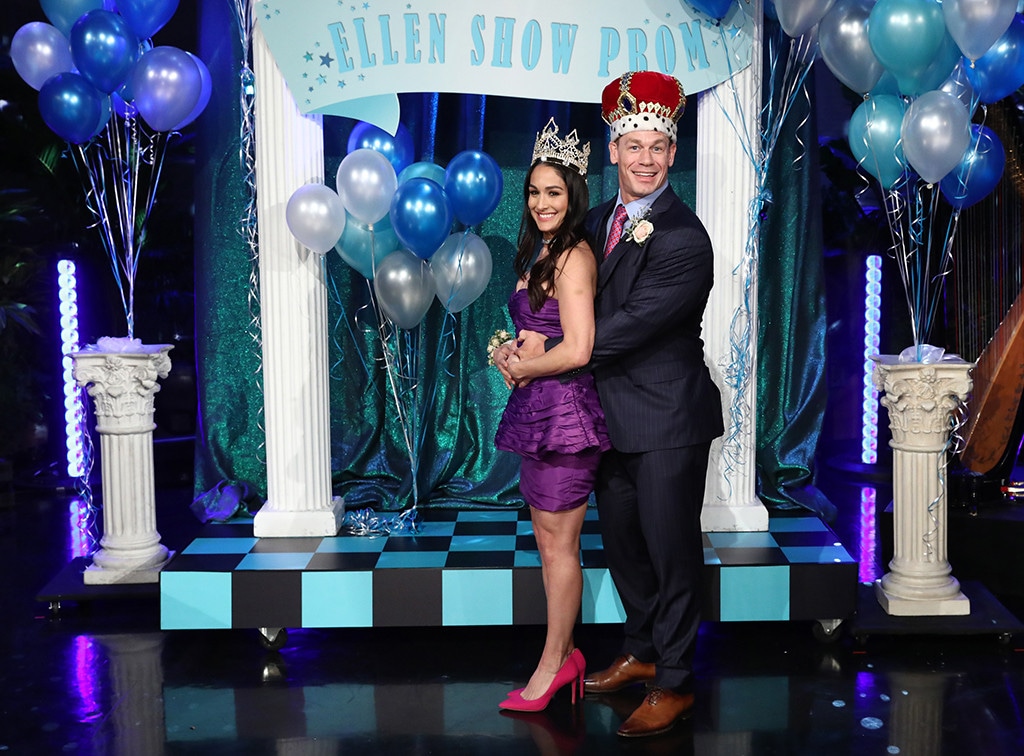 Michael Rozman/Warner Bros.
In the lead up to the May 5 vows, Nikki Bella and John Cena were still wrestling with the same issues.
From the start of their romance, the 13-time WWE Champion had been open about the fact that he never wanted to wed, nor did he want to start a family. And six years in the pair seemed to have worked out a compromise: Cena would make Bella his bride, but he simply wasn't willing to give her a baby. But as they inched toward their Mexico-based wedding, they each seemed to be having second thoughts.
"I would never force you not to be a mom," Cena told his tearful fiancée, in a sneak peek of Total Bella's third season.
Her response—"I thought I could really sacrifice that and I just can't,"—led him to drop a bombshell: "I'm not sure we should go through with this."
Ultimately, they didn't. On April 15—less than three weeks before they were to become husband and wife—Cena and the two-time WWE Divas Champion announced they'd made the "difficult" decision to split, adding, "We continue to have a great deal of love and respect for one another."  
But that mutual respect couldn't get the WWE power couple a shared path. A source close to the 34-year-old bride-to-be (one half of the sport's standout Bella Twins) insists to E! News that Cena, 40, "never really wanted to get married in the first place." And the issue over whether to have children was even more contentious. "One of the bigger disagreements they had through their relationship was that Nikki wanted to start a family and John didn't," says the source. "They were not on the same page in that respect."
The couple's love story began in 2012. Thirteen years into his professional career, Cena had secured his place in the industry as the self-described "goody-two shoes Superman," and longtime face of the brand. Bella, meanwhile, had made a name for herself competing in tag-team matches with her twin sister Brie.
Partipating in the same circuit, Bella and Cena had been friends for years. But she was still floored when the athlete—coming out of a three-year marriage to high school sweetheart Elizabeth Huberdeau—approached with a simple question.
"The first opening line was, 'Hey, do you want to go to dinner with me?' and I was kind of like, 'What? With me?'" she recalled in a 2013 interview with TribLive Radio. "It just kind of started out like a dinner date and I have to admit we were friends for so many years, but then when you make it romantic, I couldn't even say a word to him."
Despite her initial embarrassment—she joked that Brie poked fun at her for blushing, dubbing her Hot Cheeks—their outing was a success.
Labeling it her "best first date" to WWE she recalled, "There was a big, handsome man with an amazing smile and dimples. He came to my hotel and picked me up as if we were in the same city and took me to a nice steakhouse. We just talked and chatted for hours."
On their second outing, the 6-foot athlete upped the ante: "We just had an amazing dance in the middle of the restaurant," recalled Bella. "No one's ever done that with me."
In fact, Cena took strides to fill their union with sweet spontaneity, whether he was dressing up as his gal for Halloween or surprising her with a $15,000 handbag she'd deemed too expensive to buy herself. But he made it clear there were a few things he could never do for her.
"I won't get married again and I won't have kids," the Massachusetts native declared on a 2013 episode of Total Divas.
His first union had ended with accusations of infidelity and, as he explained to Rolling Stone, he just wasn't sure if he could be a solid husband. "Both marriage and family are very difficult obstacles for me," he explained during on episode. "I feel so s--tty because there are certain things I can't give."    
Knowing Bella, aunt to 11-month-old Birdie, wanted kids, the wrestler and actor (after appearing in a handful of movies for WWE Studios, he transitioned to the mainstream with turns in Trainwreck, Daddy's Home and most recently Blockers) wondered if pushing her away might ultimately be his kindest move.
"I'm trying to be a realist," he said in 2014. "I've told you I don't want to get married and I don't want to have kids, and you do want to get married and you do want to have kids. I feel like there's a time bomb over my head."
And Bella agreed she wasn't sure if she'd regret not having kids, but she was so blissful with Cena that she reconciled herself to a ring-less future.
After all, she had been married once to her high school sweetheart. Never mind that it was a Las Vegas elopement at age 20 that she kept hidden from her family. Or that after they exchanged vows in front of an Elvis impersonator they never actually lived together.
"After we got married, we didn't talk much longer, and then we realized, a few years later, when we started dating other people, 'Oh, hey, we should get a divorce,'" she recalled on Total Divas.
With that behind her, Bella thought maybe she could forgo a second shot. That feeling intensified as she watched costar Nattie Nedihart struggle in her new union. "I'll admit," she confessed to Cena on an October 2014 episode, "seeing them go through all this makes me not want to be married."  
Frazer Harrison/Getty Images
Her sister, wed to fellow wrestler Daniel Bryan, was less convinced. Cornering Cena on camera, she revealed how troubled she was when her twin revealed she had changed her stance on marriage and motherhood. "Nicole and I were talking and she brought to my attention that she's over marriage, she doesn't want to have kids anymore," said Brie. "It was a little alarming to me."
But Cena reasoned it wasn't like he'd pulled a bait-and-switch. "I was abundantly clear about that from our very first date. It wasn't like I tried to manipulate your sister into thinking a certain thing was going to happen and then all the sudden say, 'Ha ha,'" he recounted. "I love this girl, but I love my life."
By 2015 it seemed that maybe his love for Bella would win out. "I'm seeing him more open to marriage," she revealed to E! News that September. "At least we're taking steps forward, and I honestly couldn't imagine my life without him."
A year and a half later—as Vegas bettors were laying money down on the possibility of Cena proposing—he dropped to bended knee after the pair's victorious bout at April 2017's WrestleMania33. Explaining he'd "been waiting so long to ask you this," he presented her with a four-and-a-half carat diamond that represented their four-and-a-half years together.
"I found the right person," he later explained on the Today show. "I found a strong person that I consider an inspiration. An equal. Someone when I'm down, can pick me up. It took a person that strong to change my life."
Eager to wed—"I can't wait too long, he might run off!" she joked to E! News—Bella rushed to put together the day she described as "super intimate" and celebrated with a 10-day Paris bachelorette party in March.
Cena, meanwhile, played the part of her excited husband-to-be. Just days before their split, at the Apr. 3 Blockers premiere in L.A., he gushed to E! News, "I think the best thing about me being able to ask her hand in marriage was she doesn't need to question my commitment to our relationship. I am with her to death do us part."
But even as they filled in the rest of the details—their combined five nieces would serve as flower girls and her Dancing With the Stars partner Artem Chigvintsev would provide pointers for a first dance—it was clear they hadn't completely solidified their plans for the future.
Opening up to E! News, she admitted she didn't think Cena would change his stance on fatherhood. "John had mentioned this a long time ago when he wanted to get married, he said, 'I just don't want you to ever think that if I want to marry you and I marry you that means that I want to be a father,'" she explained. "And I told him, 'I 100 percent agree. I know that no matter what, you don't want to be a dad.'"
But as it turns out, there's a big difference between knowing the truth and accepting it. Because even as Bella told E! News, "I don't even have hopes of a kid," she admitted to holding on to a little wisp of a prayer. "If John all of a sudden one day wanted a kid? Because he's like, 'Hey, let's do it.' Well, I'm totally game," she said, "and I think my ovaries will be good for a long time."
Jordan Strauss/Invision/AP
The way Cena saw it, though, was that he just didn't have time to be a team player. And there was no better evidence than their pup Winston—a French bulldog Bella spotted in a New York City pet store and ended up having to give away to her sister.
"Look, I know I cannot handle raising a child. It's like with the dog," Cena explained to Rolling Stone in 2016. "My biggest thing to Nicole about the dog was: Love dogs, but I can't contribute to taking care of one. I don't have the time."
Same goes with kids, he reasoned: "Just because everyone else is happy with children doesn't mean that's how I have to live."
Now he'll navigate life his way. Alone.