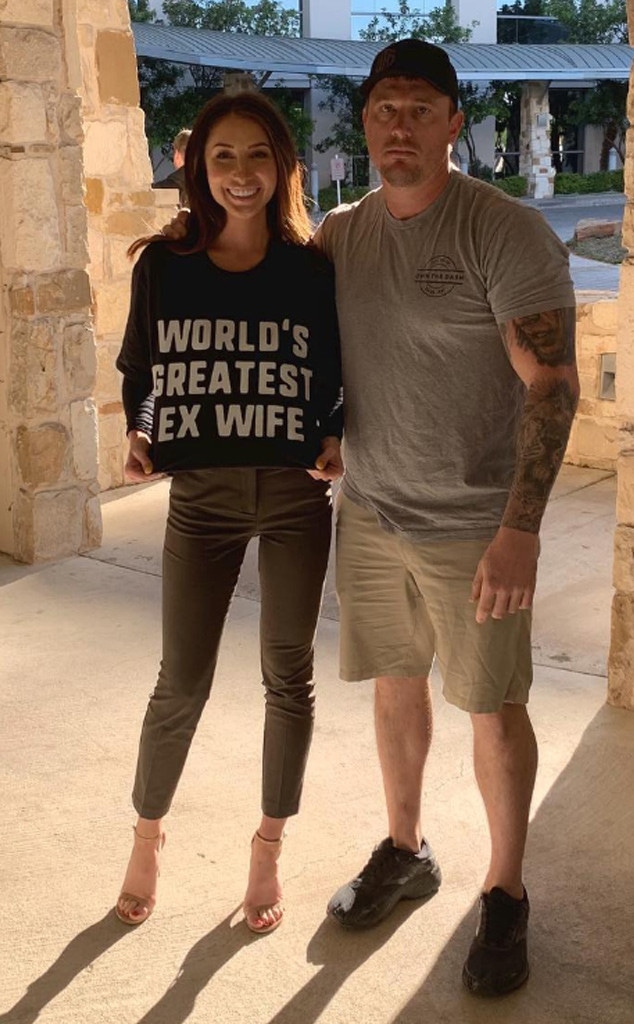 Instagram
You can't put a price tag on friendly exes.
It's no secret that Bristol Palin and Dakota Meyer have had their ups and downs after they ended their romantic relationship.
But as the Teen Mom OG star continues her career as a realtor, Bristol is using her skills on an unlikely consumer.
"He's happy I swear!!" the MTV reality star shared on Instagram while wearing a "World's Greatest Ex Wife" sweater next to Dakota. "If I can work (and sell) my ex husband's house - I can do anything."
Dakota would also post with a message of gratitude for his former leading lady.
"Getting along has never been our strong point but always trying to help each other out is something we have maintained (for the most part). I'm proud of @bsmp2 hard work and dedication to setting the example for my daughters," he shared on Instagram. "Go check her out @bristolpalinrealtor and if you're looking for a realtor in Austin Texas she's who you want. #austintx."
The extended Teen Mom family including Cheyenne Floyd and Taylor McKinney liked the posts while Kailyn Lowry left an LOL-worthy comment.
"I know this is how you feel about me @Javim9," she joked when mentioning her ex Javi Marroquin.
All jokes aside, Bristol appeared to be all business while dealing with her familiar client. In addition to selling Dakota's house, the MTV star also gifted her ex with a gift bag including booze, candles and even a picture of the lucky realtor.
Customer service is key, are we right?
"Under contract the first day listed!" Bristol stated on her separate realtor account. "Thank you @dakotameyer0317 for trusting me to get your home sold!! #austinrealtor."
Dakota filed for divorce from Bristol in February 2018. They have continued to focus on co-parenting and being the best parents to their two daughters, Sailor Grace and Atlee Bay.
"I want you to have a sense of peace," Bristol shared in a previous Teen Mom OG episode. "I do feel like we're better people when we're not together."