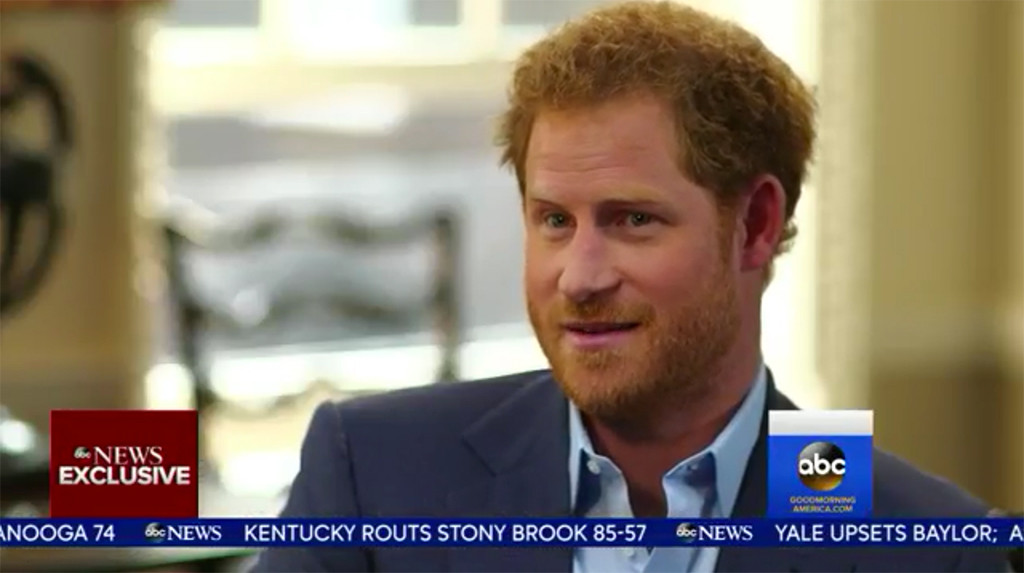 Twitter
Prince Harry has done his mother proud.
Nineteen years after Princess Diana's death, Harry is carrying on her legacy through his charity works. In her memory, Harry co-founded Sentebale with Prince Seeiso in 2006. The charity helps children in Lethoso, many of whom have AIDS. Earlier this year, he visited the hospital where Diana famously de-stigmatized AIDS. He is also involved in the Halo Trust, her landmine charity. Harry spoke about his endeavors with Good Morning America's Robin Roberts in an interview that aired Friday. "This used to be our mum's sitting room, so she had a study through there with her desk where she used to listen to all sort of her crazy music," the prince recalled. "It took a little bit of getting used to, not that we ever forget. We think about her every day."
Asked what Diana would make of him and today, Harry replied, "I hope she's looking down with tears in her eyes, being incredibly proud of what we've established, I suppose. I'm sure she's longing for me to have kids so she can be a grandmother again, but I hope that, once again, everything we do privately and officially, that it makes her proud. I think losing your mother at such a young age, does end up shaping your life, massively. Of course it does. And now I find myself trying to be there and give advice to other people who are in similar positions." Harry and Prince William "do everything we can to make sure that she's never forgotten and carry on all of the special gifts, as such, that she had and that she portrayed when she was alive," he continued. "I hope that a lot of my mother's talents are shown in a lot of the work that I do."
This spring, Harry will bring the Invictus Games to Orlando. The Paralympic-style, multi-sport event features wounded, injured or sick armed services personnel and their associated veterans participating in a variety of sports. "Weirdly, my first time to Florida—to Disney World—I ended up going there with her," he said of Diana. "It was one of my very, very happy memories. I went on Space Mountain 14 times...It was the best thing ever. So, you know, there's all sorts of places all over the world where we were very lucky to have those moments with our mother."
Robin ended the interview by asking Harry about his nephew, Prince George, and his niece, Princess Charlotte. "You've got to have fun in life, otherwise—well, imagine life without fun!" he said of William's children. "You've got to be taken seriously, but I hope that I'm a fun uncle."