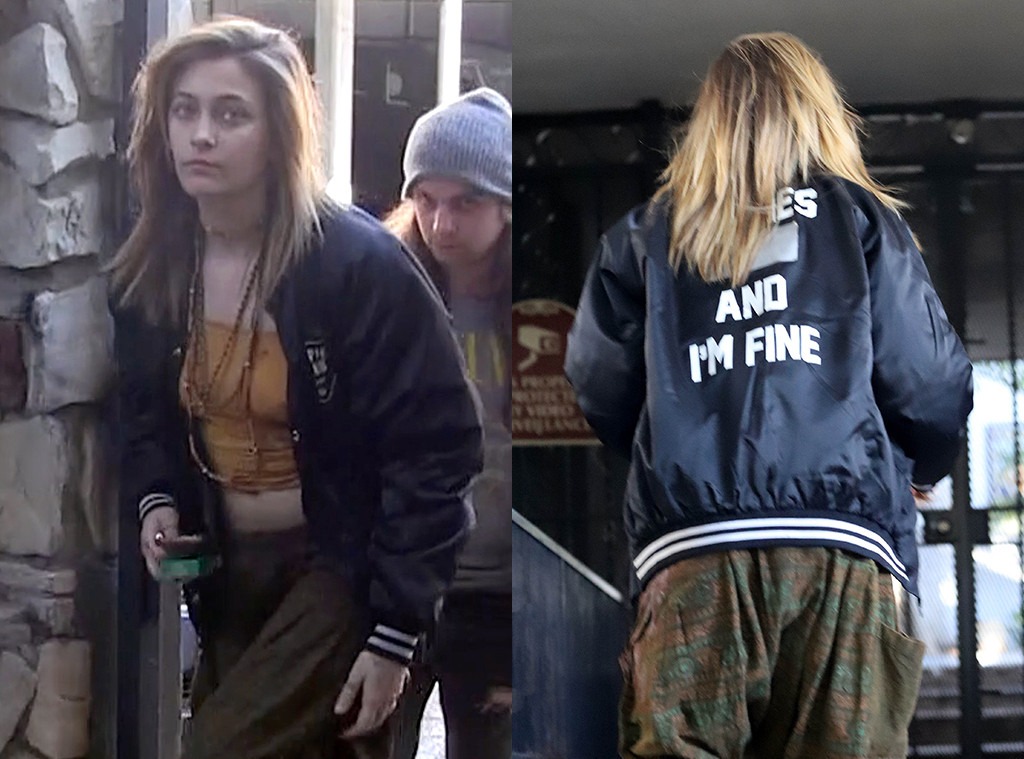 BACKGRID; SplashNews.com
Paris Jackson is letting her voice be heard after an earlier report that she had been hospitalized due to a suicide attempt.
E! News has learned that Paris had an incident on Saturday morning that required medical treatment. She is currently resting at home and doing fine. 
According to TMZ, police and EMS arrived at her house early Saturday morning and she was placed under a 5150 hold at a local hospital. On Saturday afternoon, however, they reported she was released and "under the care of her team."
A 911 call was made on Saturday morning. LAPD media relations told E! News that they cannot confirm the name of the victim but said, "Today at about 7:28 in the morning, Hollywood units responded for a radio call of an ambulance attempt suicide. The victim was transported to a local hospital."
Paris was seen outside her home on Saturday wearing a tan crop top and a blue jacket that said "I'm Fine" on the back. A source told E! News that she returned around 2 p.m., and was seen smiling.
Since the news came out, Paris has posted on social media affirming that she is not actually in the hospital. She called the reports "lies" on Twitter. On Saturday afternoon, she posted a selfie on her Instagram Story where she's sitting in a car and wrote, "f--k you I'm chillen like Bob Dylan."
Paris also tweeted a bunch of question marks and an "unamused face" emoji.
Later in the day, she was photographed grabbing KFC with boyfriend Gabriel Glenn.
She attempted suicide in 2013 and told Rolling Stone in 2017 that she has tried to commit suicide "multiple times." She told the magazine, "It was just self-hatred. Low self-esteem, thinking that I couldn't do anything right, not thinking I was worthy of living anymore."
Jackson checked into a treatment facility in mid-January to prioritize her mental health. A source told E! News at the time, "After a busy year of work engagements that took her all over the globe, Paris decided that she needed to take some time off to reboot, realign and prioritize her physical and emotional health."
The source said she was also "looking forward to coming out of this revitalized and ready to tackle the exciting new projects that await her."
Jackson's attempted suicide comes on the heels of the explosive HBO documentary, Leaving Neverland, which first premiered at Sundance earlier this year.
Jackson, her family and the singer's estate have come out against the documentary and continue to defend Michael Jackson's legacy even as more brands begin to distance themselves from him.
On Thursday, Jackson replied to comments on Twitter and denied having a "downward spiral" following the documentary.
"i have the same moral compass as my father, but not the level of patience. i'll fight for love n peace in the same way, but i am more aggressively driven," she tweeted. "i don't sit by idly when i see injustices happen, especially when they're directed towards me or my family. f--k that noise."
In February, Paris denied more reports that she was having a meltdown. The 20-year-old wrote in a now-deleted tweet, "There's no meltdown, no 'losing [my] s--t,' or being demanding of anyone. Please don't believe what you read."
She continued in another message, "I said it before and I'll say it again, I'm the happiest and healthiest I've been in a long time."