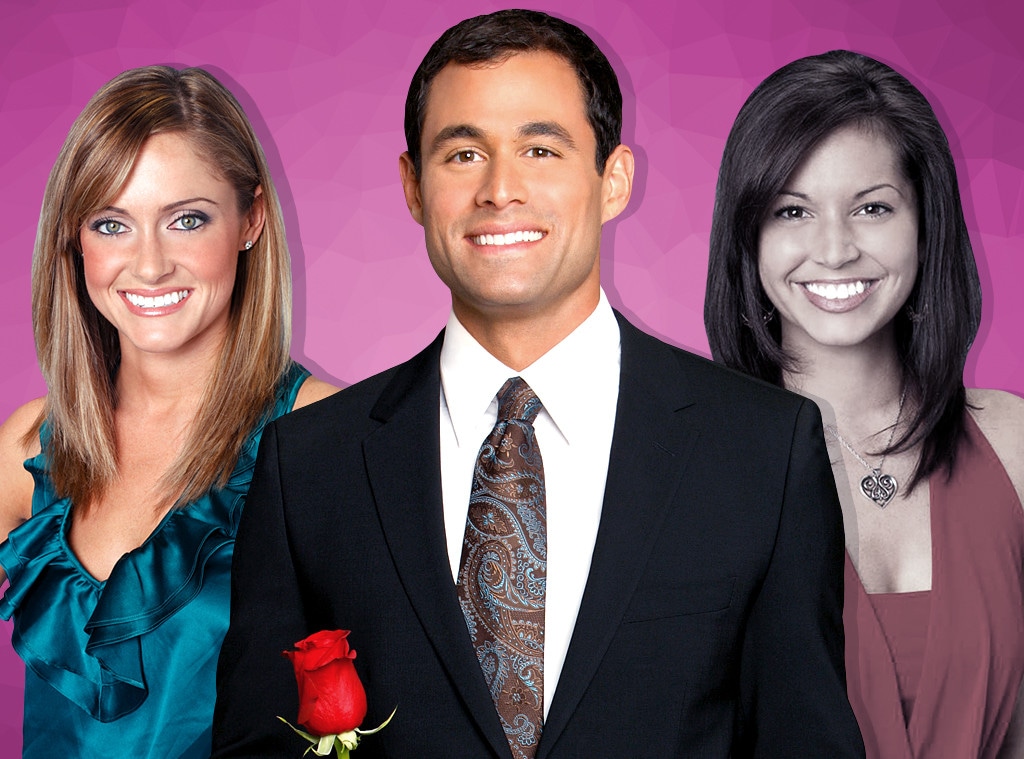 Getty Images
Before Arie, there was Jason. 
Last year, Arie Luyendyk Jr. became the most hated man on social media when he blindsided his then-fiancé Becca Kufrin by breaking up with her on-camera in order to pursue his original runner-up, Lauren Burnham. Some viewers of The Bachelor called it the most dramatic moment in the franchise's history. But for longtime fans, we'd been here before.
10 years ago, 17 million viewers watched as the Bachelor Jason Mesnick, so beloved from his turn on DeAnna Pappas' season of The Bachelorette, broke up with then-fiancé Melissa Rycroft because he couldn't stop thinking about Molly Malaney, the woman he broke up with in New Zealand.
It was painful. It was awkward. It was riveting. And it went down as one of the most iconic moments in the ABC hit franchise's 17-year history and the reality TV genre. 
It was a decision so "monumental" in pop culture that his name was turned into a verb—pulling a "Mesnick"—and ironically, it helped pave the way for the future of the franchise when many viewers at the time vowed to never watch again.
In fact, the show debated talking about it during Colton Underwood season's recent finale, with Robert Mills, ABC's Senior Vice President, Alternative Series, Specials & Late-Night Programming, telling E! News, "We were talking about it because it has been 10 years and those of us that have been here that long can remember it and we talked about how that was such a turning point."
Before Jason, the 12 men who served as the Bachelor before him had either proposed or committed to a serious relationship with their final pick, with one glaring omission: Season 11's Brad Womack, who became the most hated man in America when he ended his journey alone, dumping both of his final women (including DeAnna). 
Watch:
Colton Underwood Was Over "The Bachelor" After the Fence
For Mills and other who were working on the show at the time of Brad's first season (he returned as the lead in season 15), the filming of his After the Final Rose special when he didn't end up giving out a final rose is still a moment that Jason's decision "didn't hold a candle to."
"That was like nothing we'd ever experienced before. It was very dark, it was very heavy."
And it was their most dramatic ending her, until Jason came along and made a "monumental" decision that "overshadowed" Brad's controversial ending. 
Given the outcry after Brad's decision to not choose either woman, Jason felt "pressure" to deliver a proposal at the end of his season—just not from the public.
"I remember back on my show, I told them I wasn't going to propose because it wasn't the right thing…their response back then was like, 'Oh, that's not how it works. We always have a proposal. We've tried it without a proposal,'" Jason recalled in a phone interview with E! News, acknowledging the producers deserve credit for "growing" and allowing Colton's journey to end without a proposal. 
"It ends up being entertaining in a different way," he said of the former NFL player and his winner Cassie Randolph  just figuring out if they even want to be together IRL before committing to forever because of the pressure-cooker environment the Bachelor franchise puts relationships in.  
While Jason said he felt he had to propose, the franchise has always denied putting pressure on the Bachelor to get down on one knee at the end of their season, with Mills theorizing the idea that someone has to get engaged stems from the need for the lead to be serious about the process.
"I think [that pressure] stems from if you're saying you're going to be the Bachelor or Bachelorette, you have to be serious about 'if I find the right person I am at least entertaining the idea of settling down with someone," he said. "It doesn't mean marriage. You have to tell us that a soulmate or life partner or whatever you want to call it is in that room. Maybe it's not, but at least you're open to the idea of it."
MATT KLITSCHER via Getty Images
But 10 years ago, the franchise felt and might've been completely different, with Jason saying it's evolved and is "letting them grow. Now, it's like, 'Dude, jump the fence! Let's see what happens!'"
But for him, he felt at the time that "the whole pressure came from the production. In the real world, none of that would've happened. What I proposed to do is not what happened," the 42-year-old recalled. "Retrospectively, if I could've just pulled a Colton and said, 'Screw it'...I just didn't think it was an option. You don't feel like it's an option and they don't let you know it's an option."
Before we dive into the nitty gritty of it all, let's just spoil the ending right now: Jason and Molly are happily married and recently celebrated their 9th wedding anniversary. 
"Every time we have a new season ends and this gets brought up, I can't believe we went on this TV show and that's how we met. That's just wild and it will never be normal," Molly told us. "It's actually really fun, even though it was horrible at the time, it's fun to know we were part of a really monumental moment in this franchise." 
Now, let's breakdown that monumental moment. 
The set-up for the infamous finale actually began on the night Jason's premiere aired, with executive producers Mike Fleiss and Martin Hilton pulled Mills aside at a party to deliver the bombshell news. "I remember it like it was yesterday," Mills said. 
"[They] said, 'Oh we have to talk to you about something...he's changed his mind, he's thinking about Molly,'" he recalled. "I was like, 'Wow. My god, that's insane!' We were just wide-eyed, like we can't believe this. We immediately sprang into action."
Action meant putting together an After the Final Rose taping just six days later, when it's usually filmed live on the night the finale airs and reveals the endings of the season.
"We had gotten a sound stage and we shot it. There were so many decisions we didn't know because we were in uncharted territories. We said, we can't have an audience. It wasn't even then about spoilers. Twitter was in its infancy. It wasn't a spoiler thing; it was we have to be respectful. Who knows what it's going to be like? It was only like 15 people, a very bare-bones crew."
While some theorized the ending was staged—tabloids later asked, "Is his love for Molly real?—it was very much real for Jason and Molly—specifically because Jason did not want to even film the special. "I don't want to do this on TV because people are going to want to kill me!"
Kevin Casey/ABC via Getty Images
"I said to them, 'Melissa and I, it's just not working out. I want to give it a shot with Molly.' And right away they said, 'Molly's already in the pipeline to be the Bachelorette, so if you want to take to her then you gotta do it on camera.'"
Scared of possibly breaking the contract he signed, Jason attempted to propose other options. But they wanted it to be on-camera because they said it was "'so real, so honest, people are going to love it.' They're producing me.
"Any proposal I had, like, 'OK, let's brainstorm how this is going to be terrible," he continued. "I lost because they knew whatever explosion was going to be happening was going to be talked about everywhere." 
For  the "heartbroken" Molly, who had not spoken to Jason at all since he broke up with her in New Zealand and had been heavily courted weekly by Fleiss to be the next Bachelorette with promises of a car, a stylist and guys, she had no clue that something was up.
"When they were telling me I was going to fly out for the After the Final Rose, " she remembered, "and they were like, 'we're going to keep you a couple of extra days because we're going to film your Bachelorette package.'" 
Little did she know she was about to have the man she loved ask her for a second chance, something she only dreamed would happen.
They would just have to endure "hours" of filming filled with awkwardness and tension first. 
Paul Hebert/ABC via Getty Images
While Arie proposed to Lauren during his After the Final Rose, it was a very different experience for Jason and Molly, with Jason tentatively saying he was "hoping" they could just give it a shot. "See if we can go out for coffee or drink?"
A shocked-but-smiling Molly is speechless at first, asking about Melissa before struggling to find her words and contain her smile. "This is something I dreamt of, but never expected to hear."
No proposal. No ring. Just an agreement to see what could happen. 
"My biggest memory from that still was at the end, Molly and I didn't even know what to expect from each other...and we kind of hugged and Chris Harrison stops filming and goes, 'No, no, no, you guys have got to kiss!' Molly and I were like, 'No! That's a stupid idea.'"
They then asked Jason to give Molly a rose, an idea he rejected because it was "so dumb," and eventually "somehow they got us to give a little kiss." 
Here's how Molly remembered it: "I was done filming at that point and they were like, 'We're not finishing until you guys do this. You gotta give us this moment.' And you do it just to get it over with."
For Mills, he remembered "Melissa being really shocked but also angry. You saw a lot but it was a lot." (She memorable told Jason, "You're such a bastard.") 
And that anger definitely derailed producers' plans for the next outing of the Bachelorette, as they had envisioned the on-camera break-up being the perfect set-up for Melissa. (The OG Becca Kufrin, if you will.)
In fact, they even recruited her ex to help convince her to take on the role. "That was their number one thing of doing the thing with Melissa," Jason said of the on-camera breakup (much like Arie claimed after he dumped Becca, saying he was setting her up to be the Bachelorette). "They wanted to deliver her as the Bachelorette to America. They had me call her!"
Yes, Jason phoned Melissa after breaking up with her to discuss being the next lead after producers asked him to because she was "mad" at them.
"In their mind, they're like, 'We gave you Molly, now can you give us Melissa?"
Melissa passed, eventually going on to marry an old boyfriend, Tye Strickland, and the couple now have three children, a daughter named Ava Grace, and two sons, Beckett and Cayson. 
Even though Melissa didn't end up being their next lead, the franchise wasn't done with Jason and Molly yet, asking them to make an appearance during Jillian Harris' Men Tell All special.
"We were done. Like over it, done, we don't want anything to do with these producers, we don't want anything to do with this show," Molly recalled of their reaction at the time. "It took them a lot to get us to go there."
Unlike Arie and Lauren, who were married and expecting their first child within a year, happily documenting all of it on social media, Jason and Molly had to figure some seirous s--t out after their finale. 
"It was awkward. He didn't choose me, so we had to get through all of that and kind of learn to get to know each other off camera while going through this weird TV experience," Molly said, "and then the s--tstorm happened."
That s--tstorm being the finale finally airing and people having a lot of opinions on what went down, forcing the couple to deal with it all over again, even canceling the standard week of press the couple does after their season because "it was getting to be so negative." 
"We just didn't do anything," Molly said, "and then we went back to our normal lives, back to work, back to our respective cities and were just dating long-distance our of the public eye."
One unexpected source of support for Jason was Jimmy Kimmel, with the late night host offering the beleaguered Bachelor advice after their interview.  
"He was like I want to give you some advice when we're done, and off-camera...he and I literally sat off to the side of stage and he gave me personal advice for like an hour. He was like, 'Listen, if you did me today, that means you're doing Ellen [Degeneres] tomorrow...she is going to kill you! If I were you, here's how you need to handle Ellen and her audience,'" Jason said. "For an hour, he was like, 'Follow this guideline and you'll be OK.' He's like the nicest."
Still, Jason and Molly consider themselves "lucky" that social media was barely a factor contestants had to contend with during their time on the show, though magazine covers plastering the word "BETRAYAL" over photos of the couple were inescapable. 
"It was bad for us at the time. At that time, it was just tabloids and magazines. Thank god there was not social media at the time," Molly said. "I would be in a serious depression dark hole. We're very lucky that it wasn't around when that all went down." 
Of course, the media frenzy died down, the tabloids moved onto their next big scandal, the viewers eventually put down their pitchforks and Jason and Molly settled down, all while the franchise continued to chug along, experiencing a resurgence thanks to the show's popularity on social media. 
"Time heals all wounds," Jason said of eventually agreeing to make appearances and continuing to be an active member of Bachelor Nation. "I think if you were going to get really raw with every single person who was the Bachelor or Bachelorette...[they] would say, 'They did this. They did that.' We all have the same story, maybe different details through everything. At the end of the day, you all come back!"
Jason and Molly do sometimes make appearances, with Molly reasoning, "When they invite us to be part of something, if it makes sense for our life, we go." (When the couple was asked to appear during the live three-hour premiere event this season along with many other alums, they politely declined as 1. parental duties. 2. cast members were asked to pay for their own flights and accommodations.) 
It also helps that Jason and Molly have, you know, a pretty normal life in Seattle despite their abnormal experience on the show. Bachelor Nation isn't their whole world, though Molly admitted, "We still watch the show and we love it. It's part of our lives, but it's not our identity."
Jason quickly added, "Thank god!"
And the couple has no lingering bitterness towards the franchise or anyone who works on the show; in fact, they are still friends with many of the people who worked on their season, meeting up with them whenever they are in Seattle or helping to celebrate major life milestones. 
Jason still works in real estate and is totally OK with using his time on the show to his professional advantage. "Some of my favorite clients were people who remembered I was on the show," the Compass agent said, "it's a really fun thing to work with Bachelor fans." 
And Molly, who previously worked in corporate retail, now serves as the host of a morning radio show in Seattle for 106.1 KISS FM.
"It's amazing, I absolutely love it. It gives me a really good work-life balance. So I do my show in the morning and then I'm around all day to volunteer in the kids' classes, pick them up from school," she said. "We have a really good balance and hang on life right now. Honestly, I think we're in the best place we've ever been in our lives." 
Robert Voets/ABC via Getty Images
Like we said, it all worked out in the end and delivered arguably the franchise's most dramatic-yet-relatable happily ever after. 
Jason and Molly are busy getting ready to throw their daughter Riley's 6th birthday celebration, with a set Narwhal theme—which Molly had to explain is a "like a whale with a unicorn horn on it? I don't know, it's a thing with these little girls right now." 
Another big thing with their little girl? Watching the video from her parents' televised wedding, which aired in 2010 and was only the franchise's second special after Trista and Ryan Sutter's nuptials in 2003, "over and over again," as Jason said, "She just wanted to see Molly in her dress."  
"It was a dream come true," Molly said of their nuptials, with the two-hour special attracting almost 10 million viewers when it debuted almost one year to the day the infamous After the Final Rose special aired. 
But this time, the couple went into filming with their eyes wide open and their guidelines crystal clear. 
 We went into it with some pretty strict rules, they were not allowed to invite people from the Bachelor world we hadn't personally met. They weren't allowed to make us redo anything during the ceremony or the reception. We were pretty tough on them about how this went down. It had to feel like an actual wedding." 
And it did, with Jason saying, "For whatever reason, the wedding went beyond. Maybe they were sensitive about it, maybe they weren't, but they did an awesome job." 
For those of you who watched Jason's Bachelor journey begin on DeAnna Pappas' season, brace yourself to feel the harsh slap of time as Ty, who was just three at the time the single dad won over viewers, is now 14. 
"He gets some attention at school because of me and Jason," Molly said. "It's funny, last year we went to school at the end of the year [because] he had this photography presentation and on the presentation, you had to put a fun fact. His fun fact was: 'I was on The Bachelor.' That's like his thing now!"
Still, Ty and Riley haven't watched the show, and Ty only recently learned of his dad's infamous "balcony cry," a display of emotion so raw and unfiltered that all breakdowns since have been compared to it, thanks to Jason's epic throwback Instagram post. 
He was like, 'What was that?!'" Jason said, "my response was, 'Just a TV thing, don't worry about it.'"
Seems like the Mesnick motto.