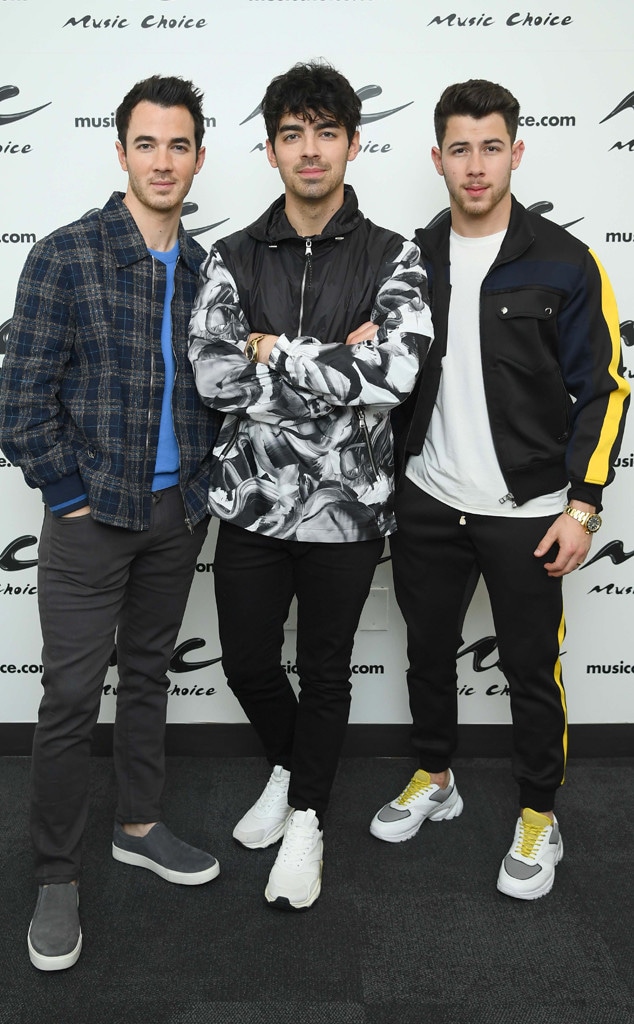 Dimitrios Kambouris/Getty Images
The Jonas Brothers are just burnin' up with excitement amid their surprise reunion and new song release.
Kevin Jonas, Joe Jonas and Nick Jonas got the band back together and dropped the single and music video for "Sucker," which they previewed on an episode of James Corden's Carpool Karaoke. Their music video, which already has over 26 million views, features Nick's wife Priyanka Chopra, Joe's fiancée Sophie Turner and Kevin's wife Danielle Jonas.
On Friday, the JoBros took their new song as well as some of their old hits and performed a secret show at The Box Theater in New York City. The trio's concert tunes included "Burnin' Up," "Year 3000," "SOS" and "That's Just the Way We Roll."
"Sucker" is the first song the Jonas Brothers have released since their split five years ago, and Jonas Brothers fans were more than happy to take a listen.
Their newest single could just be the first of many hits to come.
Nick, Joe and Kevin appeared on The Elvis Duran Show on Friday and shared that "Sucker" is just one of many, many songs in their vault.
Middle brother Joe explained, "When we started to figure out what the sound was going to be like—balancing Nick's sound, DNCE's sound and, to be truthful, Kevin bringing so much heart into this. It's been incredible—his stories, his family and everything that he has going on now, it was really important to be able to blend the three and so, we have probably 30, 40 songs recorded that we can't wait to release."
Yes, 30 to 40 songs! Plus, a full album is in the works.
And we thought we would have to wait until the Year 3000 to hear them back together again.
"We've kept this a secret now for almost seven, eight months. This is basically our first performance back," Nick said during the episode of Carpool Karaoke.
The family seems to be happy that the secret is finally out of the bag. The brothers have all thrived in their respective careers and personal lives, too. Nick and Priyanka had a star-studded and busy wedding weekend in India in December and Joe and Sophie are due to tie the knot some time this year.
If the nostalgia is really setting in, take a look at the photos of the Jonas Brothers through the years in the gallery below.
Despite a rather upsetting breakup that allowed them all to pursue their own passions and "do our own individual things," the JoBros are back and hope they aren't leaving us again anytime soon.
Camp Rock 3 anyone?