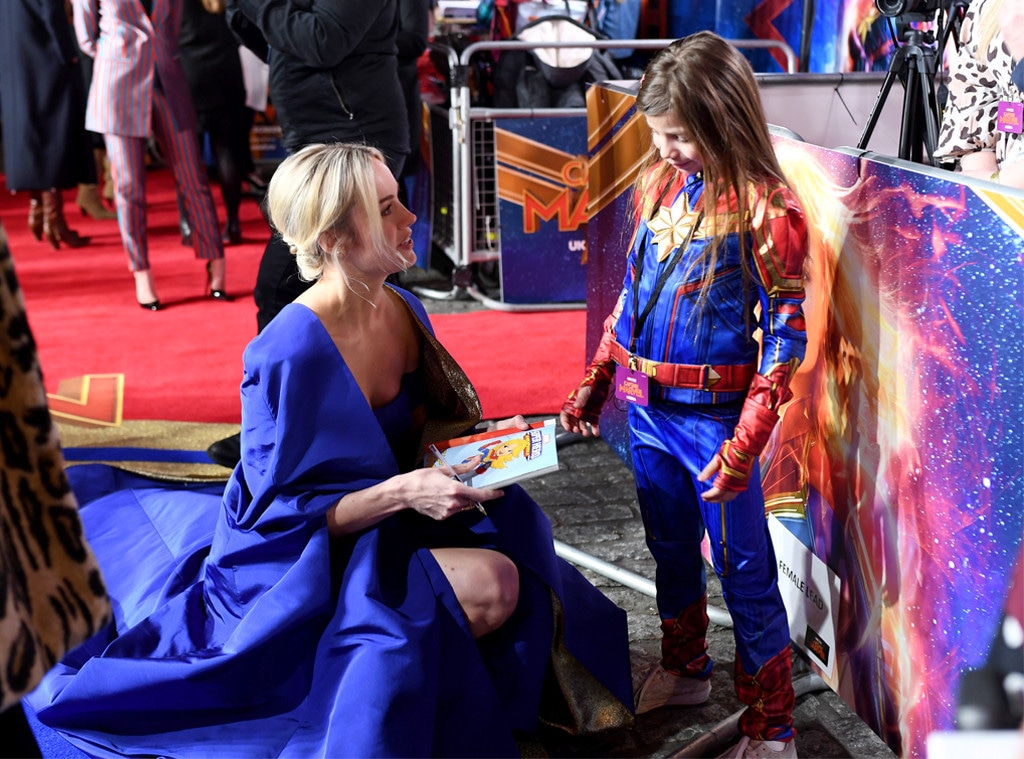 Gareth Cattermole/Getty Images for Disney
Mini Me, is that you?
Brie Larson chatted with a young girl decked out in superhero gear at London's Captain Marvel premiere and it was a heartwarming sight to behold. Film critic Scott Davis took a brief video of the movie star getting interviewed by the probable-journalist-to-be, Illy. 
"Are you running the carpet tonight?" Larson asked of her interviewer.
They then had a brief conversation and Illy proceeded to ask the 29-year-old an inaudible question. The two Captain Marvels later posed together on the red carpet with some fellow castmates.  Marvel UK & Ireland's Twitter page also shared photos of Illy interviewing Larson's co-star Samuel L. Jackson as well. Larson retweeted Marvel's post and wrote, "She's my hero!"
That feeling is most definitely mutual.
8-year-old Illy's interview was apparently set up by an organization called The Female Lead, which is "a non-profit organisation dedicated to making women's stories more visible and offering alternative role models to those ever-present in popular culture."
The Female Lead posted about the interview on Instagram. "Just two captain marvels," the caption read. "We arranged for 8 year old superstar illy to meet her real life superhero @brielarson at the #captainmarvel premiere this evening !"
Plus, Larson becomes the first woman to lead a Marvel Cinematic Universe film thanks to this role.
Larson's London premiere is just the first in what's likely to be a whirlwind world tour before the film's March 8 release date.
The star discussed her major role in InStyle's March issue and why the character of Carol Danvers/Captain Marvel resonates with her so much. She shared, "She didn't apologize for herself. I felt like that was a really valuable trait, because she is incredibly flawed and makes a lot of mistakes … and has to ask to atone for them, and that is super valuable. She's not ever shrinking herself down."   
Larson went on to talk about how she feels empowered by it all. "The movie was the biggest and best opportunity I could have ever asked for. It was, like, my superpower," she explained to the magazine. "This could be my form of activism: doing a film that can play all over the world and be in more places than I can be physically."
In case you can't wait until the March 8 release, take a look at some of Captain Marvel's movie pics below.
Larson told E! News in June she was "proud" of the movie and what they were making. She teased, "I think all the hype and anticipation will be worth it."