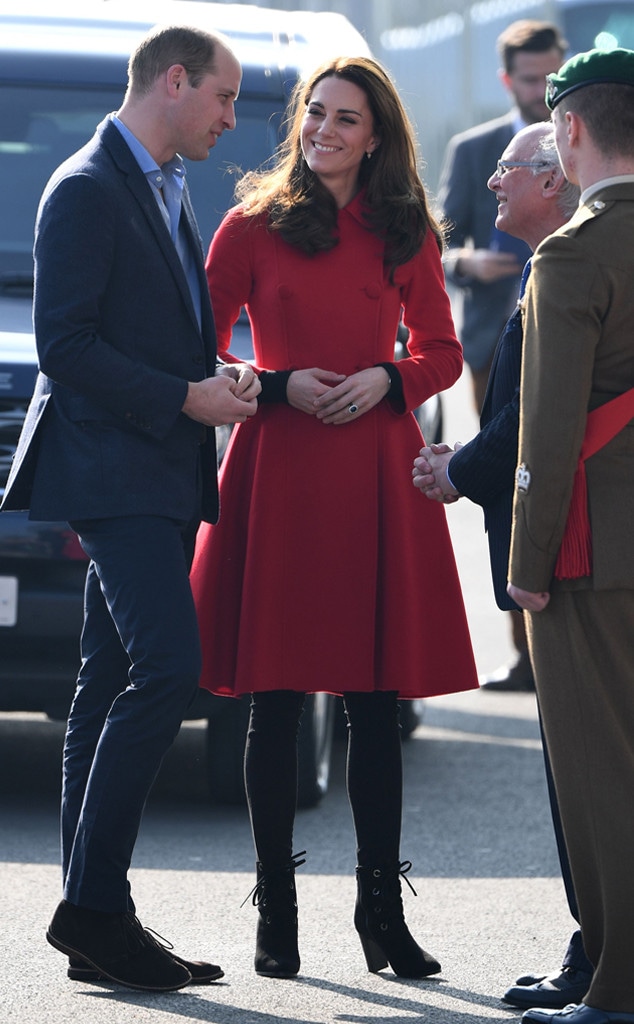 PAUL ELLIS/AFP/Getty Images
Kate Middleton and Prince William kicked off their two-day trip to Northern Ireland on Wednesday.
The Duchess of Cambridge arrived in Belfast in a red Carolina Herrera coat dress and Zara black skinny jeans. She accessorized her look with L.K.Bennett Marissa suede black boots and Kiki McDonough's Lauren Pave diamond leaf earrings in yellow gold. If the royal's ensemble looks familiar, it's because she's worn the look before. As royal admirers will recall, the mother of three wore the coat dress during her 2016 visit to Canada, as well as during a 2017 visit to France for the RBS Six Nations match.
William also looked dapper in a blue button-up shirt and dark sports coat 
The couple certainly had a packed itinerary. They started their day with a trip to the National Football Stadium at Windsor Park, home of the Irish Football Association.
Once inside, the two met legendary player Pat Jennings and learned about the organization's programs, which seek to promote mental and physical health in local communities. The program Shooting Stars, for instance, encourages girls to play the sport, and Ahead of the Game supports clubs and volunteers experiencing mental health issues. It also aims to challenge stigmas and focus on preventative measures.
In fact, William and Kate actually joined a few of the Shooting Stars players on the field. The duchess pulled her hair back into a low ponytail and changed into a Barbour Longshore quilted jacket and blue New Balance sneakers before dribbling the soccer ball with the young athletes. She also wore a Ralph Lauren sweater underneath. William ditched his sports coat to kick the ball around, too.
The two even received a few soccer jerseys for their three children: Prince George, Princess Charlotte and Prince Louis.
After their visit to Belfast, the two stopped by Fermanagh, where they learned more about the work of the social justice charity Extern and its activity center Roscor Youth Village. The center provides outdoor activities and teaches independent living skills to children referred to the program by social workers or the Department of Justice.
The royals weren't afraid to join in on the fun, either. The duchess helped children assemble a tent and even practiced her archery. While she missed her first shot, she ended up hitting the target with a little coaching from the kids.
In addition, William worked on his balance.
But that wasn't all. That husband and wife duo went head to head in a canoe race. William and his boat ended up winning the competition.
Of course, this should come as no surprise. William and Kate have shown their athletic abilities before. Back in January 2018, Kate challenged her hubby to a hockey shootout during their trip to Sweden. She's also been spotted taking part in everything from volleyball and hiking to repelling and sailing during other visits.
Before they left, William and Kate were given bowls painted by some of the children. They also signed their names on tiles, which will be placed outside of the building.
The two are scheduled to return to Belfast for a party at the Empire Music Hall. There, they'll celebrate young people who've made an impact in Northern Ireland and listen to the band LARKS.