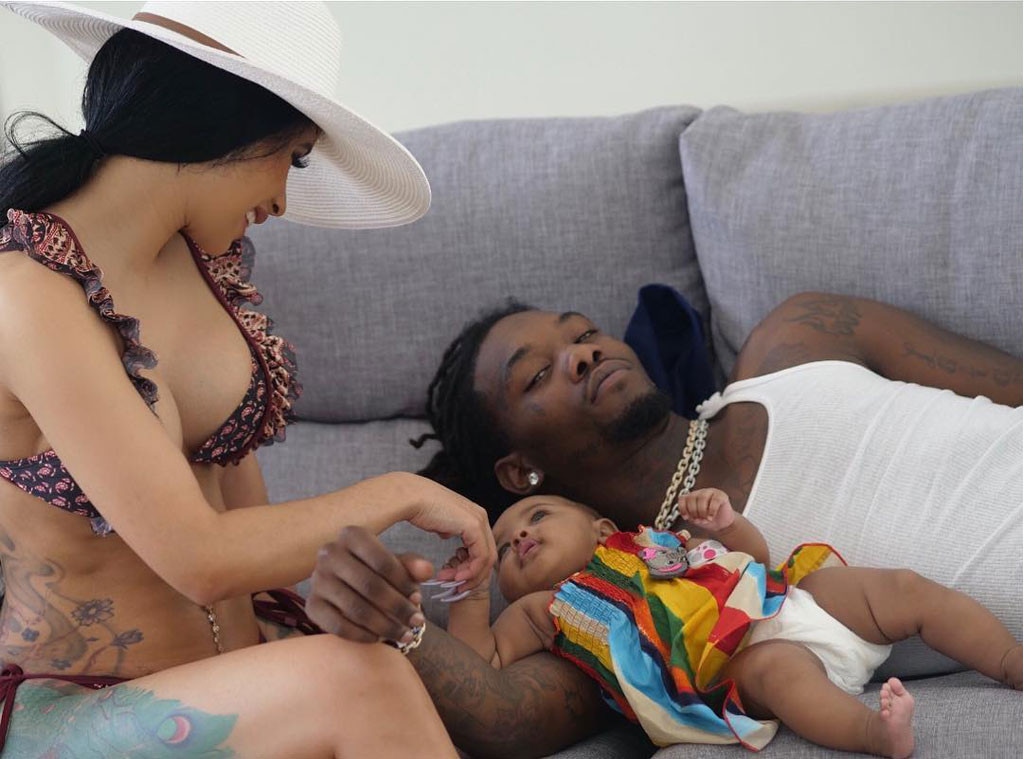 Instagram
Could this be the new Christmas card photo?
Cardi B posted a rare photo on Instagram that showed all of her daughter Kulture Kiari Cephus laying next to her dad, Offset. In the picture, Cardi held her daughter's hand while she sat on a couch in a bikini and white sun hat. Kulture wore a rainbow dress and the Migos rapper kept it casual in a white tank top.
The picture seems to be a throwback to when their now 7-month-old daughter was just 3-months-old during a family trip to Punta Cana, Dominican Republic.
The "Bodak Yellow" rapper's full photo of Kulture is a nearly unprecedented move. Ever since Kulture's birth, the 26-year-old rapper has shown off her daughter on social media but only a few of her body parts, like her hands, legs, or feet. The one time she actually posted a picture of Kulture was just hours after announcing her split to Offset in December.
Offset debuted Kulture in a big way, too, just a few days ago.
Offset released his first solo album called Father of 4 on Feb. 22 and the cover art features all of his kids. This time, there's no emoji covering his daughter's face.
Cardi told Harper's Bazaar for their March cover story about why she and her husband decided to protect Kulture from social media. "As soon as she was born, one month in [Offset] was like, 'She's so beautiful. Watch how people gonna go crazy,'" she explained to the magazine. "'Cause a lot of people were saying mean stuff, like that we don't post her because she's ugly. He was like, 'I'm about to post my baby right now.' But then we were very concerned because we were getting a lot of threats, so he said, 'The world don't even deserve to see her.'"
A few months earlier, she told Ebro Darden on Beats1 Radio that someone offered her "seven figures" to reveal Kulture's face on Instagram, but she turned it down. 
"I could show you screenshots of comments, and my phone number got leaked. I got so many disgusting text messages that I literally I had to hire a private investigator to find out who the f--k is these people threatening my child," she told the radio host.
Cardi B and Offset have since reconciled since their ugly split and Offset's many public attempts to win her back. Offset publicly apologized to her in the song "Don't Lose Me" where he repents for his unfaithfulness. He says at the beginning of the song, "And I apologize, you know what I'm sayin'? Breaking your heart, breaking our promise, breaking God's promise, and being a, a, selfish and messed up husband, you know what I'm sayin'? I'm tryn- I'm tryna be a better person. I wanna get this off..."
He told Esquire in a recent interview that things were "good" between the parents. He shared, "We're being more open to each other, raising our baby and taking things slowly."