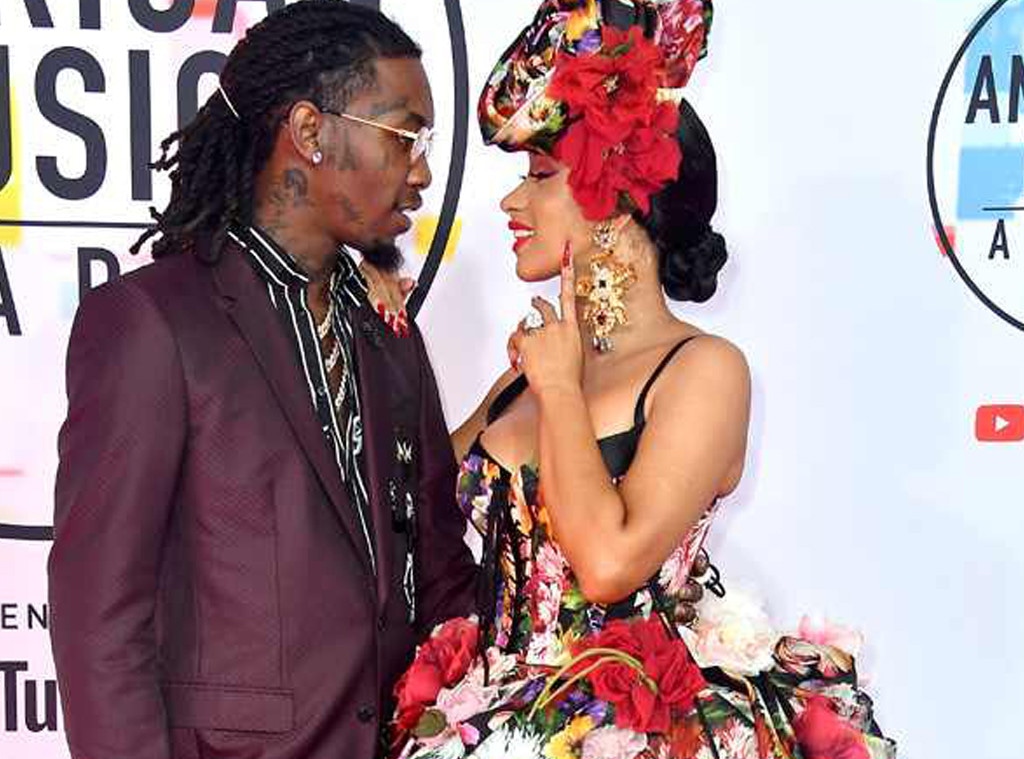 Frazer Harrison/Getty Images
For his debut solo album, Offset had family on his mind. 
Aptly titled Father of 4, the Migos rapper set a personal tone for the first record he's put out on his own, including cover art featuring his four children and a track with his on-and-off wife, Cardi B. 
However, it's another song, "Don't Lose Me," that has our attention. The track starts off with audio from the candid apology he issued publicly back in December 2018 after Cardi confirmed they were no longer together. In the Instagram video, in which he begged to win her back, the rapper implied that he had been unfaithful. 
"And I apologize, you know what I'm sayin'? Breaking your heart, breaking our promise, breaking God's promise, and being a, a, selfish and messed up husband, you know what I'm sayin'? I'm tryn- I'm tryna be a better person. I wanna get this off..." he says at the top of the song. 
He goes on to rap about trying to reconcile. "I'm sorry, let me come on home (Come home)/She said "Put down the styrofoam."
Further on, Offset references their daughter, Kulture Kiari Cephus. "You told me don't use me (Don't use you)/KK, all beauty (KK)/When I'm lookin' down at her, it's you and me/She taught me don't lose me."
He also points out what he loves about the star. "I love your attitude, moody/I love when you call a n---a stupid/I love that you're ratchet not boujee."
Ultimately, he makes it clear that he wants this relationship to last. "Number one, it's a loyalty code (Number one)/Temptation, had the devil in my soul (Temptation)/I wanna be with you when we old (When we old)."  In his words, "I'm a genie and I'm grantin' wishes (Genie)/Only for the Mrs. (Mrs.)."
On the track "Father Of 4," he talks his youngest child again and the measures they have to take to protect her, rapping, "Kulture, remind me of my grandma, feel like she is closer/Gotta thank your mama, she hold me like holsters/Gotta protect her from the world, I can't even post her/Ups and downs in this fame, roller coaster/If I don't ball, then everything 'round me fall/I'm prayin' to God to watch my kids, that's my all."
In addition to their relationship and family, Offset and Cardi also address the pressures of the spotlight and the toll it can take. 
"The blogs is after me (Blogs is after me)/They tryna capture me (Tryna capture me)/They lyin' about the hoes, it's f--kin' my b--ch up mentally," Offset raps on "North Star." "S--t be glitter, it don't be gold/The fame can f--k up your family/It's hard to hold, I'm sorry I fold/But you can't do this s--t back to me (Sorry I fold)."
But, ultimately, in true Cardi fashion, she makes it known that she doesn't care what the world thinks. "Public opinions from private accounts," she raps on "Clout." "You not a check, then you gotta bounce."
As Offset puts it on "Came a Long Way," "I won't let this fame or these chains break my family (Nah)...F--k it, put that ring on my main b--ch, you stuck with me."