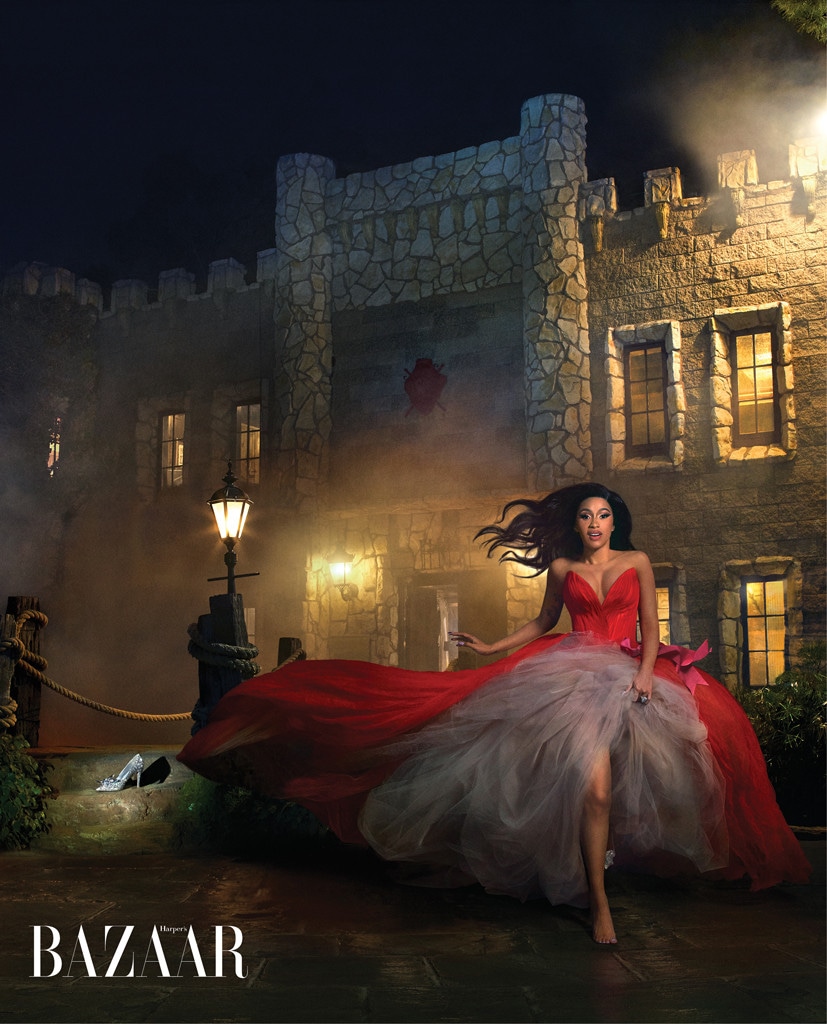 Mariano Vivanco/Harper's Bazaar
All while Cardi B keeps herself busy making money moves, she also keeps it real.
The Grammy nominee got personal in Harper Bazaar's March issue cover story, where she opened up about her baby Kulture Kiari Cephus, her relationship with Offset, her career and more. 
Cardi and Offset welcomed their baby girl in July. Ever since then, the "Bodak Yellow" rapper has spoken candidly about her struggles with postpartum depression and its large impact on her career. She told Harper's, "I thought I was going to avoid it. When I gave birth, the doctor told me about postpartum, and I was like, 'Well, I'm doing good right now, I don't think that's going to happen.'"
She added, "But out of nowhere, the world was heavy on my shoulders."
A few weeks after giving birth, the 26-year-old pulled out of joining Bruno Mars' 24K Magic tour in order to take more time to "recover." She wrote in an Instagram note on July 26, "As of today I've decided I won't be joining Bruno on tour this fall. I thought that after giving birth to my daughter, that six weeks would be enough time for me to recover mentally and physically. I also thought that I'd be able to bring her with me on tour, but I think I underestimated this whole mommy thing."
She continued, "Not only am I just not ready physically, I'm not ready to leave my baby behind since the doctors explained it's not healthy for her to be on the road."
Mariano Vivanco/Harper's Bazaar
While Kulture has a huge presence in Cardi's Instagram stories and remains her main priority with Offset, the rapper has only shared one full photo of her daughter. There are always bits and pieces of Kulture, like her hands or feet in the video, but nothing more. Kulture's full social media debut occurred right after Cardi and Offset announced their split.
The Invasion of Privacy rapper explained to Harper's Bazaar her mentality behind shielding Kulture from the camera. "As soon as she was born, one month in [Offset] was like, 'She's so beautiful. Watch how people gonna go crazy,'" she said. "'Cause a lot of people were saying mean stuff, like that we don't post her because she's ugly. He was like, 'I'm about to post my baby right now.' But then we were very concerned because we were getting a lot of threats, so he said, 'The world don't even deserve to see her.'"
There were more than "a lot of threats" when it came to introducing Kulture to the world via social media. Cardi told Ebro Darden on Beats1 Radio that someone once offered her a 7-figure deal to post a picture of her baby.
"I'm not even ready yet to have a damn babysitter," she told Darden in October.
On Dec. 4, Cardi announced in an Instagram video that she and the Migos member were parting ways after one year of marriage. 
"I guess we grew out of love, but we're not together anymore. I don't know. It might take time to get a divorce and I'm gonna always have a lot of love for him because he is my daughter's father and yah," she told the camera.
A source told E! News at the time of their split that they had a lot of "ups and downs" but "Offset's loyalty" caused a deep divide for them. "Cardi will always love Offset, but ultimately lost trust in their relationship," the source said.
Cardi explained to Harper's that she "decided on my own" to split from her husband. "Nobody makes my decisions about my life but me. I didn't want to go to marriage counseling. He suggested it, but it's like, 'I don't want to go.' There's no counselor or nothing that could make me change my mind," she divulged.
Mariano Vivanco for <i>Harper's Bazaar</i>
Throughout it all, Cardi has remained one of the most successful and popular women in music. She's nominated for five Grammys this year, launched a Las Vegas residency, appeared in a Pepsi Super Bowl commercial and that's just the tip of the iceberg.
So what does the "Be Careful" rapper think about her whirlwind rise to fame? "I feel like my life is a fairy tale and I'm a princess— rags to riches, people trying to sabotage," she told Harper's Bazaar. "Before, I cared about everything—relationship, gossip. Now I don't feel like I have the time to please people. I don't care about anything anymore—just my career and my kid. Well, I care about my career because of my money."
Cardi B's issue of Harper's Bazaar hits newsstands on February 19.