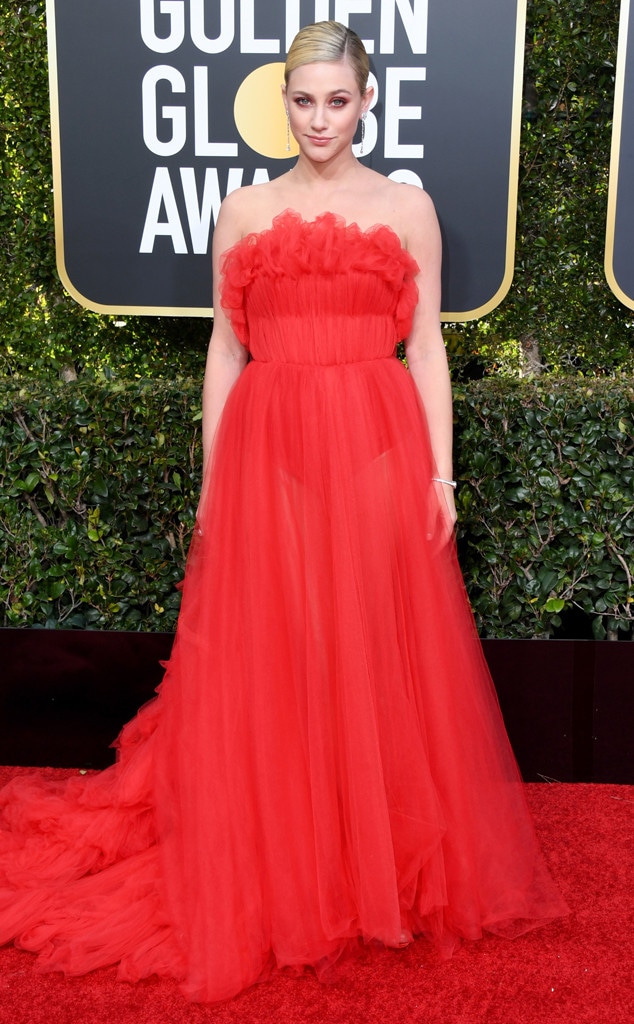 Jon Kopaloff/Getty Image
Lili Reinhart is on a "journey of self-love" and don't even think about stopping her.
The Riverdale star revealed on her Instagram Story on Friday night that she started therapy again. Although the crux of her post was about her starting treatment again, she wanted to encourage others not to feel ashamed for seeking help.
"Friendly reminder for anyone who needs to hear it: Therapy is never something to feel ashamed of," she wrote on the social media platform.
"Everyone can benefit from seeing a therapist. Doesn't matter how old or 'proud' you're trying to be," her statement continued.
She added, "We are all human. And we all struggle. Don't suffer in silence." Reinhart urged others, "Don't feel embarrassed to ask for help."
The Betty Cooper actress then explained why she was turning to therapy for her own self-care. "I'm 22. I have anxiety and depression," she wrote. "And today I started therapy again. And so the journey of self-love begins for me."
She concluded, "Good luck to you on yours."
Many celebrities in Hollywood nowadays, such as Selena Gomez, have become much more transparent about mental health and personal struggles. Even Prince William is speaking out about it and has made the topic one of his biggest priorities. 
Reinhart has been very open in the past about personal insecurities, including body dysmorphia, bullying, acne and more. In July, the 22-year-old was bullied by trolls online after some people made comments about her physical appearance. 
"Telling someone they don't deserve to feel insecure because their body is 'fine' or 'just like' whomever.. is wrong," she tweeted on July 2. "That's part of the problem. That's part of body shaming."
Donato Sardella/Getty Images for W Magazine
She said something similar in another tweet one day later. "Feeling really disheartened by the fact that so many people are saying 'you're skinny so shut up about embrscing [sic] your body.' As if my body dysmorphia is irrelevant because of how I look to some people.  I'm either not curvy enough or not skinny enough to feel insecure," she wrote.
Reinhart and her Riverdale co-star Camila Mendes both shared powerful words on body positivity after their appearance in Cosmopolitan Philippines in March. Both women criticized the fact that their bodies were altered using Photoshop. Reinhart wrote on Instagram, "Camila and I have worked incredibly hard to feel confident and comfortable in the bodies that we have. It's an everyday battle, sometimes. And to see our bodies become so distorted in an editing process is a perfect example of the obstacles we have yet to overcome."
Reinhart  told E! News a few weeks later, "As women and even men we struggle with our bodies every day when we look in the mirror and especially when you're put in the spotlight and people critique your outfits, your skin, your body, your hair, whatever. It's a battle for me every day to accept what I am and my flaws and know that you know I can't change certain parts about me and that's fine."
In August, Reinhart was honored at Variety's Power of Young Hollywood event and spoke about being an "openly flawed human" and "imperfect." She said in her powerful and moving speech, "In accepting this honor, it is important for me to acknowledge all of the fans—all of the young people who I celebrate my successes with—who have given me the power to be honest about my personal experience with body dysmorphia, therapy, bullying and mental health issues."
She continued, "It came to my attention that so few influencers were actually willing to talk about their flaws, and that's an idea I wanted to challenge. That's when I realized how important it was to stay authentically myself: Imperfect, but still powerful."