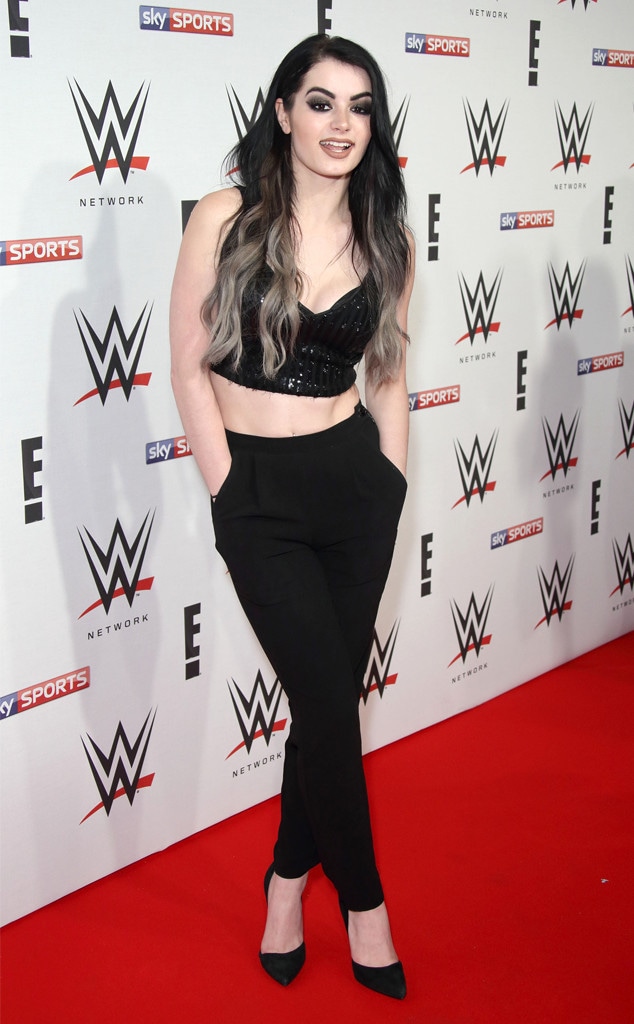 Mike Marsland/WireImage
Total Divas star and WWE Superstar Paige is ready for her close-up!
Speaking to E! News, the actress shared the amount of support she's received from her Total Divas cast members and co-star Dwayne Johnson.
Florence Pugh portrays Paige in the Fighting With My Family movie alongside the 46-year-old star, which is about a former wrestler and his family making a living performing at small venues while his kids dream about joining World Wrestling Entertainment.
"It's incredible, he's like the biggest celebrity in the world right now, so just to have his support is absolutely wonderful," the 26-year-old star tells E! News.
"I've always been a big fan of his, so it was… it's brilliant."
As for her Total Divas friends, she says they've been really encouraging throughout her acting journey, especially Nikki and Brie Bella.
"We're having a premiere here in L.A. and the Bellas are going to come along and Nia [Jax]. They're my really, really good friends, so they're going to go there and support it." Adding, "I love all the girls, we're very close, we're like a family, you know? All of them haven't seen it yet… hopefully, they like it."
The star also credits the Total Divas show for helping her with her acting career.
Marion Curtis/StarPix/REX/Shutterstock
"Total Divas definitely had an impact on my career," she says. "Honestly, it opened up so many other doors. So it definitely had a huge impact and having my life out there helped me, helped the movie, too, because my life is being put on the big screen."
Because the movie is parallel to her own journey as a WWE wrestler, she explains it's "a very relatable story."
"I just think that it's an incredible story, and you don't have to be a wrestling fan to enjoy it," the 26-year-old star tells E!
"It's just a beautiful underdog story that stemmed from humble beginnings up until you reach a common goal, so it's a very relatable story."
Adding, "Everyone has felt insecure in their life, and everyone's felt awful at some point in their life, so that's also a relatable trait to a movie."
Fans of the Total Divas star will recall that she made a departure from the reality series after the sixth season. She also sustained a neck injury and was suspended from the WWE for "failing the wellness policy" back in 2017.
The reality TV personality was adamant that she didn't use drugs. "We get drug tested all the time…first of all, I don't do drugs," she said.
Regardless of her WWE past, Paige wants her fans to know that it's best to "stay humble and hungry" for whatever dream you're trying to make a reality.
"Stay humble and hungry. Humble because you want people to work with you and be able to be around you, and hungry because you never want to get complacent, you always want to set goals."
As for advice she would give herself right now? "I would say be patient because it doesn't just come over night, you have to work for it."