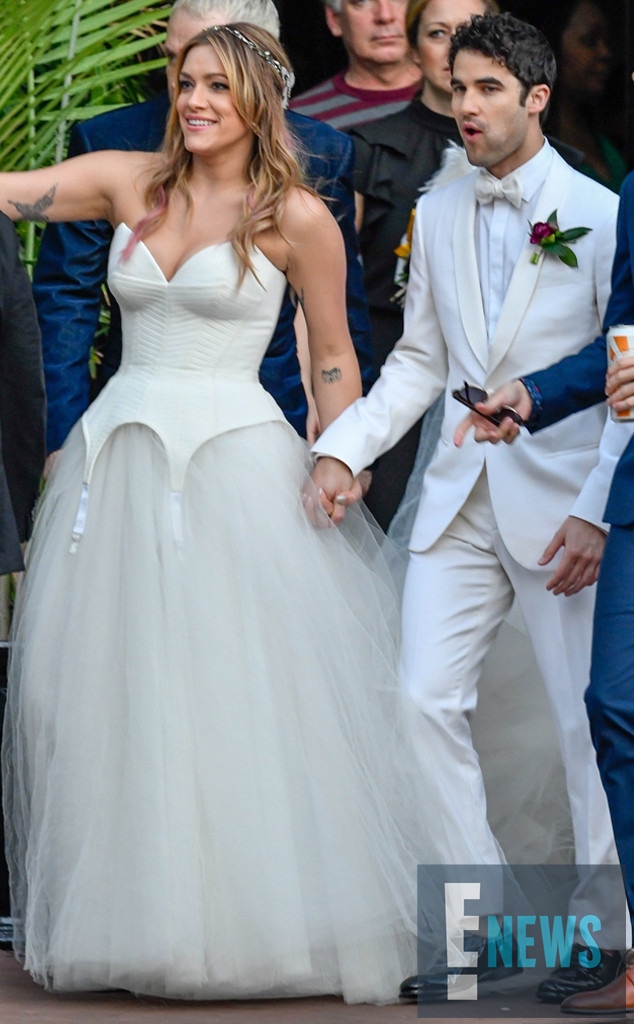 SBMF / BACKGRID
Darren Criss is a married man!
The 32-year-old actor tied the knot with his longtime girlfriend, Mia Swier, over the weekend. 
According to People, the happy couple had their ceremony at a hotel in New Orleans and many Glee co-stars were in attendance.
Darren and Mia's extravagant wedding ceremony comes just over a year after the Glee alum announced their engagement on social media.
"Mia and I have had seven and a half years of fun, wacky, wonderful, CRAZY adventures together. And I'm happy to announce that we're kicking those adventures up a notch. We're going for it," Darren shared at the time. "To boldly go where neither of us have gone before. Engage." 
And the couple's nuptials are the cherry on top of quite a whirlwind few months for Darren. Not only did the star win his first-ever Emmy for his performance in The Assassination of Gianni Versace: American Crime Story, but also a Golden Globe and SAG Award. 
Darren gave a special shout out to Mia during his acceptance speech at the Emmys, sharing onstage, "Oh my God, you guys are witnessing the most extraordinary moment of my life thus far... My darling Mia, you roll the windows down and pump the music up in my life." 
Darren and Mia have kept most of their details surrounding their love story private, but in a 2013 interview with Kiss 92.5, the groom revealed they began dating long before he ever had aspirations to become an actor. 
In the years that have passed, Darren has become one of Hollywood's most sought after talents and his blushing bride continues to find success in the entertainment industry. Mia co-founded her own production company, and even performs in an all-female Guns N' Roses tribute band. Last year, she and Darren opened a piano bar in Los Angeles called Tramp Stamp Granny's. 
Congratulations to the happy couple!