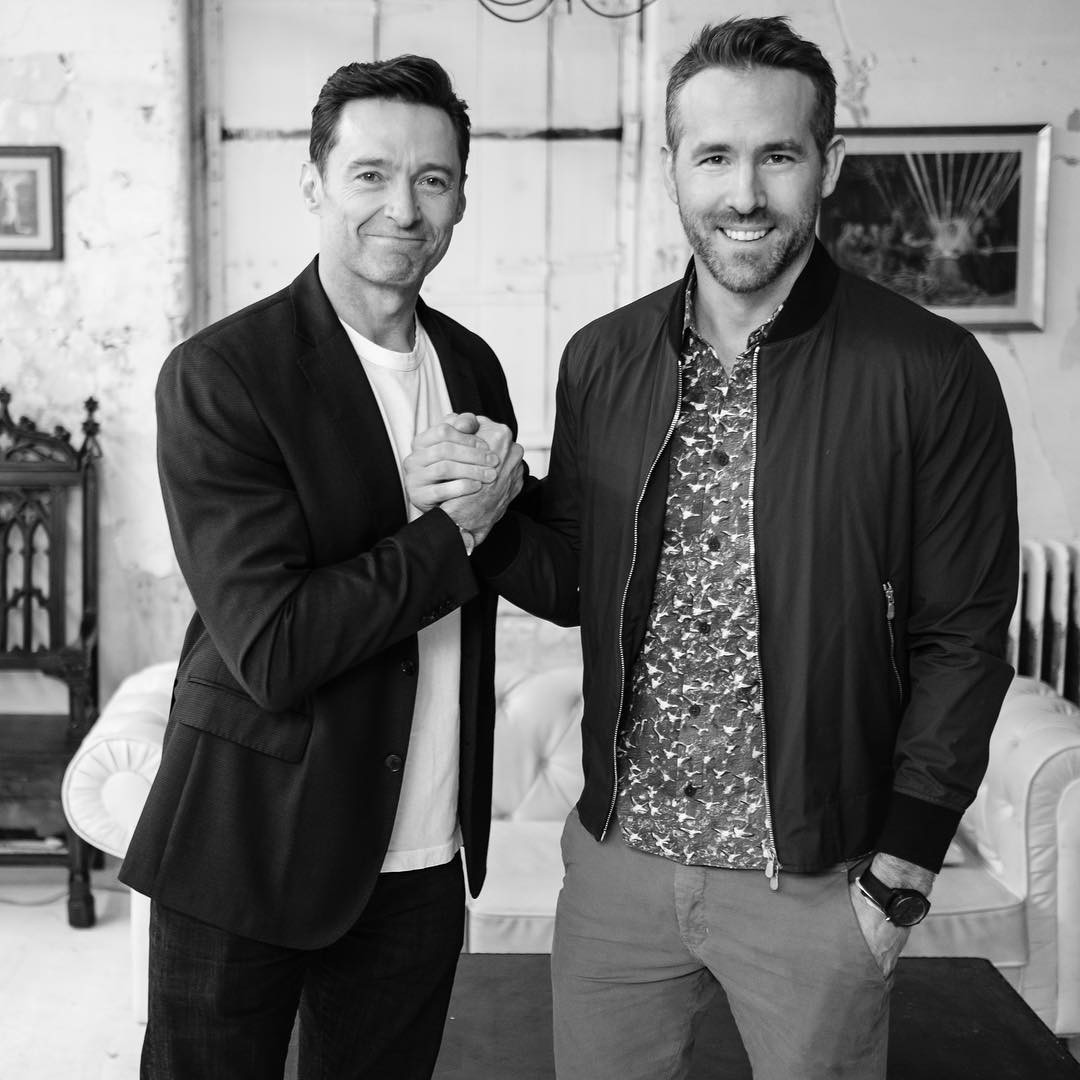 Instagram
Truce? Truce.
Ryan Reynolds and Hugh Jackman have agreed to end their mock feud and stop trolling each other, for now. The two reunited for a photo and promised to work together again, and not for a movie. Anyone up for a gin and coffee?
"Official truce! I'm going to make an awesome ad for Aviation Gin," Jackman wrote on Instagram on Thursday, referring to a brand Reynolds co-owns. "And, look forward to seeing what @Vancityreynolds comes up with in return."
"Official truce with @thehughjackman! As a gesture of goodwill, I'm gonna make a beautiful ad for his company, Laughing Man Coffee," Reynolds wrote. Can't wait!"
Reynolds and Jackman, who starred together in the 2009 movie X-Men Origins: Wolverine, have been trolling each other for more than three years.
In November 2015, Jackman posted on his Instagram page a video of Reynolds doing an impression of him and his Australian accent while wearing his Deadpool makeup.
A couple of months later, a teaser for Deadpool was released to coincide with Australia Day. In the clip, Reynolds' title character poked fun at and also scolds the country, saying, "You gave us Wolverine, and for that, I can't forgive ya."
"I've got no problems with Hugh," he continued. "He's a delightful guy, he really is. True legend. But the movie, that was a career low for me. You understand."
Jackman told Access Hollywood that he loved the video.
"He's just so funny, he's hilarious," he said. "I can't wait to see it. I love Ryan. He can take shots. Bring it on."
But serious, why are you so obsessed with me?
The banter between Jackman and Reynolds continued...
In the actual Deadpool movie, Reynold's title character briefly wears a Jackman mask.
The mock feud led to more cross-promotion; Reynolds "crashed" Jackman's junket for his movie Eddie the Eagle.
"Many actors enjoy performing their own stunts. Do you do all your own acting?" Reynolds asked him.
"If there's sex scenes, I do them," Jackman replied.
 Jackman later tweeted, "Mate you are like gum on my shoe!"
"I'm the Barbara F*%king Walters of Hard-Hitting Journalism. #NoSoftBallQuestions," Reynolds replied.
In December 2016, Jackman posted on his Instagram page his response to Reynolds' impersonation video: A clip showing him imitating Reynolds imitating him. Meta.
"@VanCityReynolds asked me to post this 100% real video by him on being honored with a star on Hollywood's Walk of Fame today," Jackman wrote.
In 2018, Reynolds set off to try and coax Jackman to reprise his role of Wolverine again.
 "I'm going to have to step up my game a little," he said on Good Morning America. "I'm going to just post his cell phone number online."
Meanwhile, the two continued to bump into each other.
In November 2018, Reynolds jokingly sided with John Krasinski as he expressed mock dismay at a photo of his wife Emily Blunt with Jackman.
"This is a call to action," Reynolds tweeted. "This man must be stopped."
The following month, Jackman enlisted the help of Jake Gyllenhaal to pull a holiday prank on Reynolds. The three appeared together in a photo, with the former men wearing regular clothes and Reynolds wearing a decorated holiday sweater.
"These f--king a--holes said it was a sweater party," he wrote.