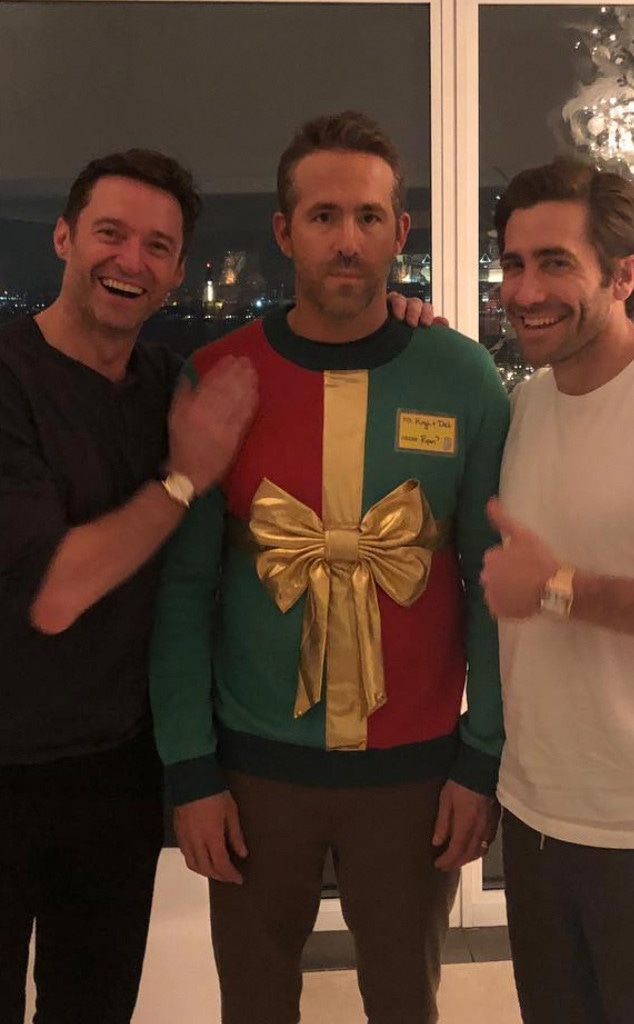 Instagram
Good one guys.
Jake Gyllenhaal and Hugh Jackman pulled a holiday prank on their friend Ryan Reynolds. 
The Deadpool star took to Instagram on Thursday to post photos of himself donning a brightly colored Christmas sweater as his celebrity friends laughed by his side. 
"These f--king a--holes said it was a sweater party," Reynolds captioned the images, which also showed the pranksters exchanging high-fives.
The sweater was certainly a showstopper and even included a big gold bow. Even Blake Lively, who's also been known to troll her husband on social media, gave the prank her stamp of approval with an Instagram like. 
However, fans shouldn't be too surprised by the stunt. 
After all, Jackman and Reynolds have a history of teasing each other—usually over Reynolds' attempts to make a Wolverine-Deadpool crossover.
"I'm trying to get him to play Wolverine again and he won't listen," Reynolds once said on Good Morning America. "He insists on singing and dancing brilliantly elsewhere."
 Reynolds even once told Ellen DeGeneres, "It's not really a rivalry; it's war."
Gyllenhaal is also part of the superhero movie club. He's expected to play the villain Mysterio in Spider-Man: Far From Home.