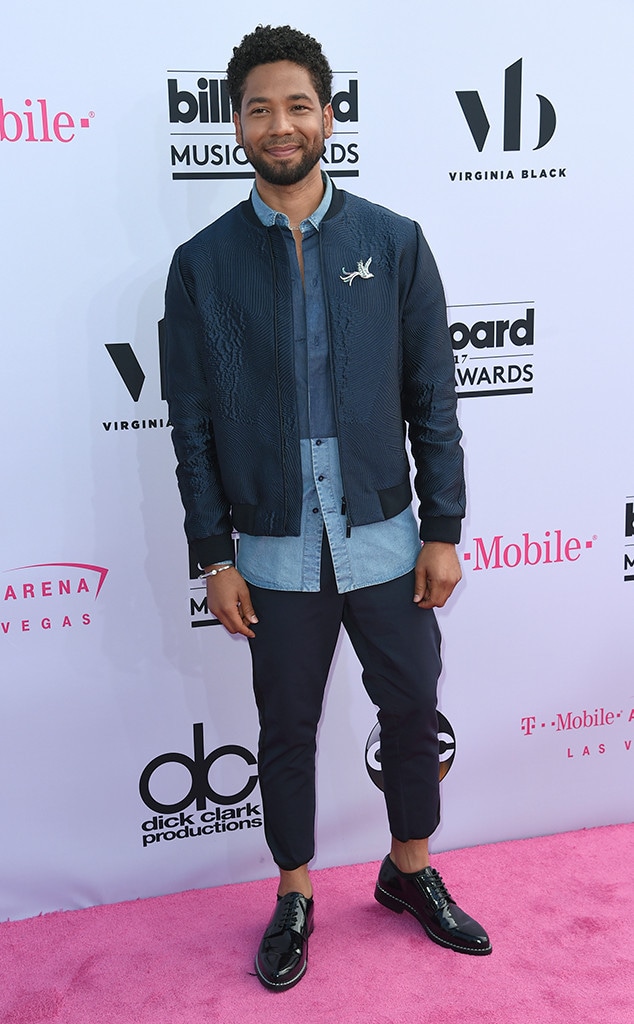 Richard Shotwell/Invision/AP
Jussie Smollett almost packed it in at 13.
The actor, who had a memorable breakout role in 1992's The Mighty Ducks and two years later starred in the sitcom On Our Own (think Party of Five, but funny) with his five real-life siblings, traded in show business for a normal-kid life after the ABC show's first and only season. As much as was possible in his family.
"You put on shows—we had a whole damn production, because we had all these kids," Smollett, the third-eldest, remembered the acts he'd put together with his three brothers and two sisters (including Friday Night Lights and True Blood star Jurnee Smollett-Bell), talking to The New York Times in 2016.
"Creating was just something we just were expected to do," he added. "And I don't remember a time not wanting to do that."
And when he wasn't the one creating, one of his brothers or sisters was, resulting in a lot of back and forth between Los Angeles and New York and a lot of different schools. Their parents split up when Jussie was 15 and their mom took over the day-to-day raising of the kids.
Jurnee, Jussie, Jazz and Jake Smollett paid tribute to their peripatetic upbringing with their 2018 cookbook, The Family Table: Recipes and Moments From a Nomadic Life.
"I wasn't a child star," he told Out in 2016. "I was just a working actor. And then I wasn't a cutesy kid anymore, but I also wasn't a leading man."
Smollett, 36, doesn't go into a lot of detail about what he did during the 14 years he didn't notch any acting credits, other than to say he's been recording music since he was 13 and performing it whenever and wherever he could. But since re-making a name for himself as a star of Fox's Empire, he made a lasting impression both onscreen and as himself, and—very significantly—he expanded the definition of whom he calls family.
Which is why the events of the past three weeks have proved so unsettling.
Smollett says he was the victim of a racist, homophobic attack in Chicago in the early morning hours of Jan. 29. The Chicago Police Department said later that day that they were investigating the incident as a possible hate crime. His Empire cast mates were quick to rally around him—as were other actors, artists and public figures, from President Donald Trump to California Rep. Nancy Pelosi and Sen. Kamala Harris.
The alleged attack occurred one week after police confirmed that a threatening letter containing a white powder had been sent to Smollett via Chicago's Cinespace Studios, where Empire shoots. The powder turned out to be crushed aspirin. The letter contained racist and homophobic slurs and, because mail is a federal concern, the FBI were investigating.
"Jussie's the one that starts singing when everybody's in a bad mood," Terrence Howard said on Good Morning America on Jan. 30. "He's the one that cheers everybody up. He's the one that does all the Instagrams if he catches you sleeping....Today, no one was caught sleeping. No one even took time to close their eyes and nap. They were all in shock that our family—you know, the Fox family, the Empire family, the Lyon family—you know, were attacked by a bunch of hyenas today."
Scott Dudelson/Getty Images for ABA
That Saturday, Feb. 2, Smollett performed as scheduled at the Troubador in West Hollywood, jokingly calling himself the "gay Tupac," referring to how he fought back against his attackers, and telling the audience, "I have so many words on my heart that I want to say, but the most important thing I can say is thank you so much, and that I'm OK."
Meanwhile, he stood by the version of events he relayed to police as they tried to piece the evidence together—which they were apparently having trouble doing. Smollett told Good Morning America's Robin Roberts on Feb. 14 that he was "pissed" that some people doubted his story. "It's the attackers, but it's also the attacks," he said. "You know, at first it was a thing of, if I tell the truth, that's it, because it's the truth. Then it became a thing of like, oh, how can you doubt that? How do you not believe that? It's the truth. And then it became a thing of, oh, it's not necessarily that you don't believe that this is the truth, you don't even want to see the truth." 
He reiterated to Roberts that one of his alleged attackers said, "'This MAGA country, n----r.'" He continued, "And he punched me in the face, so I punched his ass back, then we started tussling. It was very icy and we ended up tussling by the stairs."
But Smollett's story has sprung some holes and is holding a steadily decreasing amount of water in the court of public opinion—and potentially with law enforcement, who said over the weekend that they had "shifted the trajectory of the investigation." Police say they would like to re-interview Smollett; his attorneys said Monday there were no plans for their client to speak to investigators again.
Two men—Nigerian brothers, according to police, one of whom was Smollett's personal trainer, hired to help him get ready for a music video—were arrested last Wednesday in connection with the alleged attack. Police said they were "persons of interest," not suspects. On Thursday, reports cropped up that police were starting to suspect the whole thing was a hoax; Chicago PD officially disputed those reports that night, calling any police sources who claimed as much were "uninformed and inaccurate."
The brothers were released Friday without any charges being filed.
On Saturday, two law enforcement sources told CNN that police now think Smollett paid the two men to stage the attack—an allegation the actor has denied through his attorney. A source familiar with the investigation told NBC News that the two men were found to have purchased the rope that Smollett said was put around his neck during the attack and were fully cooperating with the investigation.
The brothers told Chicago's CBS 2 in a statement Monday that they were both American citizens born in Chicago, and were not racist, homophobic or anti-Trump.
The station also reported that a police source had said Smollett was allegedly bothered that the suspicious letter sent to him didn't receive more attention, so he concocted the attack plan.
Empire co-creator Danny Strong tweeted last week that there was "0% truth" to any reports that Smollett's character was being written out of Empire, another rumored motivator for his alleged actions. "He is the third lead and one of the most beloved characters on the show. Writing him off the show has NEVER even been discussed," Strong wrote.
Smollett's lawyers stated in reply to CBS 2's latest report: "We are not going to respond to every new, anonymous accusation or rumor. Jussie Smollett's lawyers are in contact with the Chicago Police Department. Jussie will continue to cooperate with the investigation in an appropriate and respectful manner that does not include talking to media at this time."
Time will tell—sooner rather than later—where the story goes next, but Smollett's celebrity support network is already wearing thin online.
"I'm not gonna say yet until he say it out his mouth that it was fake and this s--t was staged—I don't want to completely blame him," Cardi B mused on Instagram Live this weekend. "But, if he's not, then bro you f--ked up for real, like why would you do that? You ain't had to do that."
Alyssa Milano tweeted Sunday, "If that man staged his own attack he is wrong in so many ways. No one could be that hurtful? To stage this? Right? To f--k with all of us by playing into our weaknesses & make it even harder for victims to come forward?! No one could choose to be that hurtful? Right?! RIGHT?"
It would seemingly take some real moral bankruptcy to stage an attack and lead people to believe you were the victim of a hate crime, especially when it was reported last year that instances of hate crimes were on the rise in the United States' 10 largest cities (Chicago obviously being one of them) and had gone up 17 percent from 2016 to 2017, according to the FBI. And as Milano and many others have pointed out—and as women certainly know all too well—pretending to be a victim only makes it worse for real victims.
There just isn't any rhyme or reason as to why Smollett would do such a thing, taking the causes he holds dear into account and considering the long road he traveled to get where he is today.
In a 2018 AP interview, Smollett recalled shooting The Mighty Ducks in freezing-cold Minnesota, "the one thing that sticks in my mind specifically is I remember going to Prince's nightclub that he had, and performing there when I was 9 years old." The Purple One wasn't in residence at the time, alas, but not a bad memory from his first feature film.
"And then honestly I remember over the last years how, whenever Mighty Ducks would show on the television," he said, "I knew that...six weeks later I was about to get a $400 check, my residuals. And I'd be calling up SAG with my broke [self] being like, 'Uh, run that check, run that check.' Those are the days when I had $17 in my account and I had to find $3 to deposit, so I could take a $20 out."
After dipping his toes back into the acting pool with a lead role in the 2012 indie drama The Skinny as well as guest spots on The Mindy Project and Revenge, he landed what's turned out to be the part of a lifetime in Jamal Lyon, the middle son of Terrence Howard and Taraji P. Henson's ruthless record execs Lucious and Cookie Lyon, on Empire—which turned out to be one of the biggest hits of 2015 and spawned a No. 1 soundtrack album.
By the end of the year, series creator Lee Daniels was directing Smollett in a Pepsi commercial for its #NextPepsiArtist campaign. 
"There are three things that can happy where you know you're on your way," the actor and singer, who performed on several of the Empire tracks, told Bloomberg. "Having a No. 1 album, winning a Grammy and doing a Pepsi commercial." (Empire: Original Soundtrack from Season 1 was nominated for a Grammy.)
"'Ready to Go' is Jussie's graduation," added Swizz Beatz, who produced "Ready to Go," the song featured in the commercial. "Just when you thought it couldn't get any bigger for him, he's ready to go to the next level. There's always another level to go to."
As a graduation present, meanwhile, Swizz arranged for Harry Belafonte to come to the set, and Smollett was proud to have zero chill around the legendary entertainer and civil rights activist.
"I felt like I was meeting a pharaoh or a king," Smollett recalled to Out in 2016. "[I]t was the first time I saw Jussie starstruck," Daniels told the magazine. "It was funny to see him squirm."
By the time of that commercial shoot in 2015, meanwhile, Smollett had also made a pivotal personal decision that he knew could still—even in the 21st century—adversely affect his career. But at the same time, he knew he didn't want to proceed in the public eye as anything less than his full self.
Robin Marchant/Getty Images
"It was really important to me to make sure that it got across that there is no closet," Smollett told Ellen DeGeneres in publicly addressing his sexuality during an interview she conducted backstage after their on-set chat for Ellen in March 2015. The episode aired shortly after Jamal Lyon came out on Empire. 
"There's never been a closet that I've been in," the actor, whose character in The Skinny was gay and who has a giant equal sign tattooed on his arm, continued. "I don't own a closet, I got a dresser, but I don't have a closet…I have a home and that is my responsibility to protect that home."
Smollett continued, "So that's why I choose not to talk about my personal life. But there is without a doubt, no closet that I've ever been in, and I just wanted to make that clear. But it was most important for me to make that clear to you on your show at this time in the world.  And that's where I'm at."
He concluded, "My mama knows, my mama likes me a lot. And yes, I take her to The Sound of Music sing-along every single year. So, any questions? But you know, honestly, we're humans and we love and we do all that good stuff. So I'm honored for this opportunity and I'm honored to be here with you."
Talking to Variety after the Ellen show aired, he reiterated that he had never been in the closet. 
"It was a bigger deal to everyone than it was for me," Smollett said. "But at the same time I do understand why it is something to talk about."
And as an out, gay, biracial actor and artist, Smollett was aware that people would want to hear more from him on the subject, that he'd be admired, looked up to, cheered and—by some, sadly—judged and criticized. But he has proved an eloquent voice on the subject, as well as a man who leads with action and not just words.
"I am simply here to help save the world," his Twitter bio reads.
Tiffany Rose/Getty Images for HollyRod Foundation
While he was a struggling recording artist, trying to earn enough money to pursue music full time, Smollett worked for five years at Artists for a New South Africa, coordinating donations for charity auctions.
"I have not been handed a silver spoon," he told Out. "I have not been handed a thing in my life, except love. With that said, it's been difficult for me for many of the same reasons as Jamal, but I have had to work really, really hard—not just for acceptance, but also for my bread and butter. And that's why I don't take any of it for granted."
He eventually joined the board of Black AIDS Institute, whose founder, Phil Wilson, became a mentor to him after Jurnee got involved with the organization. And not long after Empire premiered, and despite some executives' concerns, he traveled to Washington, D.C., to speak at the March 2 Justice rally, which started with a 250-mile walk from New York to D.C. to protest police brutality and advocate for criminal justice reform.
And though he was reluctant to discuss being gay, knowing it could dominate the conversation about him for the foreseeable future, but, he told Out, "this is a conversation that deserves to be had, because we don't all understand each other. You're not going to tell me that loving someone is wrong." 
"I don't take this career for granted," Smollett also said, "and I have been given a very special platform through Empire to speak on a weekly basis about love and truth and acceptance."
He recently teamed up with the Trevor Project, a crisis intervention and suicide prevention program for LGBTQ youth, for its "How to Save a Life" campaign, to encourage people to volunteer their time as crisis counselors for the organization's text and web chat services.
Being involved in so many causes never feels like work to him, but rather a natural extension of who he is and what he's always felt compelled to do. (So much so, in 2015 at a conversation for AT&T's Studio Live VIP campaign in Houston, he said he sometimes felt that he had to be famous "in order to do all the things I want to do...just so that somebody can listen.")
He also told Out, "I have so much love inside that it pains me sometimes. You end up finding yourself all-consumed by the issues of the world, and that's something I don't want to change about myself. So until the love of my life shows up, until I find my boo, I'm just going to be out, up in this piece, a lone ranger."
Though boo-less at the time in 2016, the still very private star told Page Six last May, "I'm in a relationship and I'm happy."
In early 2018, he acknowledged that his life since Empire began had been an unprecedented whirlwind of success and scrutiny, highs and lows. On the one hand, the door is open wider than ever, and he's been in the sci-fi blockbuster Alien: Covenant, played Langston Hughes ("one of my childhood heroes," he told the Wisconsin Gazette) in Marshall and toured in Europe and the U.S., with a portion of the proceeds going to Black AIDS Institute and Flint Kids. 
After initially signing with Sony-owned Columbia, he ended up starting his own label, Music of Sound, and released his debut album, Sum of My Music, last year.
"There's no huge company behind me," he told the AP. "Every single cent that's going into this is mine."
And, having directed a few of his own music videos, Smollett made his Empire directing debut in season four. He really wanted to prove himself.
"I've been in this business as an actor and a musician since I was 4 years old but I haven't been in this business as a director," he told Yahoo News last spring. "So it is about paying dues and making sure that people know you're legit and really serious about what you're doing. I always joked that I wanted to be the black, male Barbra Streisand—because she does it all and she does it well."
Asked what it was like directing guest star Alfre Woodard, a longtime friend and mentor, Smollett said, "No matter how comfortable I am or I was behind the camera and no matter how comfortable I am as a director, this was my first time introducing people that I love and respect to myself as a director. It certainly wasn't easy—it certainly wasn't comfortable—but my anxiety was put at ease because I knew they would tell me if I was messing up. They're my friends, they're my family, and Alfre has literally known me since I was 15 years old so she knows my dreams.
"I've said this before, but she was with me on the morning I went on my first audition for Empire—she sat with me and she prayed with me and we had breakfast. And then four years to the day I booked Empire, I'm directing her on Empire!" 
And, of course, there's the other side of the shiny coin.
"I want to say that I believe in myself a little bit more," Smollett told the AP. "I think that after the first season, if I'm being honest, my self-esteem kind of did a dive...I had been myself my whole life but I wasn't used to the scrutiny that came with fame and that came with being a part of a phenomenon like Empire, but also being a part of a phenomenon that is Jamal Lyon.
"He's a groundbreaking character and I was kind of thrust out there," he continued. "And everybody just wanted to talk about my life, and everybody wanted to know what I was doing. And everybody had these expectations of what I should be, how I should be, who I should be seen with, what I should be doing, who was I dating, who was I [sleeping with]. And I just wasn't used to that...I know that I believe in myself much more now. I'm much more certain of what I want, and how I want it."
In 2016, talking to Out, Smollett shook his head at the very idea of not speaking his truth or sticking up for what he believes in.
"There is so much work to be done," he said. "Like, oh my God, we are f--ked up. Next-level f--ked up. And I don't know what the f--k we are going to do, but we got to do something, and we've got to do it fast. We've got to change the world, y'all."
He also optimistically told Out, "I don't believe that we were created to hate. I believe that we were created only to love. Love is the root of the happiest of times and of wars. Love, or lack of love—but love is the root of everything." 
Much more will be said, written and tweeted about what is going on with Jussie Smollett. And in the wake of the initial hoax rumors last week, many people were just as quick to voice their ongoing support as some were to flip the switch and go smug on anyone who had no problem believing Smollett's account of what happened.
"Somehow, I thought, or at least hoped, society at large was at the point of believing victims, what with the enduring impact of the #MeToo movement," Tre'vell Anderson, director of culture and entertainment for Out, wrote in an op-ed last Thursday. "But what these seemingly malicious and unfounded rumors, criticisms, and allegations of deception lodged at the Empire actor tell me is that those of us perpetually at the bottom of the socio-cultural stepladder—Black LGBTQ+ people—still aren't granted the apparent, simplest of luxuries afforded our counterparts: the benefit of the doubt."
Lena Waithe was among those who tweeted the piece out. 
Then came CNN's report that the two brothers were cooperating with authorities and police did believe that Smollett had helped stage the attack.
Star Trek: Discovery star Wilson Cruz tweeted Monday (and was retweeted by Anderson): "As we continue to wait for more facts and clarity, I assure you that I will never be shamed from believing and loving victims of hate violence acted upon POC and LGBTQ people and those who live at their intersections. That violence is REAL. It happens in heartbreaking numbers...
"...my initial response to this incident was and is concern for my friend - to comfort and offer love and healing in any way I can. I will always react in that way because too many of us walk the streets in fear of our safety and for good reason. If errors were made then......then they must be righted, but we do not have that information at this time. All I can hope for is that ALL of the pain from this incident can be healed and that justice and truth prevail. That is ALL I've ever wanted and continue to call for."
Jussie Smollett was right in 2016 about there still being so much work left to do—and in 2019 that hasn't changed. Up until now he's been at the forefront of a fight that society has no choice but to win, and he would know more than anybody that there is no time to move backward.
(Originally published Jan. 31, 2019, at 3 a.m. PT)