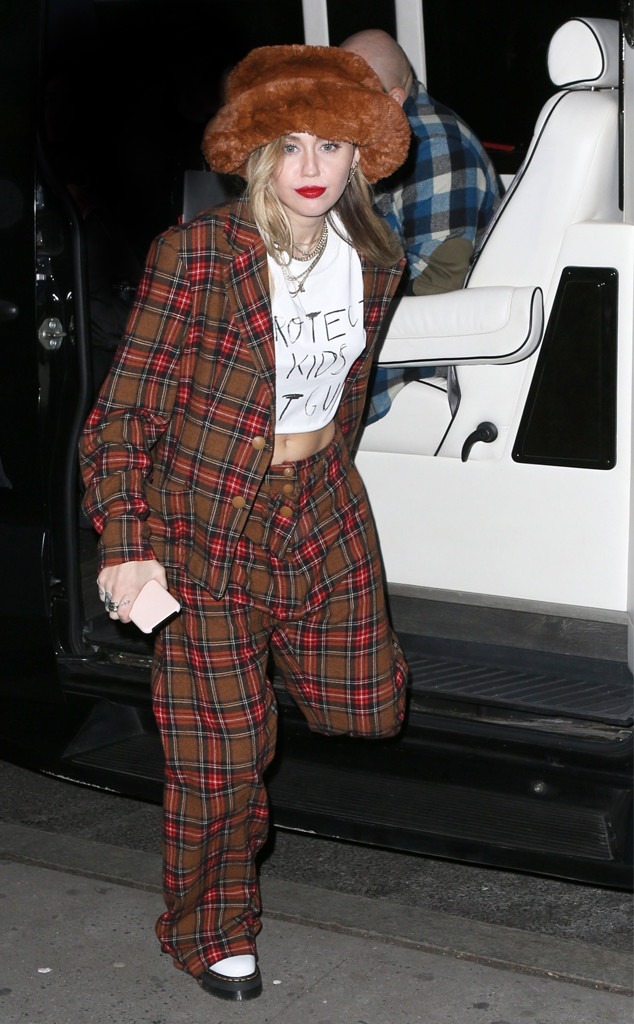 BACKGRID
So this is (almost) Christmas...and Miley Cyrus has released a new track just in time. 
At midnight, the songstress dropped her latest work, a cover of John Lennon and Yoko Ono's iconic holiday song, "Happy Xmas (War Is Over)." In collaboration with producer Mark Ronson, the star also fittingly teamed up with the star couple's only child, Sean Ono Lennon. 
As Cyrus shared with Jimmy Fallon on The Tonight Show Thursday, the trio worked on the track at New York City's Electric Lady Studios, a place where the late Beatle also recorded. 
"We wanted to do a Christmas song and I don't think anything could speak louder [about] what's going on right now than 'War Is Over,'" she explained. 
As for Lennon's only son, "He's just such an incredible being to be in the room with because that magic just radiates," Cyrus described. "I've always loved John and Yoko. I'm such a big Yoko fan...It's just been amazing to work with him and his voice is just so special."
The songstress had no shortage of compliments for the 43-year-old musician. "More than just inheriting the voice or the way he looks or whatever that is, it's about the magic that he has and I think that's what he's really inherited more than anything is just this radiant magic," she told Fallon. 
Lennon had equally glowing things to say about working with Cyrus. "Having so much fun playing w my brother and my best mate @iammarkronson and the stunningly talented and generous @mileycyrus (in person she's even cooler than you can imagine believe me)," he wrote on Instagram.
Of course, the choice of song was extra special. "It's an honor to play my mom and dad's song with this amazing team. Of all the songs they made I think this may be @yokoonoofficial 's favorite. We have always played it together on Xmas and NYE at the Dakota, and I know she's gonna love Miley's heartfelt interpretation. (I think she's sleeping so hasn't even heard it yet! I'll play it for her tomorrow, can't wait!)."
A portion of the proceeds from song downloads will also go to Spirit Foundations, the charity Ono started with her late husband.
The tune is not only a holiday signature, but also historically a protest of the Vietnam War. Cyrus has not shied away from the political in hew newest wave of music, beginning with her and Ronson's single, "Nothing Breaks Like a Heart." In the accompanying music video, the star addressed a variety of controversies and conflicts currently in American culture, among them the NFL kneeling protests and polarizing President Donald Trump. 
"We had this idea of what really breaks our heart every single day and more than just having the song be about a relationship or failed partnership, but what really breaks a heart everyday and I think it's that we have endless devastating news—whether it's losing lives of kids in a school, violence and discrimination, and so we really wanted to make a video that felt like it was politically charged and had a message, but I also wanted to marry it with just the fun pop music videos that I love to make," she told Fallon. "I feel like we were able to have our message in there, but also have people really entertained and go on a ride with us."
Cyrus will next perform as the musical guest on SNL this weekend. 
(E! and NBC are both part of the NBCUniversal family.)