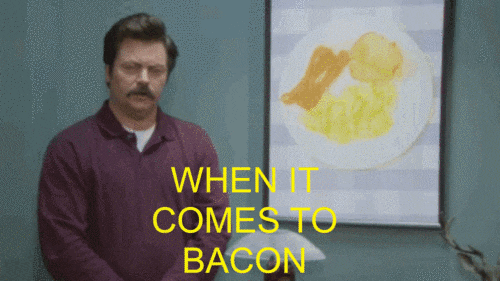 Mmmm, bacon!
Attention, bacon lovers: today is National Bacon Day. Yes, there is a day dedicated to bacon, or technically two days. International Bacon Day is the Saturday before Labor Day, while National Bacon Day is today. That means you can celebrate the amazing pork product on two different days by eating lots and lots of it.
Whether you enjoy bacon in the morning with your eggs, or indulge in a BLT on the regular, this holiday is one you should mark in your calendar every year. Why not take it a step further and add in some candied bacon for a treat to end your celebration and make others wish they were eating your bacon-filled diet?
Although it might seem a little outrageous to eat bacon all day today in honor of this excellent holiday, there are 10 TV characters who we think would be right there with us, toasting a glass of champagne and eating maple bacon donuts for hours.
They might be fictional characters, but bacon lovers can agree that these guys and gals are like our bacon-loving spirit animals and we salute them.
Whether it's Ron Swanson (Nick Offerman) from Parks and Recreation who hates veggies and lives for meat of any kind, or Homer Simpson from The Simpsons who switches between his bacon and donut obsessions on the daily, these TV characters are a cut above the rest.
As we get our skillet ready to grill up some tasty bacon today, we give you the best characters on TV, err, we mean, the characters who are also bacon addicts, to get you in the bacon eating mood...in case you need help with that, which we all know you don't.
You're probably making bacon roses to give your squad as we speak! There are a lot of bacon-filled activities you should be doing today to celebrate, so what are you waiting for?
Happy National Bacon Day, everyone. Cheers to bacon, bacon bits and bacon wrapped everything!