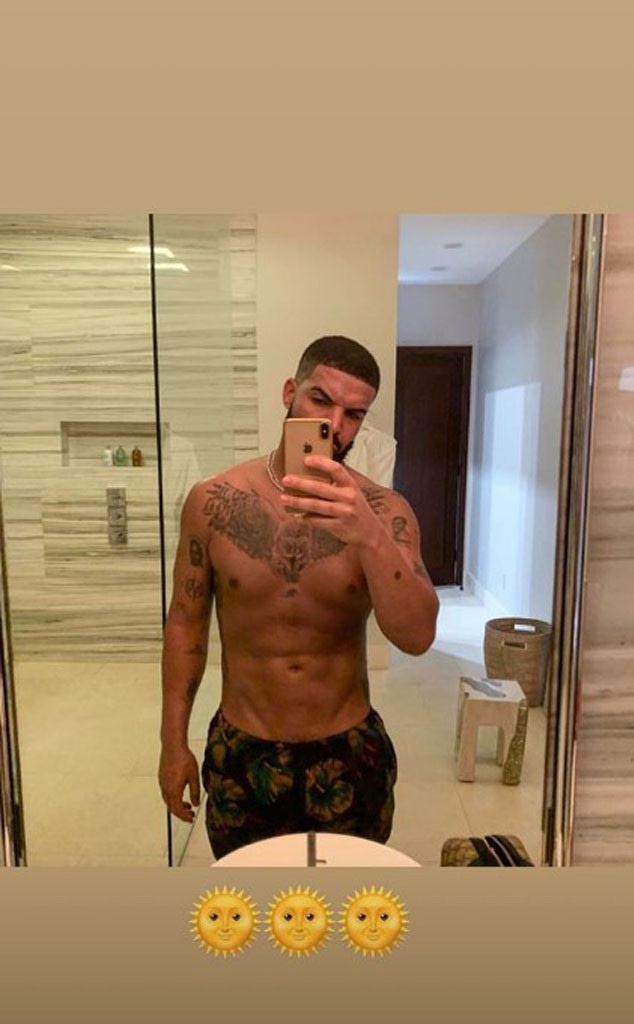 Instagram
"Aubrey, do you love me?" 
Wait, those aren't the lyrics.
On Sunday, Drake (a.k.a. Aubrey Graham) posted a shirtless picture of himself on Instagram that showed off his toned abs and—surprise!—a huge chest tattoo of an owl. The rapper doesn't tend to upload these types of mirror selfies on a regular basis, so it's potentially Drake's way of showing off his envy-inducing vacation or just celebrating his huge number of Grammy nominations. Either way, it's nice (for what).
From the looks of it, the "One Dance" artist is enjoying his post-tour time while basking in the sun in Turks & Caicos. 
The chest tat is also symbolic of Drake's OVO music label and clothing company. OVO stands for October's Very Own, and his birthday happens to be in, you guessed it, October! His Oct. 24 birthday also hints at why he named his newest album Scorpion (he's a Scorpio).
The 32-year-old founded OVO Sound alongside his close friends Noah "40" Shebib and Oliver El-Khatib.
2018 has been quite the year for Drake. His long-standing feud with Pusha T, which included quite the back-and-forth of diss tracks, also brought to light the existence of Drake's son. He confirmed he was a new dad in a few songs on Scorpion. For instance in "Emotionless," he croons "I wasn't hidin' my kid from the world/I was hidin' the world from my kid/From empty souls who just wake up and look to debate/Until you starin' at your seed, you can never relate."
The mother of his son Adonis is an adult film star named Sophie Brussaux. Drake recently explained on an episode of The Shop with LeBron James that he is working on co-parenting with Brussaux.
"I am a single father learning to communicate with a woman who, we've had our moments. I do want to be able to explain to my son what happened," he explained on the HBO show. "But I don't have any desire for him to not love his mother. I don't ever want the world to be angry at his mother. We have found ourselves in a situation and we are both equally responsible. Now, I'm just really excited to be a great father."
Drake also made fans extremely nostalgic earlier this year when he had a full-fledged Degrassi reunion in his "I'm Upset" music video. To top that off, there was not a dry eye in sight after watching the "God's Plan" music video, which involved giving away $1 million.