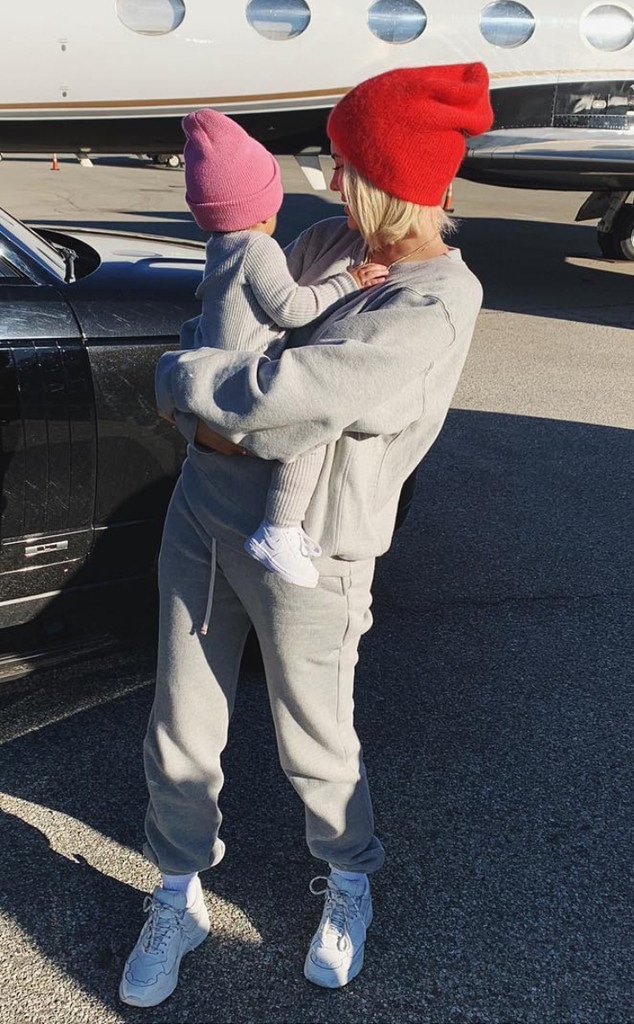 Kylie Jenner/Instagram
Kylie Jenner and Stormi Webster are once again raising the bar when it comes to the whole idea of "like mother like daughter."
The Kylie Cosmetics founder shared pictures on Instagram of her 10-month-old daughter looking extra warm in a pink parka onesie and matching pink beanie. Kylie kept it casual, too, in grey sweatpants, sweatshirt and a red beanie. Other cute pictures of the mother-daughter duo show Stormi also donning a grey-on-grey outfit. They're both even wearing near-matching white tennis shoes.
In one photo, the mom of one kisses Stormi, who sort of seems to reciprocate the action. "She loves my kisses I promise," Kylie wrote.
While Kylie doesn't explicitly say where in the snowy world she is, she's been supporting her "hubby" and Stormi's dad, Travis Scott, on his Astroworld Tour, often sharing snapshots and videos from the road. Travis' upcoming show is in Minneapolis, Minnesota, hence the snow and chilly-looking weather.
Kylie isn't the only one who gets to attend the shows and then get serenaded in front of 20,000 plus fans at concerts. Stormi recently had the time of her life while watching her pops perform at Madison Square Garden in New York, which happened to be his biggest show to date.
Stormi melted collective hearts last week when she made a brief cameo in the Keeping Up With the Kardashians star's makeup tutorial video that described how Kylie gets ready for shows while on the road. She had just woken up from a nap and didn't seem all that pleased to be the new star of a YouTube video. However, her appearance in it made the post even better than it already was.
Kylie revealed towards the end of her video that Stormi always gets her own room when they travel so she can "have more room to play."
On Monday, Travis shut down cheating rumors and criticized trolls after a photo of a lookalike began circulating around the web that made it look like the "Sicko Mode" rapper was canoodling with another woman. He commented the photo that was quickly gaining attention and wrote, "I don't be on balcony wit no thots. That s--t lame. Try again u trollssss. Me and my wifey sturdy. Back to celebrating!!!"
It was revealed two days later in a YouTube video that the photo was all part of an elaborate prank to "fool the Internet" and to teach people not to believe everything they see online. The Kardashians, however, came after the prankster. Kim Kardashian tweeted about it, "I hate that I am bringing attention to this but this is absolutely disgusting that you would find this funny to mess with Travis & Kylie who just started a family together. This is really damaging to relationships, families and is just so wrong!"
Kylie, too, called out the person behind the "joke" and criticized it. "Idk if this is really a social experiment to some people but you're messing with real people, real relationships, real family," she wrote in an Instagram story. "I'm happy my relationship is strong because this is getting out of hand. The internet scares me sometimes for real."