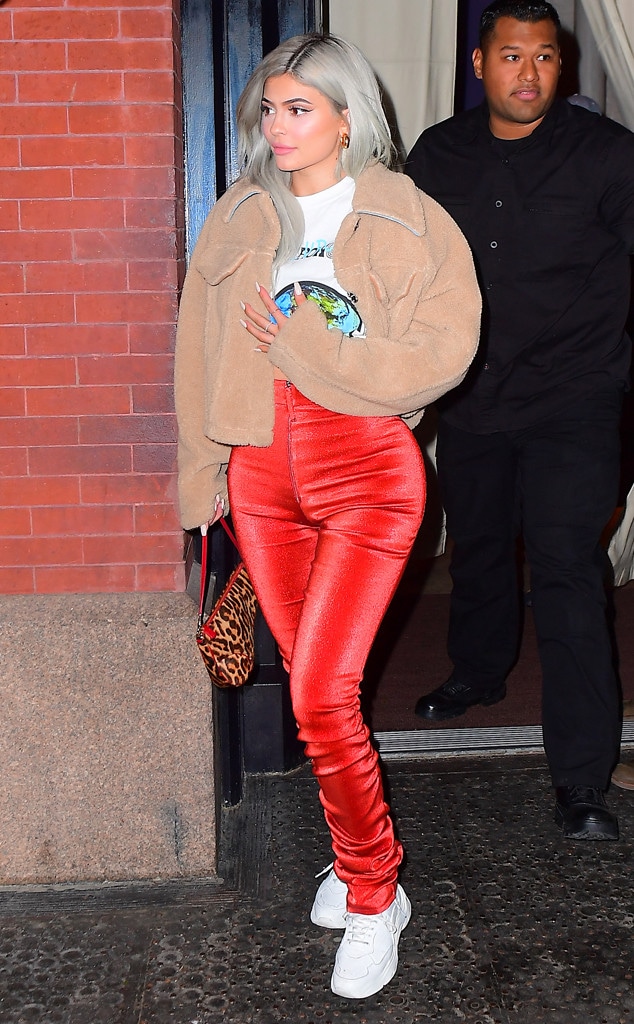 247Paps.TV / SplashNews.com
She may be only 9 months old, but Stormi Webster proved she's already Travis Scott's biggest fan.
 The rapper took to Instagram Tuesday to share videos of his daughter watching his Astroworld concert at Madison Square Garden on a monitor. The little one smiled and squealed with delight as she watched her proud papa's performance. She even seemed to dance along as he hyped up the crowd. 
"MSG all ragers included," he captioned the footage.
Kylie Jenner also showed her support for her main man by attending the big show. The Keeping Up With the Kardashians star donned an Astroworld T-shirt and bright red pants for the gig and accessorized her look with a camel-colored jacket, white sneakers and a leopard-print purse. She also turned heads with her new stunning silver locks. 
Before the show, the makeup mogul posted a picture of her look on Instagram. 
"The look ya give when ur hubby is performing at madison square garden tonight," she wrote.
Travis will continue to travel throughout the U.S. for the remainder of the tour, and it looks like his firstborn is already used to life on the road. Kylie posted a picture of Stormi enjoying a snooze earlier in the day. 
"She comes everywhere with me," the mama wrote. "The favorite little road dog."
It shouldn't come as a surprise that the baby girl was excited to see her dad take the stage. After all, Kylie has previously referred to Stormi as a "daddy's girl" and shared a video of her little one saying "dada."
"She is just like her dad, but she does look like me, so. She is obsessed with her dad, though," she told fans during a Snapchat Q&A. "They have this crazy connection and she's definitely a daddy's girl. It's cute to watch. When dad's around, [it's like] I'm not even there."